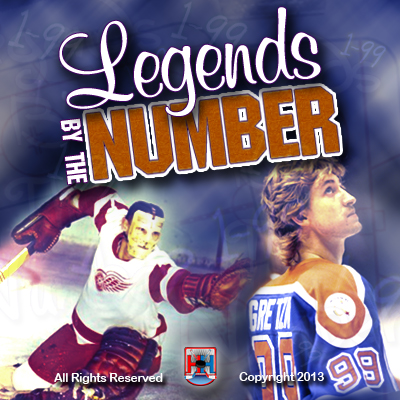 #6
*Hockey-reference doesn't have jersey number listings from pre-1950s
**Note: +/- has only been recorded by the NHL since the 1967-68 season
Honorable Mention: Ron Ellis, Ken Morrow, Ralph Backstrom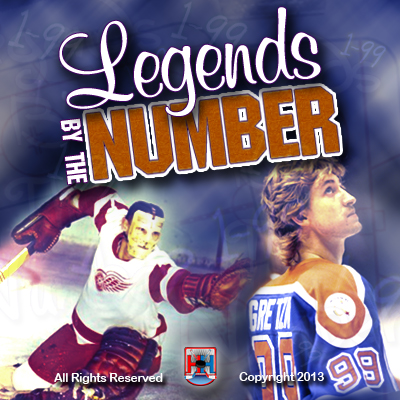 3rd – Ace Bailey
Position – Right Wing
When he wore #6 – Majority of his career* (All with Toronto)
Regular Season Stats – 313 GP – 111 G – 82 A – 193 PTS – ** – 472 PIMs
Known primarily for – His Hall of Fame Induction, Stanley Cup, and scoring title
Background – Born 7/3/03/Died 4/7/92; 5-ft-10, 160 lb
Ace Bailey was a great player with an unfairly short career. Unfortunately, most people think of "the incident" instead of his playing days.
He originally did not have any intention of playing in the NHL, but upon some convincing, he tried out and made the Leafs. Bailey quickly became a fan favorite, scoring 28 points in 42 games in his rookie season. He finished sixth in the league in scoring.
In his third season (1928-29) Ace led the league in goals (22) and points (32). The two seasons that followed saw Bailey surpass that total twice. In 1929-30 he scored 43 points in 43 games, and in 1930-31 he scored 42 points in 40 games.
In 1931-32, Bailey helped the Leafs win their first Stanley Cup in ten years.
Of course by "the incident" I am indeed referring to the collision with Boston's Eddie Shore who may or may not have been trying to get even with Bailey, the player whom he thought had hit him. In reality, Bailey had not hit Shore. Rather, King Clancy had hit him. He tripped Bailey while his back was turned, causing Bailey's head to nearly crack open on the hard ice surface. His condition in the hospital was grave. There was a very small chance he would even continue living. However, he pulled through miraculously and lived a long life afterwards.
Bailey's teammate Red Horner stuck up for Ace and dropped Shore to the ice unconscious. Before being taken to the hospital, Shore awoke from his unconscious state to apologize to Bailey. Bailey forgave him and said "It's all part of the game." Soon after he said that, he was unconscious and having seizure-like symptoms once again.
The First NHL All-Star Game was dedicated to Ace (who was not able to play hockey again in his life), and the proceeds raised helped to support Bailey and his recovery. The game took place two months after the hit.
The annual All-Star Game tradition didn't officially begin until 1947, but the benefit game that saw Bailey's Leafs take on the NHL All-Stars in 1934 was definitely a foundation for future All-Star Games.
Later in his life, Bailey would coach the University of Toronto Varsity Blues men's team from 1935-40 and from 1945-49, and in the process, would win three championships. He was a timekeeper from 1938-1984 in Maple Leaf Gardens.
He was elected to the Hall of Fame in 1975 and the retirement of his number six jersey by the Maple Leafs in 1934 marked the first time any player's number had been retired.
2nd – "Toe" Blake
Position – Left Wing
When he wore #6 – Most of his career, which was spent entirely in Montreal: 1934-35 with Montreal Maroons); 1935-48*
Note: He also wore numbers 16, 18, and 21
Regular Season Stats – 577 GP – 235 G – 292 A – 527 PTS – ** – 272 PIMs
Known primarily for – As a player: Three Stanley Cups, Hart Trophy, Art Ross Trophy, Lady Byng Trophy; As a coach: Eight Stanley Cups, winningest coach in Habs history
Background – Born 10/29/53; 5-ft-10, 165 lb
Toe Blake is probably best known as the coach of the Montreal Canadiens from 1955-68, but before he was a coach, he was a skilled winger on the same team.
Blake started his NHL career with the Montreal Maroons in 1934-35 and played just eight regular season games and one playoff game. However, his team would win the Stanley Cup that season, allowing Blake to have his name engraved on the Cup as a rookie.
Blake was a member of the Montreal Canadiens from 1935-1948, and in that time, accumulated 235 goals and 527 points in 577 games. During the final eight seasons of his career, he was the captain of the Habs.
During his captaincy, Montreal would capture the Stanley Cup in 1944 and 1946. He led the league in assists (11) and points (18, including his Cup clinching goal in overtime) in the 1944 run. He would also lead the league in playoff goals (7) in 1946. In the same season, Blake won the Lady Byng Trophy for sportsmanlike play in the regular season.
In 1938-39, Blake scored 47 points in 48 games and received the Art Ross Trophy. In the same season he also won the Hart Trophy for league MVP.
He was also known for playing on the memorable "Punch Line," (starting in 1943) which was centered by Elmer Lach and balanced by Maurice "Rocket" Richard. In the 1942-43 season, Lach finished just one point behind Blake for the team lead in points. In the 1943-44 season, Lach, Blake, and Richard would finish 1-2-3 in team scoring. At that time, Blake was five years older than Lach and nine years older than Richard.
He made the NHL First All-Star Team in 1939, 1940 and 1945. He made the Second Team in 1946.
After injuries forced him out of the game at age 35 in 1948, Blake decided to try coaching. He coached for a while in the minors, and finally got his shot at coaching the Habs in 1955 at age 43. In his first year of coaching, Montreal went 45-15-10, finished with 100 points (1st in the league), and won the Stanley Cup, losing just twice in 10 playoff games.
He would coach his team to victory five consecutive seasons to kick off a legendary coaching career (the last of those victories was an 8-0 undefeated run). From 1956 to 1962, the Canadiens finished the regular season in first each year except for his second season behind the bench when they finished second.
From 1961-64, Blake would still have regular season success, but no playoff success. At age 52 however, he managed to win another Cup (his first of two consecutive Cups). He would round off his career in the 1967-68 campaign with an astounding 12-1 playoff record, and an eighth Stanley Cup (eleven total in his career).
He finished with 235 goals and 527 points in 577 regular season games as a player (25 goals and 62 points in 58 playoff games). He finished with 500 wins in 914 regular season games as a coach. He also accumulated an incredible 82 wins in 119 playoff games.
To this day, Blake remains the winningest coach in team history. His eight Cups won as a coach is the second highest total for any coach in league history.
He was inducted into the Hall of Fame in 1966.
1st – Phil Housley
Position – Defenseman
When he wore #5 – 1983-90 (With Buffalo); 1991-93 (With Winnipeg); 1994 (With St. Louis); 1995-96, 1998-01 (With Calgary); 1995-96 (With New Jersey); 2002-03 (With Chicago)
Note: He also wore number 96 in the 1997-98 season (With Washington) and in the 2003 season (With Toronto).
Regular Season Stats – 1495 GP – 338 G – 894 A – 1232 PTS – (-) 53 – 822 PIMs
Known primarily for – His Hall of Fame Induction, four Stanley Cups, three Norris Trophies, and Calder Trophy
Background – Born 3/9/64; 5-ft-10, 185 lb
Phil Housley, if not for Mike Modano (and later Brett Hull) surpassing him, would be the highest scoring American-born player. In fact, Ray Bourque, Paul Coffey, and Al MacInnis were the only defensemen to have ever scored more points than him.
He scored at 60+ points in each season that he played the majority of the games from 1983 to 1996. Even in the half-locked-out 1995 season, Housley notched a point-per-game for a pace of 43 points in 43 games.
Not only was he dangerous at even strength, he was just as good on the power play. 129 of his 338 goals and 480 of his 894 assists were scored with the man-advantage.
Housley was able to play full-time in the NHL from age 18 to 38. He played on eight different teams over the course of his career but remained an almost-point-per-game player throughout.
For as good a player as he was, he never enjoyed team success. Many of the teams he played often underachieved, and his plus/minus suffered. He was a -53 and never played on a contending team. He has played in the most games without a Stanley Cup to his name than any player in league history.
One of his best years came as a Winnipeg Jet in 1992-93, when he scored 18 goals and 97 points.
Only Mike Modano (by four games) and Chris Chelios have played in more NHL games than Housley. He played in nearly 1500 games (1495), and he was rarely injured.
Phil played in a total of seven All-Star Games from 1984-2000. He was named to the Second All-Star team once and was nominated for the Norris Trophy once. Don't let his seemingly unsubstantial collection of hardware deter your view on Housley's career.
He was as durable as they come on the blueline, and his longevity serves to prove just that. There have been few defensemen in the history of the game that have been able to produce points like he did. He had a knack for scoring and was not content with sitting back and letting the forwards do all the work.
He served as head coach for Team USA during the World under-20 Championships in 2013 when the Americans won gold. He also served as an assistant coach for Team USA during the World Championships when the Americans won bronze in the same year.
The Nashville Predators recently hired Housley as an assistant coach at the end of the 2013 season, meaning he still has a chance to win that long-eluded Cup.
He was inducted into the U.S. Hockey Hall of Fame in 2004 and is currently eligible for induction into the Hall of Fame in Toronto.
References:
On-Line Sources
Hockey-Reference.com
Hockeydb.com
Legendsofhockey.net
Wikipedia.org
Our History – The Historical Website of the Montreal Canadiens
Maple Leafs Legends Blogspot
Off-Line Sources
Total Hockey (Book)
Hockey Chronicle (Book)
The Hockey News Hockey Almanac 2000 (Book)
Who's Who in Hockey (Book – Stan and Shirley Fischler)
The Hockey News Top 100 Players of All-Time by Position
Follow me on Twitter @yungspork