Many of you probably haven't seen much of Henrik Zetterberg. He's not flashy, doesn't have incredible highlights, and doesn't talk much about himself. He's just one of those guys that night in and night out does his job. However, in the past season, Zetterberg's name has come up a little more around the water cooler as NHL legend Wayne Gretzky said that he believes that Henrik Zetterberg is the best player to ever come out of Sweden and is the best player in the NHL at his age (age 32). Hold the phone for a second. How can a guy that is not even a point per game player be the best player to ever come out of Sweden? I mean we are talking about being better than guys such as Nicklas Lidstrom, Peter Forsberg, Daniel Alfredsson, Mats Sundin, and Borje Salming. Those are some high quality players. That brings me to the major point of this article – it's not all about the points. I will say this now and I will stand by it – there is not a single player in the NHL that works harder on both ends of the ice than Henrik Zetterberg. That's why a guy that measures just 5'11" 197 lbs has over 700 points, a Stanley Cup, a Conn Smythe Trophy, and is now the captain of an Original Six franchise (Detroit Red Wings). Just what is it about him that makes him so special?
Tenacity
You can't teach heart. That's a saying that's been thrown around in all sports for a long time and boy does it fit for Zetterberg. He's smaller than most of the defensemen he goes up against, yet all he does is find the net. You can slash him, check him, hit him, push him around, but there is one thing you can't do and that is get him to quit. He will keep coming and coming and coming. Sure his point totals may not be up there with the likes of Sidney Crosby, or even his teammate Pavel Datsyuk. However, his tenacity in both the offensive and defensive zones allows him to still be mentioned as one of the best players in the world. I think current Red Wings coach Mike Babcock said it best about Zetterberg. He said "I think he's like a working class star if that makes any sense. He just doesn't do it on skill, he does it on determination, work ethic, and drive, and making people around him better." Below I'm going to try and show you some videos that demonstrate this relentlessness, but I probably won't do it justice.
In this video, just watch Zetterberg outwork the St. Louis Blues' T.J. Oshie. Oshie is 26 years old and is of a similar size to Zetterberg, yet the much older Zetterberg was still able to outwork him, absorb the hit, and then just will the puck into the net. The Wings didn't need that goal. They were up 4-3 with 12 seconds to go, the game most likely sealed. However, Zetterberg was determined to get the insurance marker. Oh and that was his 3rd goal of the game and his 5th point of the night. Simply relentless.
This goal is simply unbelievable. I saw this goal live and could not believe it. Zetterberg trails on this play, gets knocked down, and as he is falling to the ice, he contorts his body to swat the puck blindly over the top shoulder of the Colorado Avalanche netminder. Simply spectacular.
Scroll over to the 3:57 mark of the video. Watch Zetterberg outwork four Dallas Stars' players for the puck and feed it to Datsyuk for a goal. Keep in mind that this is Game 3 of the 2008 Western Conference Finals, a big stage where every players' compete level should be through the roof.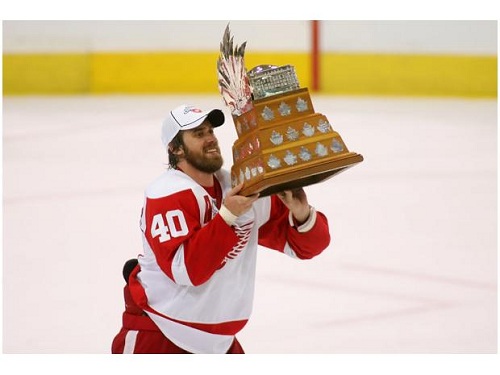 Instincts
Along with tenacity, you can't teach instincts. Zetterberg just understands hockey. He knows where he's supposed to be defensively, both with his physical position and his stick positioning. Offensively, he understands where all of his teammates are and almost always makes the right play. He just has a great awareness and knows how to play both with and without the puck. Again, this is something that is very difficult to show on tape, but I'll try to show you some of his offensive and defensive awareness.
This is the shift that everyone knows. I'll provide a little bit of context. This is the game 4 of the 2008 Stanley Cup Finals. The Wings are up 2 games to 1 on the Penguins and the score is 2-1 in the middle of the 3rd period. The Penguins get a 5-on-3 advantage for 1:26. This is that shift from Henrik Zetterberg. First thing you notice is the blocked shot by Zetterberg at the 0:33 mark of the video. Watch how Zetterberg takes away the passing lane with his stick while positioning his body perfectly to take away the shooting lane. Also take notice on how he is able to block the shot without dropping to the ice. This is crucial during a 5-on-3 as he is able to stay on his skates to follow the puck. If he goes down to block that shot, chances are the Penguins are able to recover the puck and make a play before Zetterberg regains his position. Then, at the 0:45 mark you see one of the best defensive plays in the history of the Stanley Cup Finals, and no that is not an exaggeration. Zetterberg realizes that Wings were outmanned down on the goal line and he realizes that Sidney Crosby is on the doorstep of the crease, just waiting to tap in the puck. Zetterberg sprints back and ties up Crosby's stick just seconds before the puck gets there. Zetterberg was so strong on his stick that Crosby was not even able to muster a shot. Simply incredible instincts.
This one will show you a bit of Zetterberg's offensive instincts. For the first 6 seconds of the video, you see Zetterberg and three Dallas Stars' players. How the heck does he spy Datsyuk on this one? Simply beautiful to watch.
The highlight here is obviously Datsyuk's goal with 5 seconds remaining that gave the Wings their 22nd consecutive home win. However, watch the pass that Zetterberg makes. He knows exactly where Datsyuk is, and he wheels a pass in there without even looking. That was simply unbelievable.
Puck Possession
One of the major issues that European players face when coming over to the NHL is adjusting to the smaller ice surface. European ice rinks are 197 feet by 98.4 feet. NHL rinks are 200 feet by 85 feet. While that extra 13.4 feet doesn't seem like a whole lot, it really makes a major difference. The European players like to play in the open ice, but in the NHL, the players are bigger, faster, stronger, and on the smaller ice rink, it is that much harder to maneuver. That's why Henrik Zetterberg is so special. He uses the boards and his body to protect the puck better than almost any other European player I've ever seen. Next time you see Zetterberg play, watch how he uses the boards to shield the puck. Zetterberg will lower his shoulder, and carry the puck with one arm as he comes down the boards. He will contort his body to dodge the defenders and to shield the puck along the boards as he comes down. Remember, Zetterberg is just 5'11" and 197 lbs. Yet he is one of the hardest players to take the puck from. There is no great single highlight video of Zetterberg's puck possession skills so below is a highlight clip of Zetterberg. Pay attention to just his control of the puck and how it appears so smooth despite the constant pressure.
Many of you disagreed when I said that I was going to put Zetterberg on this list. Many of you said that he doesn't have the same kind of skill as guys such as Crosby, Datsyuk, or Alex Ovechkin. You know what? You're right. His skill set isn't on the same level as theirs. Zetterberg has a good backhand, decent shot, decent skating ability, and a pretty solid bag of tricks. Nothing extraordinarily spectacular. However, one thing I can guarantee you is that nobody works harder than Zetterberg in both the offensive and defensive zones for the entire 60 minutes. When you combine that with Zetterberg's hockey instincts, you come up with a blue collar superstar.
When we think historically, I like to compare Zetterberg to Bobby Clarke and Ted Kennedy. Both players were players that were not known for any particular skill but were known for outworking the opposition and being solid in both the offensive and defensive zones. Sure Zetterberg isn't as gifted offensively as Bobby Clarke was or as physical as Ted Kennedy was, but I still believe that when Zetterberg hangs up the skates in the next 6-8 years, I expect Zetterberg to be hanging around 1,000 points and close to a lock for the Hall of Fame. That's why he's a Living Legend in my eyes. And if you don't believe me, just ask Wayne Gretzky how he feels about him.
Love Reading About Hockey?

Subscribe to keep up-to-date with the latest and most interesting hockey news!
| | |
| --- | --- |
| | We hate spam just as much as you |