When I first released the list of players for the Living Legends segment, I received many comments saying that this player should not be included because of his age. I debated that point, but after watching him for half a season, there was no way I could leave him off of this list. In his short time in the NHL he's accomplished some incredible feats and does not seem close to stopping. Our tribute to today's Living Legends continues with a player that is just 23 years of age but has already established himself as one of the bonafide superstars. Meet Steven Stamkos.
We know Steven Stamkos is a goal machine. The guy piles them up, having amassed 199 goals in just 351 games. That is a career goals per game average of 0.567 per game . That mark would put him 10th all time, just a hair behind Bobby Hull (0.574), but slightly ahead of Maurice "Rocket" Richard and Phil Esposito. That's some pretty nice company. The only active player with a higher goals per game average than Stamkos is Washington's Alexander Ovechkin at 0.606. That's absolutely phenomenal goal production. What is it about Stamkos that allows him to score goals so effortlessly? I mean the guy already has two 50-goal seasons in his first four seasons and is on pace to add another 37 goals in this lockout shortened season. Let's take a look:
Positioning
The key to becoming an elite goal scorer is knowing how to find the open space on the ice. I'd wager that Stamkos and the Penguins' Sidney Crosby are the two best in the NHL at finding that open space on the ice. When you are an elite player, defensemen will automatically mark you as soon as you enter the offensive zone so it's even harder to find the open space. Below, I'm going to post a Youtube video of Stamkos' 60 goals from last year. What I want you to watch is how he constantly remains in motion, always adjusts his position to create a better passing angle, and most importantly, always heads to the front of the net. Another remarkable thing about Stamkos' positioning is the way he turns his body to always create a shooting lane. Stamkos does this by swiveling his hips and raising his stick to be in shooting position. Every single time he does this, Stamkos automatically attracts the attention of the closest defenseman and the goaltender. Even if the puck doesn't go to him, he has created a distraction for both the defensemen and the goaltender to worry about. But what really separates Stamkos from Alex Ovechkin is that Stamkos is willing to go to the dirty areas of the ice to score goals. He scores goals from the front of the net. He deflects pucks while providing a screen on the goalie. He uses his big frame to shield defensemen in front of the goal. That's why Stamkos is such an elite goal scorer.
The Trademark – "Left Faceoff Dot"
Every time my buddy tells me that Stamkos has scored, I always have one question for him – "Was it from the left faceoff dot"? I would wager that Stamkos scores at least 30-35% of his goals from that left faceoff dot. He combines so many different technical skills to get that shot off. Stamkos will attempt to "get lost" in the defense by skating slowly around that left faceoff dot before quickly moving into shooting position. Next. Stamkos has to swivel the hips as mentioned previously to put himself in shooting position Finally, Stamkos receives the pass and gets off the one-timer. Boy does he let it go. The release on his one-timer is simply remarkable. A good number of players struggle with the timing of the one-timer. Stamkos takes the stick back and snaps it forward all in one motion, getting the shot off before anybody can block it. He often drops to one knee, similar to Brett Hull when he's transferring his weight. To make everything that much worse for the goaltender, he has incredible accuracy. He can hit from every angle (see his goal against Boston from earlier in March). Enough describing, let's just watch some of the beauties.
The Mechanics
So far we've looked at his positioning and his timing, now let's look at the actual shooting mechanics. This seems like a fairly basic skill but most people don't realize everything that goes into shooting a puck properly. There is the positioning of the hands on the stick, the positioning of the feet, where the puck is located on the blade of the stick, the weight transfer, etc. Stamkos' mechanics are pretty much textbook. You'll often times see a lot of great scorers get away with imperfect mechanics simply because they have incredible talent. I'll post some of his wrist shot goals so you can see the exact mechanics I'm talking about.
Ok let's review this goal. First, watch how he receives the pass. Stamkos is actually facing the boards and in two strides he positions his legs at a proper 45 degree angle in relation to the net. Next, watch how he plants that front foot. This establishes the weight on the front foot prior to the release of the shot. Next, watch how he loads up the weight on the stick and then quickly releases the shot. Watch his follow through and how it's pointed directly where he's aiming. That's just textbook shooting mechanics.
Again, the same kind of textbook mechanics. Watch as Stamkos receives the pass and immediately wheels the puck into shooting position. Then, the most incredible part of this shot is how he manages to avoid shooting the puck into the defenseman. The defenseman is literally 5 feet in front of Stamkos and he still manages to avoid hitting him with the shot. Next, take a look at how Stamkos picks the corner. That is one helluva shot. There is not a single goalie in the history of the game that can stop that shot. Fundamental mechanics, lethal accuracy, it's no wonder that this guy is closing in on 200 goals in just his 5th season.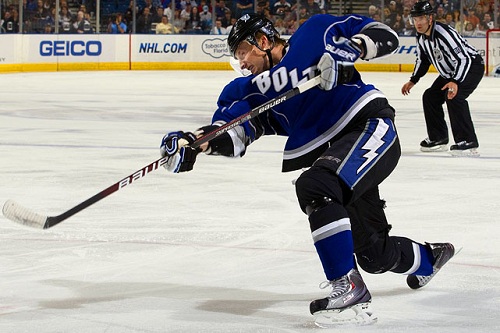 Ok, we've spent a lot of time looking at how Stamkos scores his goals. And for the most part, early in his career, Stamkos was just a goal scorer. His +/- his rookie year was a paltry -13. However, his +/- numbers have gotten better each year, improving from -13, to -2, to +3, to +7 last year. As Stamkos' defense has improved, he's received more and more ice time, playing a career high 22:09 a game this year. Stamkos' takeaway numbers have also been pretty solid, finishing in the top 3 or 4 on his team every year and this year he's ranking 3rd on his team. The one area that Stamkos can stand to improve on is his faceoff percentage. If Stamkos wants to truly be considered in the class of the Penguins' Sidney Crosby and Detroit's Pavel Datsyuk as all-around centers, he will have to improve his faceoff numbers. This season he's operating at a paltry 45.2%. His career high percentage is 47.9%. Guys like Crosby and Datsyuk are usually somewhere between 53-57%. That's the next step for Stamkos in his ascension to the top of the NHL. However, we can all appreciate that this guy is a Living Legend, well on his way to the Hall of Fame.
Love Reading About Hockey?

Subscribe to keep up-to-date with the latest and most interesting hockey news!
| | |
| --- | --- |
| | We hate spam just as much as you |