We're nearing the end of our list of living legends, but that doesn't mean these players are diminishing in skill at all. No, today, we actually will look at one of the most accomplished players in NHL history. He has blazing speed, a lethal wristshot, and is one of the greatest goal scorers in the history of our sport. Meet Teemu Selanne.
Selanne is nearing 700 goals, has over 1,400 points, and owns one of the most unbreakable records in sports with his 76 goals as a rookie. He's the "Finnish Flash", a man that can blow by you with his speed and then finish the play with ease.
As has been the case with our other Living Legends, we are going to delve into the technical skills that make Selanne who he is. There are numerous qualities that make Selanne the player that he is, but there are a couple that I want to focus on specifically.
Hockey I.Q. – Shooting the Puck
When people discuss a players' "hockey IQ", that can mean a variety of things from their positioning, to their vision, to their scoring. With Selanne, I want to specifically discuss how he uses his "hockey I.Q." to make goaltenders look silly.
Ok there a few things I want you to notice in this video (aside from the likely missed offside call). One of the things that the great goal scorers do is get the goaltender moving side-to-side. This first video is a great example of that, and I'll break it down for you frame by frame so you can see exactly what I'm talking about.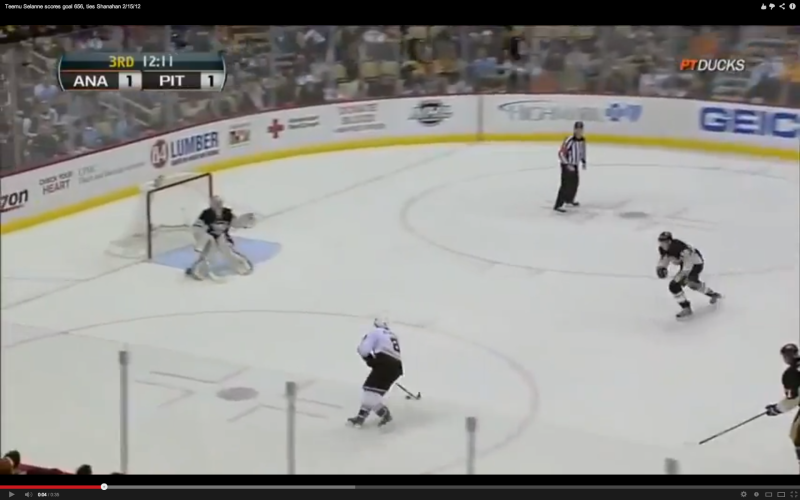 In this frame, you can see Selanne has just received the pass into the zone and he is now squaring up to face Pittsburgh Penguins' goaltender Marc-Andre Fleury. Selanne is at a bit of a bad angle and Fleury should have the advantage when it comes to making the save as he knows that his defensemen will help force Selanne out wide.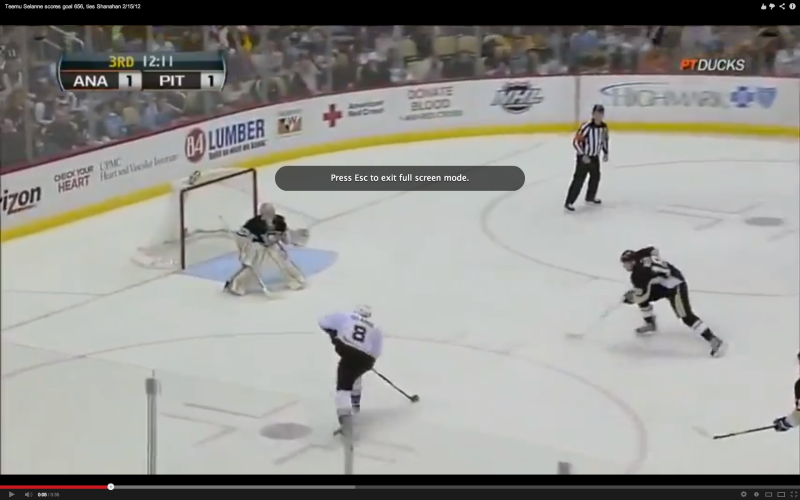 At this point, Selanne executes a subtle move that gets Fleury to drop to his knees. Selanne drops his shooting shoulder (notice how his right shoulder is very low in comparison to his left shoulder). Generally, when a player does that, it indicates that they are about to shoot the puck. Goaltenders that play the butterfly style are trained to drop to their knees just as the shot is being released. This subtle shoulder drop allows Selanne to get Fleury to go to his knees before Selanne shoots the puck.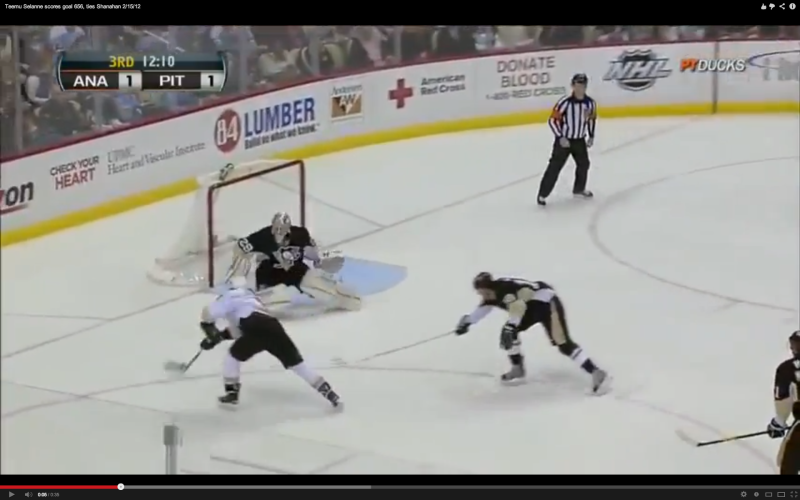 In one smooth and quick motion, Selanne drags the puck all the way across his body. This forces Fleury to try and slide across as quickly as he can to stay square to the puck. Generally when this happens, there are two areas that open up. The first area is the five-hole, and the second area is the space between the blocker and the side of the goaltender's body (7-hole). Selanne is actually going to fire this puck right through the 7-hole as Fleury attempts to slide across. It's as easy as that.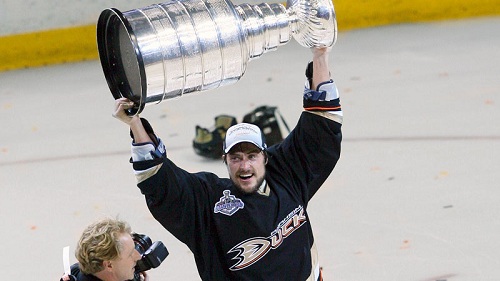 This is such a simple move, but to pull this on the fly with a defender closing in and at an extreme angle is ridiculously difficult. The shoulder fake plus the forehand-backhand deke opened up Fleury just enough for Selanne to squeeze the puck by him. That's why the guy has scored nearly 700 goals.
This video here is of a hat trick Selanne scored against the Colorado Avalanche in 2011. All three of these goals are perfect examples of the "hockey I.Q." behind a shot. On his hat trick, watch the subtle shot fake that gets the goaltender to drop his glove and then Selanne roofs it. The second goal is a beautiful example of another hockey mantra – "follow your rebound". Selanne puts it on net, but instead of peeling off and watching the play, Selanne continues to follow the play and reads where the defenseman is going to clear the puck. Selanne gets there and then roofs the shot. Finally the third goal is similar to the goal against the Penguins as Selanne goes quickly from forehand-to-backhand to pull the goaltender out of position. Simply remarkable stuff.
Strength + Speed in the front of the net
In hockey there is another mantra that states "good things happen when you go to the front of the net". However, if you aren't strong enough or fast enough once you get there, you really won't make that much happen. That's what makes Selanne so unique. Not only is he lightning quick with his first step, he is also incredibly strong. While he stands at just 6′ tall, he weighs in at 200 lbs and can definitely hold his own in front of the net.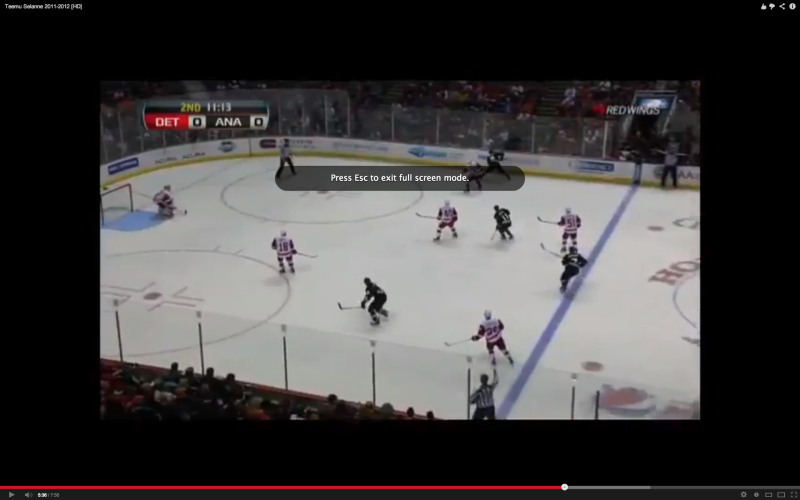 First thing I want you to notice is where the puck is. The puck is right now along the far right boards (top of your screen). Selanne is the one Duck that is closest to the bottom of the frame. Notice how every player except for Selanne is looking at the puck. What is Selanne doing? He's making a beeline to the front of the net.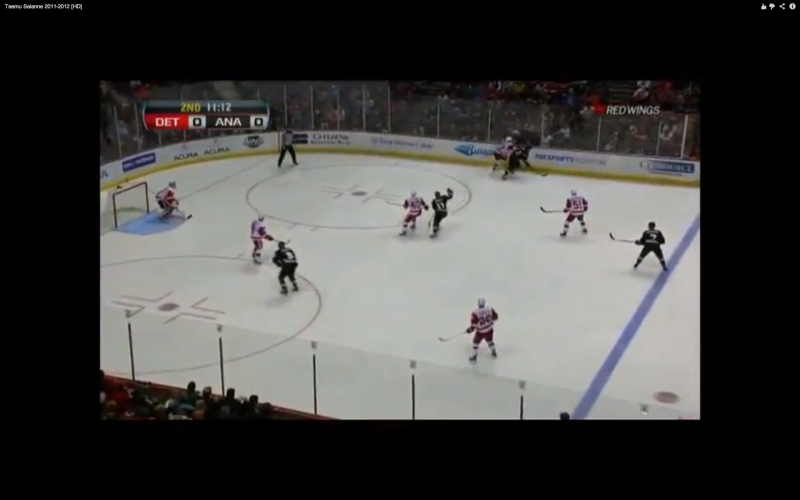 Selanne has now been picked up by
Detroit Red Wings
' defenseman Ian White as he approaches the front of the net. In the next frame you will see Selanne use his strength to outmuscle the 5'10" 191 lb White for position in front of the net.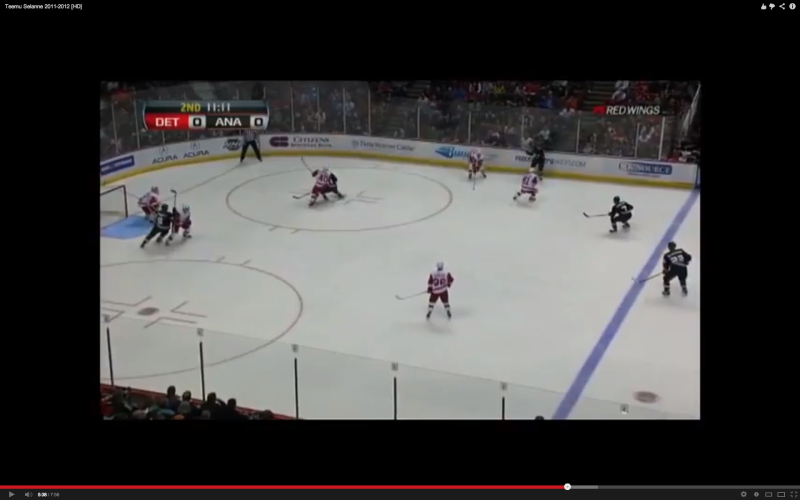 Selanne has now established inside position on White and has the inside track to any rebounds that may be given up by the goaltender. That is exactly what happens as Selanne outmuscles White for the puck and jams a goal home.
Here's an example of Selanne's quick burst in front of the net.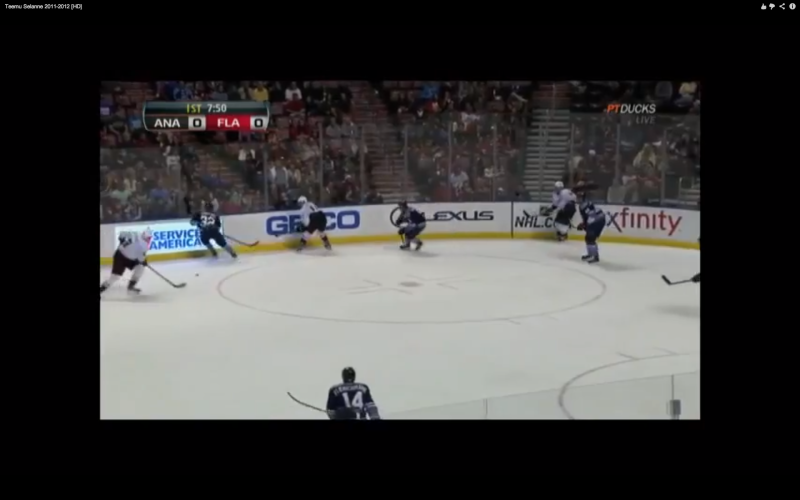 Take a quick survey of this frame. Selanne is in the corner while the puck is being moved into the slot to teammate Bobby Ryan. Watch as I go frame-by-frame and show how Selanne beats his man out of the corner to the front of the net. This is an undervalued skill but a skill that is highly important to scoring those easy rebound goals.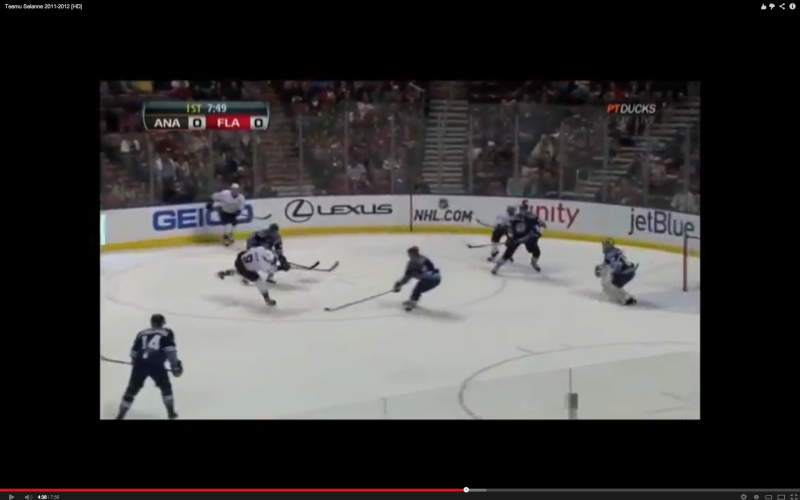 At this point and time, Ryan has just finished releasing the puck and you can see that Selanne is still behind his man as he is coming out of the corner.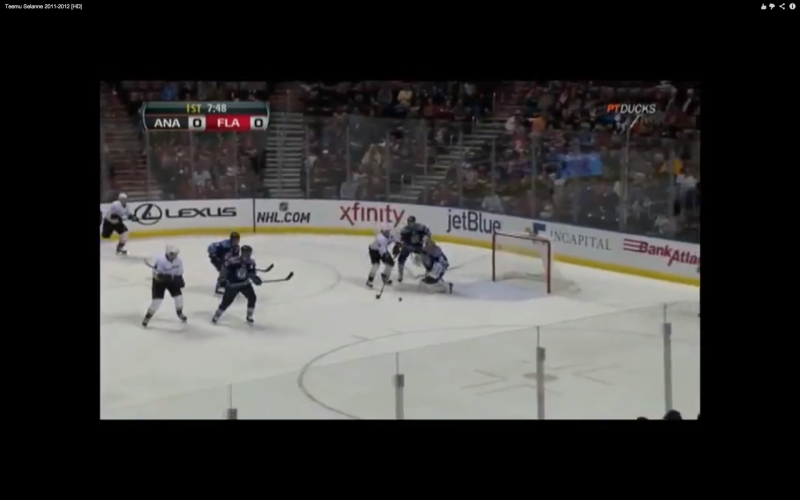 Boom. In an instant, Selanne has stepped around his man, beaten him to the front of the net, and now has the puck on his stick for an easy rebound goal. In just a split-second he's able to step around his guy. Keep in mind that Selanne is 41 years old when he scored that goal. That's simply unbelievable.
Selanne's strength and speed in front of the net are perfect complements to his unparalleled hockey I.Q. It's very rare to find a player that can combine strength and speed while having off-the-charts intelligence when it comes to the game of hockey. That's what makes Selanne a Living Legend. But for me, the icing on the cake is what I like to call his "Love of the Game".
Michael Jordan in his first contract had something called a "Love of the Game Clause" that allowed him to play basketball anywhere, at any time, simply because he loved the game. If any NHL player were to have a clause like that in their contract, it would be Selanne. There's a story from earlier this season where Anaheim Ducks' coach Bruce Boudreau told Selanne to take the day off and even hid his skates to make sure that Selanne would not find his way on to the ice. What did Selanne do? Selanne rummaged around until he found an old pair of skates and then he snuck on to the ice and hid behind some teammates.
You just can't keep this man from playing hockey. He loves it. He studies it. He respects it. It's this passion that drives him to play at 100% capacity night in and night out. It's this passion that drives him to keep his body in incredible shape, a shape so good that Boudreau even suggested that Selanne might be the world's greatest athlete right now at 42 years of age. You simply don't find that many players that still play today for the love of the game. That's the icing on the cake for Selanne and one of the reasons why the man is a Living Legend.
Love Reading About Hockey?

Subscribe to keep up-to-date with the latest and most interesting hockey news!
| | |
| --- | --- |
| | We hate spam just as much as you |