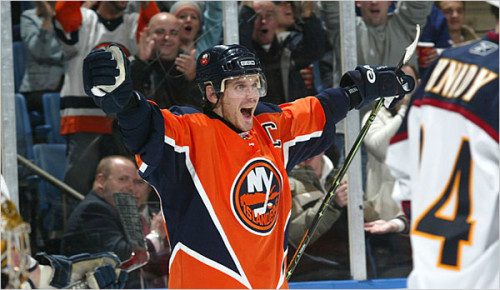 Islanders fans, rejoice! This upcoming season (2014-15), the last remnant of the Scorched Earth tactician and GM extraordinaire Mike Milbury finally clears payroll. That's right; the 8-year buyout on Alexei Yashin's monstrous 10-year, $87.5-million contract begun on June 2007 is set to clear the books this season, clearing about $2 million in cap space for the Islanders for the 2015-16 season.
Long-maligned as one of the most selfish players, Yashin, when seen from a statistic standpoint, isn't truly terrible, with 337 goals and 781 points in 850 games, adding up to about a .919 point per game ratio. However, when you factor in the 82+ games he missed during a contract dispute with the Ottawa Senators in the 1999-2000 season, his stats take a huge hit. Taking into consideration the 6-game playoff appearance by the Senators that season, as well as the whole season, Yashin's theoretical games played comes up to 938, lowering his point per game ratio to .833; still statistically more significant than many active NHLers. The reason Yashin is known as a selfish player comes from the aforementioned contract dispute with the Ottawa Senators, as well as many other incidents that make it evident that Yashin was not motivated by the love of the game, but by getting paid. Had Yashin chosen a different career, namely, one in Wall Street, he would be hosting toupee tryout play-dates with Donald Trump.
Now, many fans and readers of this particular article may not know the ugly history surrounding both Alexei Yashin and the embarrassing streak that, if left alone, could've resulted in one of the best teams of all time if not for GM Mike Milbury. As a whole, the Islanders franchise was a disaster during the "Milbury Era," including one ownership scandal, subject of a wonderful ESPN documentary that you can catch here. Without further ado, here's a timeline of infamy that the Islanders (and the NHL in general) would be ill-advised to forget:
June 20, 1992: Alexei Yashin is selected 2nd overall in the Entry Draft, the first-ever selection by an expansion Ottawa Senators team.
1993-94 NHL Season: Alexei Yashin first laces up his skates for the Ottawa Senators along with 1993 Entry Draft 1st overall draft pick Alexander Daigle. Yashin would go on to earn a Calder Trophy nomination (30G, 49A) despite Daigle being favored by the Senators.
1995-96 NHL Season: Alexei Yashin refuses to honor his contract with the Ottawa Senators unless he becomes the highest paid player in the team, demanding a contract similar to Alexander Daigle's. Mike Milbury is hired by the New York Islanders as a head coach, replacing Lorne Henning. New York Islanders go through two GM's this season as well, with Don Maloney being replaced by Darcy Regier on an interim basis before Islanders brass decide to give Mike Milbury the dual GM-head coach position.
October 3, 1995: Mike Milbury engineers a 3-way trade with the Colorado Avalanche and the New Jersey Devils that result in the Islanders receiving the services of Wendel Clark.
1996-97 NHL Season: Yashin leads the Ottawa Senators into the playoffs, scoring an overtime winner against the New Jersey Devils, leading to the Senators' first ever playoff season win. Mike Milbury steps down as head coach of the New York Islanders to focus on his job as GM, hiring head coach Rick Bowness. This is also the season in which the Islanders' ownership crisis unfolds.
January 23, 1996: Milbury is involved in another 3-way trade, this time with the Toronto Maple Leafs and the Ottawa Senators, in which the Leafs acquire Don Beaupre and Kirk Muller, the Senators acquire Wade Redden and Damian Rhodes, and the Islanders acquire Bryan Berard, Martin Straka and Ken Belanger.
March 13, 1996: Milbury trades to the Toronto Maple Leafs, once again. This trade sees Wendel Clark, Mathieu Schneider and D.J. Smith go to Toronto while the Islanders acquired Sean Haggerty, Darby Hendrickson, Kenny Jonsson, and the Maple Leafs' 1997 first draft pick (Roberto Luongo).
1998-99 NHL Season: Rick Bowness is fired as head coach, Mike Milbury retakes the position, which he steps down from at the end of the season after hiring Bill Stewart. Alexei Yashin is named captain of the Ottawa Senators, scoring 94 points en route to a Hart Trophy nomination. Despite Yashin's performance this season, he is involved in the National Arts Centre scandal, in which he pledged to donate $1 million with a condition that the NAC give Yashin's parents an unspecified $425,000 "consultant" fee.
February 6, 1998: Islanders trade Todd Bertuzzi, Bryan McCabe and a 1998 3rd round pick (Jarkko Ruutu) for an aging Trevor Linden.
January 9, 1999: Islanders acquire Felix Potvin and a draft pick that eventually turned into Fedor Fedorov (after being traded to Tampa Bay 9 days later for Craig Janney) in exchange for Bryan Berard and a 6th round draft pick (Jan Socher).
March 20, 1999: Islanders trade Tommy Salo to the Edmonton Oilers for Mats Lindgren and an 8th round pick (Radek Martinek).
1999-2000 NHL Season: After his great season, Yashin demands a contract similar in value to Joe Sakic's and Steve Yzerman's. Yashin was due to earn $3.6 million, but demanded $6-7 million. Upon being rejected by the Senators, Yashin demanded a trade, which the Senators again rejected, prompting Yashin to fail to attend any team functions, resulting in the Senators suspending Yashin, as well as stripping him of the captaincy, giving it to Daniel Alfredsson. Yashin attempts to sign with a Swiss team, but is blocked by the IIHF until the dispute is resolved.
May 29, 1999: Montreal Canadiens acquire Trevor Linden from the Islanders in exchange for a 1st round pick (Branislav Mezei).
June 19, 1999: Islanders aquire Mathieu Biron, Josh Green, Olli Jokinen and a 1st round draft pick (Taylor Pyatt) from the LA Kings in exchange for Marcel Cousineau, Zigmund Palffy, Bryan Smolinski, and a 4th round pick in 1999 (Daniel Johansson).
December 19, 1999: Islanders acquire Bill Muckalt, Dave Scatchard and Kevin Weekes from Vancouver in exchange for Felix Potvin and 2 draft picks (Teemu Laine and Thatcher Bell)
June 24, 2000: Islanders acquire Oleg Kvasha and Mark Parrish from the Florida Panthers in exchange for Olli Jokinen and Roberto Luongo. A draft day move intended to make room for 2000 first overall draft pick Rick DiPietro.
2000-01 NHL Season: An arbitrator decides that Yashin failed to honor the last year of his contract with the Ottawa Senators, refusing his status as a free agent, forcing Yashin to play one more season with the Senators. Yashin fails to attend the team's last meeting after being swept out of the playoffs by the Toronto Maple Leafs in the first round. Mike Milbury arranges a trade to send Zdeno Chara, Bill Muckalt and the Islanders' 2001 first round draft pick (which turned into current Senators captain Jason Spezza) in exchange for Yashin. Milbury offers Yashin a 10-year, $87.5 million contract.
2001-02 NHL Season: Yashin leads the Islanders to a playoff spot for the first time in 8 years, bowing out to the Toronto Maple Leafs in 7 games in the first round. Yashin emerges as a statistical leader with 32 goals and 75 points.
June 24, 2001: Islanders acquire the rights to eventual Islanders captain Michael Peca from the Buffalo Sabres in exchange for Tim Connolly and Taylor Pyatt.
March 11, 2003: Islanders acquire Justin Papineau and a draft pick from the St. Louis Blues in exchange for Chris Osgood.
Throughout 2003-2005: Yashin's play declines. Pundits and coaching staff begin to question whether his salary is worth his point production.
August 3, 2005: Islanders acquire Mike York and a draft pick from the Edmonton Oilers in exchange for Michael Peca. The same day, Milbury signs Miroslav Satan; a move seen as complimentary to Yashin in order to boost his point production. Captaincy turns to Alexei Yashin.
2005-06 NHL Season: New York Islanders miss the playoffs for the first time since acquiring Alexei Yashin. Many media outlets and fans place the blame on Yashin's declining production.
January 12, 2006: Mike Milbury steps down as Islanders GM in order to become Senior VP of sports holdings under Charles Wang, a position he resigns in 2007.
2006-07 NHL Season: New Islanders GM Garth Snow threatens Yashin with a buyout if his point production was not up to par with his salary. Yashin begins to produce at a super-human pace by the 20-game mark.
November 25, 2006: Yashin suffers a knee sprain, which effectively slowed down his pace and prompted head coach Ted Nolan to keep Yashin in the fourth line upon his return.
June 2007: Islanders decide to buy out Yashin's contract for $17.63 million, paid out over eight years at a rate of $2.2 million per year.
July 2007: Yashin's agent claims that Alexei Yashin would "love to return to Ottawa." Yashin is offered many contracts by many different NHL teams, but none to his liking, prompting him to return to Russia, signing a one-year contract with then Russian Super League team Lokomotiv Yaroslavl. Yashin would never play NHL hockey again despite being in the payroll.
June 2011: Yashin discusses the possibility of a comeback in the NHL with the New York Islanders. Upon discussions breaking down between the two sides, Yashin signs his last contract for professional hockey: a one-year deal with CSKA Moscow of the KHL.
The history of Mike Milbury and Alexei Yashin has definitely left a sour taste in Islanders fans' mouths. With the last remnant of this dark history finally clearing, as well as the future looking up under the leadership of John Tavares, combine with the recent signing of Jaroslav Halak to bring stability between the pipes, the Islanders and their fans can finally look back at this tumultuous time and laugh at how bad they used to be, instead of lamenting what could've been.