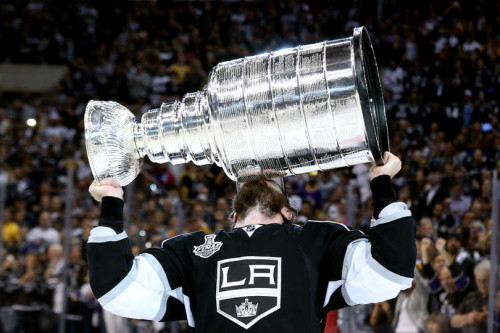 After a long hard fought season the LA Kings have won the Stanley Cup. This wasn't just an 82 game grind – it was an all out battle, especially come playoffs. The LA Kings finished 6th overall in the Western Conference, and many did not see this coming.
Why have the LA Kings been so successful? Let's first consider the play of Kings' point leader Anze Kopitar, who put up 70 points in the regular season, scoring 29 goals and putting up 41 assists. Even though he's one of the best on the team, good was never good enough, and he pushed himself and his teammates harder. His attitude was contagious, and helped the team mesh together both on and off the ice. Not to mention Kopitar was the leading scorer in the playoffs with 26 points.
Another role player for the LA Kings is none other than Jonathan Quick. The Elite goalie is nothing short of amazing, despite honing a different technique than other goalies around the league. Instead of playing a more conservative role Quick is all over the crease. It clearly looks like it has worked, and I cant wait to see how next year goes for number 32.
Just like Quick, Drew Doughty has had one long, successful season. Not only has he won gold in Sochi, but now he has lifted Lord Stanley over his head in the Staples Center for the second time since 2012. Doughty had one of his best seasons this year with 37 points in the regular season and a career playoff high of 17 points.
But every team has players who step up come playoffs, and this season no one would have guessed that it would have been Tanner Pearson. The 21-year-old Kitchener Ontario native really showed the NHL what he brings to the table, especially at such an important time. Although he only played 25 regular season games after being called up from the AHL, he has showed that his head is in the right place. He produced 12 points for the Kings in the playoffs, and he is well away from reaching his prime.
Looking to the off-season the kings are going to enter the draft in the 29th position. It will be interesting to see what the team is going to do once draft day comes and free agency begins, but hopefully they can keep most of this year's pieces and land another repeat performance.
Love Reading About Hockey?

Subscribe to keep up-to-date with the latest and most interesting hockey news!
| | |
| --- | --- |
| | We hate spam just as much as you |