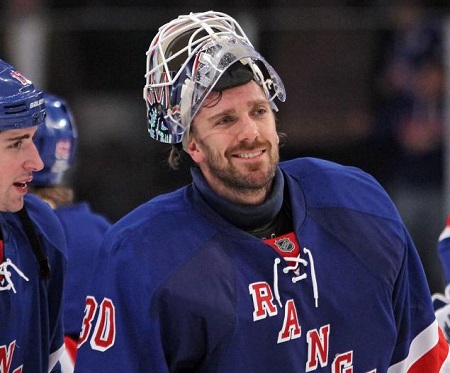 It may have taken longer than some would have liked, but the New York Rangers and goalie Henrik Lundqvist have agreed on a contract extension. The deal is seven years long and worth $8.5 million per season. This makes Lundqvist the highest paid goaltender currently in the NHL, surpassing the $7 million cap hits of Tuukka Rask in Boston and Pekka Rinne in Nashville. The deal is set to run through 2020-21 season.
The 31-year-old netminder has amassed quite the resume so far in his eight seasons on Broadway. Coming in to the season, his regular season career record is 276-171-57 with a 2.21 GAA, 45 shutouts, and a .920 save percentage in the regular season. He's been nominated for the Vezina Trophy five times, and won it in 2012. He was also nominated for the Hart Trophy and Ted Lindsay Trophy in 2012. He's a three-time All-Star, was named to the All-NHL First Team in 2012, and won an Olympic gold medal with Team Sweden in 2006. As for Rangers franchise records, he's a seven-time team MVP, holds the record for most games played in a season by a goalie (73) and is the all-time franchise leader in shutouts. He is also the only NHL goalie in NHL history to record thirty wins in his first seven seasons.
If you want to find negatives with Lundqvist, his career playoff record is 30-37 (although a 2.28 GAA, 10 shutouts, and a .920 save percentage isn't that shabby). Anyone that has paid attention to the Rangers over the past few seasons knows that is more of a result of the lack of goal-support he's dealt with for most of his career. Recording shutouts in Games 6 and 7 of the first round series against Washington last year got the "Lundqvist has never stolen a playoff series" monkey off of his back. Naysayers will also point to his 8-11-0 record so far this season. Because of the aforementioned resume, we'll chalk some of that up to the mystery injury that kept him out for a week in October.
A seven year contract at the age of 31 might be too long for some. For a guy like Lundqvist, who is a fanatic about staying in shape, that shouldn't be an issue. Short of major injury issues, he will own every Rangers goaltending record, and is already considered one of the best goalies in franchise history (winning a Stanley Cup in NYC would cement his legacy as best ever). Kudos to Glen Sather, Lundqvist, and the Rangers brass for getting this deal done in early December. The last thing either side wanted was for this to drag on in to the spring and become a distraction during the most important time of the season. Lundqvist has struggled a bit to start the season, but I wouldn't be the least bit surprised if his play picked up now that this is off his mind. The next order of business for the Rangers front office is working on a contract extension with their Captain, Ryan Callahan.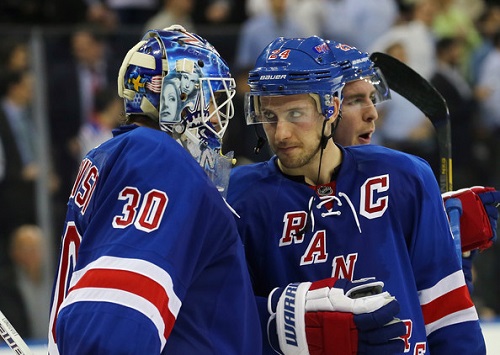 Since I last wrote…
-The Rangers lost their "Thanksgiving Showdown" with the Boston Bruins on Black Friday 3-2. After Rick Nash and Ryan McDonagh scored goals within a 1:22 span to take a 2-1 lead in the First Period, the Bruins scored two Third Period goals for the win. Their final meeting of the season will be March 2nd at Madison Square Garden.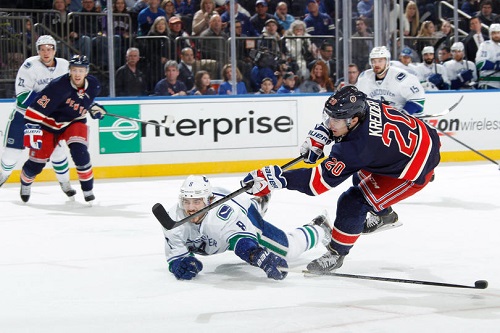 -The next day, the Rangers "welcomed" former bench boss John Tortorella back to MSG with a 5-2 victory over the Canucks. Chris Kreider, who was often in Torts' doghouse (getting a handful of minutes a night, being shuttled back and forth to the Rangers AHL-affiliate in Hartford a lot), had his first career hat trick. After the third goal, the Garden Faithful broke out with a sarcastic "Send Him Down" chant (this writer included).
-The Winnipeg Jets defeated the Blueshirts on Monday night 5-2. While Winnipeg was without LW Evander Kane, former Rangers C Olli Jokinen led the way with two goals and one assist. The loss drops the Rangers back down to .500 (14-14-0)
-Up next for the Rangers are the lowly Sabres in Buffalo (6-20-2) on Thursday night. After that game, the Rangers have a nine-game homestand (starting with the Devils on Saturday and the Capitals on Sunday) that will take them right through Christmas.