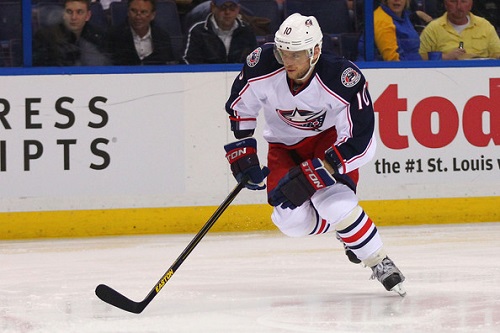 Marian Gaborik suffered a broken collarbone in a game against the Philadelphia Flyers in late December. In the past three weeks he was given weekly MRI scans to track the progress of his recovery. Gaborik had hoped to represent Slovakia in the Winter Olympics but on Thursday the Columbus Blue Jackets organization announced that he would not be able to participate due to his injury. The team released this statement from Gaborik.
"I'm extremely disappointed that I won't be able to play for Slovakia at the Olympic Games but understand the decision is the right one for my recovery and for the national team. I have been lucky and proud to represent my country at two Olympic Games and other international tournaments and look forward to doing so again in the future."
The decision was made a few days before players would begin travelling to Sochi. Gaborik is travelling with the team on their current West coast road trip.
The General Manager of the Blue Jackets, Jarmo Kekalainen, stated early in the season that Gaborik is available on the trade market. As far as we know, this is still true. Unfortunately for the organization it will be difficult to move Gaborik with the amount of playing time he has missed this season. Had he recovered and played in the Olympics it could have given other GMs an opportunity to evaluate his play, making him a commodity in the trade market.