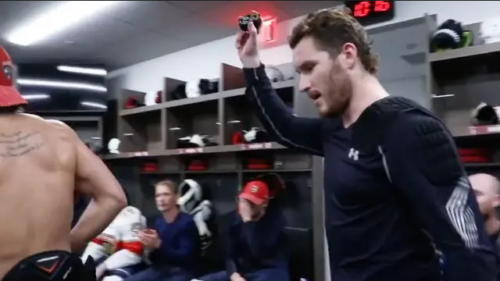 Last night at TD Garden, the Florida Panthers upset the Boston Bruins, winning a back-and-forth battle owing to an ill-timed blunder by goaltender Linus Ullmark in overtime, which allowed feisty and offensive-minded forward Matthew Tkachuk to play the role of hero.
His overtime goal at 6:05 assured that the series would return to Florida for Game 6. And, while the Bruins are still the favorite after winning 65 games during the regular season, they're learning the hard way what the 62-win Tampa Bay Lightning discovered in 2019 against the Columbus Blue Jackets: nothing is guaranteed in the postseason based on regular-season accomplishments.
And, if Tkachuk's bold assertion in the locker room afterward is correct, there may be a winner-take-all Game 7 on Sunday back in Boston.
"Boys, remember this room," Tkachuk said, per a clip shared by the Panthers. "We'll be back here for (Game) 7."
Remember this room. pic.twitter.com/oBh7Dm79fh

— Florida Panthers (@FlaPanthers) April 27, 2023
The Panthers have every right to be confident right now, after stealing two games on Boston's home ice, where the Bruins losing a game during the 2022-23 season was about as uncommon as a solar eclipse. And with that seed of doubt placed in the minds of Bruins players and fans, who knows where it will lead.
That is why, in contrast to the NBA, where lower seeded clubs nearly never upset the betting favorites, the NHL is special. In hockey, as the saying goes, "get in and you'll have a chance." Very few predicted that the Panthers would win even one game in this series, but that's why you play! Can the Panthers force a seventh game?