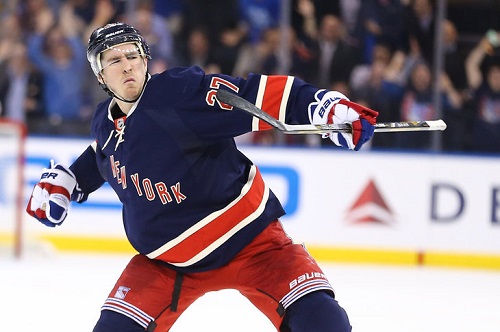 If you've grown fond of watching Ryan McDonagh on the New York Rangers blueline, get used to it. The former Wisconsin Badger signed a six-year/$28.2 million contract extension with the Blueshirts on Monday. With the new deal, McDonagh now has the second-longest contract on the team (Brad Richards contract goes through the 2019-20 season). McDonagh was set to come off of his entry-level contract, valued at $3.9 million over three years.
The 2007 first-round pick of the Montreal Canadiens (how on earth did Rangers GM Glen Sather get McDonagh and others from Bob Gainey and the Montreal Canadiens for Scott Gomez again??) has improved in each of his three seasons at Madison Square Garden. He spent 40 games with the Rangers in the 2010-11 season, tallying one goal and eight assists while posting a +16. His first full season in 2011-12 showed why the Habs drafted him 7th overall — seven goals, 25 assists, +25, and averaging 24:44 time on ice. Last season, he posted four goals, 15 assists (projects to seven goals and 26 assisted over a full season), and a +13 while averaging 24:21 TOI.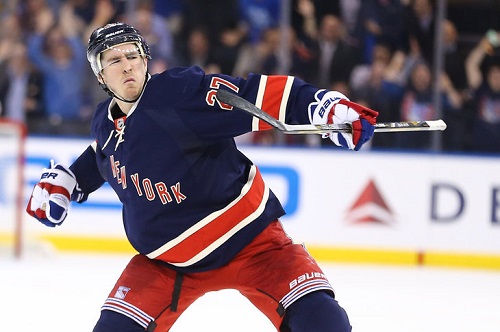 With this signing, the Rangers have shown that they think he is the best defenseman on the team right now. Marc Staal makes over $3.9 million a year through 2014-15, and who knows how his vision will be long-term after taking a puck to the eye this past March (and personally, as long as the three other Staal brothers remain in Carolina, I think he's heading to Raleigh after this contract is up). Dan Girardi makes $3.2 million through the 2013-14 season. Girardi will be owed a raise next year, but he's three years older and McDonagh has a little more offense to his game than Girardi does.
Glen Sather often gets chastized for the contracts he hands out (deservingly so – Scott Gomez, Chris Drury, Wade Redden… I don't even want to name the video game squads from the late 90s/early 2000s), but this is a smart deal. Good, all-around, young defenseman don't come around a lot, and they have him locked up for six years at a cap-friendly rate (with the thinking that it goes back up again next year). The next step is making sure Derek Stepan and Carl Hagelin get similarly balanced deals.
Other Rangers Notes:
-The Rangers have also extended qualifying offers to C Derek Stepan, LW Carl Hagelin, RW Mats Zuccarello, and D Justin Falk
-The Rangers did not extend a qualifying offer to RFA D Michael Sauer. The 25 year-old defenseman hasn't played since December 2011 with symptoms from a concussion. This could be the end of the road for a career that was cut way too short.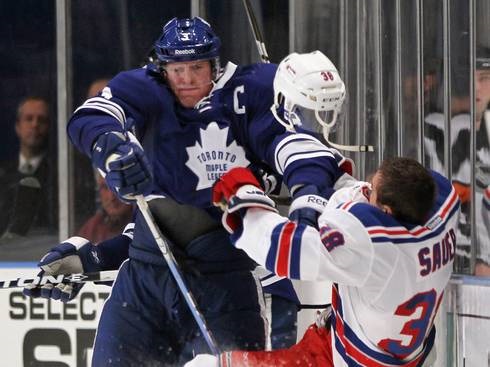 -The Rangers weren't going to be big players in free agency due to their cap situation. One minor, notable signing was LW Benoit Pouliot. The former Wild, Canadiens, Bruins and Lightning winger inked a one-year/$1.3 million contract. The 26-year old provides solid depth among the bottom six forwards.
-The Rangers brought back Dominic Moore (2005-06) on a one-year/$1 million contract. He has played on nine NHL teams. He sat out last season after his wife passed away from liver cancer in January of 2013. Moore could be an asset on the penalty kill.
-The Rangers also signed NHL/AHL journey defenseman Aaron Johnson to a one-year/$600,000 contract.
-Former Rangers Defenseman Matt Gilroy has signed a one-year deal with the Florida Panthers