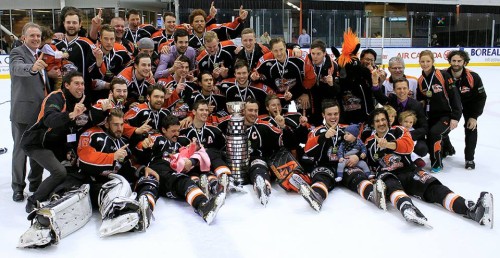 The 2014 Australian Ice Hockey League season wrapped up on Sunday as the Melbourne Mustangs captured their first ever Goodall Cup Championship.
The one-game final featured two Melbourne teams who finished first and second respectfully in the regular season standings. However when it came to the game itself, the Mustangs made it one-sided and cruised to a 6-1 pounding over the Ice.
Here's a quick recap of events through the game:
-Mustangs open up the scoring halfway into the first period (1-0 Mustangs)
-Referee takes a puck to the face off the boards during a clearing attempt; immediately following the delay the Mustangs score to go up by two (2-0 Mustangs)
-Mustangs score again after minor delay due to teammate sustaining an injury by getting hit into his own bench with the door not fully closed (3-0 Mustangs)
-Mustangs tally a 4th goal late in the second (4-0 Mustangs)
-Ice get a 5v3 powerplay for a duration of 1:23 in the final 2 minutess of the second period but fail to score
-A blast of a shot only 42 seconds into the 3rd puts the Mustangs ahead by a commanding 5 goals (5-0 Mustangs)
-Ice finally breakthrough and avoid a shutout 2:07 after giving up a 5th goal (5-1 Mustangs)
-Mustangs put one more up with 2:44 to go in the game (6-1 Mustangs)
So how did the Melbourne Mustangs celebrate their first ever Goodall Cup Championship?
Well one particular player decided to pose with the Goodall Cup trophy: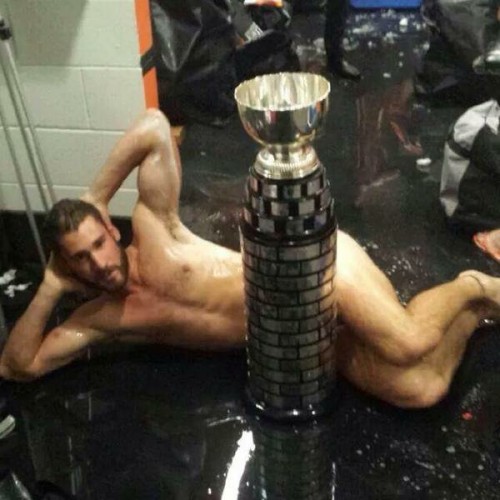 Thanks to big-time AIHL fan Sasky Stewart on the above photo for the capturing of this spectacle. The Mustangs went on to confirm that this was indeed their netminder, Michale James posing for the occasion after the photo made its way around the web.
To cap off more reason to celebrate for the Mustangs was that this was their first playoff apperance in the team's four year existence. Melbourne had up to this point been dominated by the Ice who had won three champions in their 12 years of competition.
And finally if you enjoy Australian accents, then here are some videos with Melbourne Mustang player reactions after capturing the 2014 AIHL Goodall Cup:
Words with Defenseman Damian Bright of the Melbourne Mustangs:
Words with Defenseman Alan Moss of the Melbourne Mustangs:
Words with Defenseman Vinnie Hughes of the Melbourne Mustangs:
Words with Forward Joey Hughes of the Melbourne Mustangs:
Words with Forward Matt Stringer of the Melbourne Mustangs:
Words with Defenseman Michael McDowell of the Melbourne Mustangs:
Words with Forward Pat O'Kane of the Melbourne Mustangs: