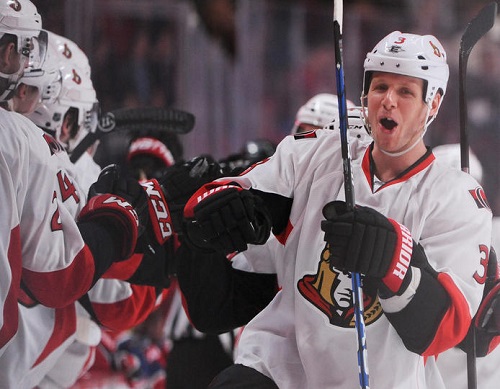 Marc Methot was elated after being offered a shot at going to Sochi.
"I had an inkling that maybe there was a chance I'd get invited to the orientation camp but to actually get that phone call and have Kevin Lowe tell me over the phone was great," the Sens defensemen said.
"I'm just extremely happy and honoured to be in that class."
In saying that, the 28-year-old admitted he'll be going into camp without knowing much about it.
"The conversation I had with Kevin was pretty quick. He had mentioned that he wasn't sure if we were going to be skating or not," Methot said. " It's obviously the first time for me so I'm kind of going in there blind, but it's something that I'm really looking forward to."
It may be his first time being involved in Olympic implications, but it's not his first red and white rodeo. Methot wore the maple leaf in 2011 and 2012 at the world championships so he definitely has international experience.
But will it be enough to go to Russia next February? Every hockey team needs a shut-down type defensemen, but when you're a Canadian hockey team, already-existing depth becomes a barrier for other players trying to crack the squad.
A total of 17 blueliners were invited to the orientation camp in Calgary that will run from August 25 to 28. Five of the 17 won gold with Canada in Vancouver. That includes Dan Boyle, Drew Doughty, Duncan Keith, Brent Seabrook and Shea Weber. With the exception of Dan Boyle due of to age, those players are locks for Sochi.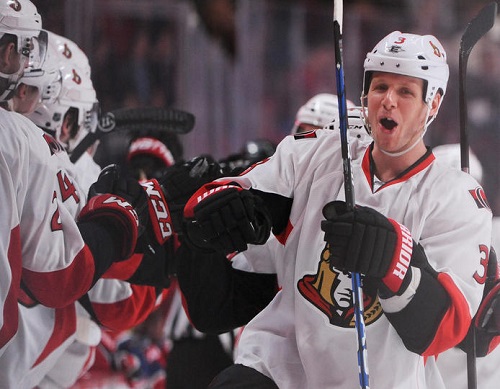 Three spots left? No, Sens fans — two.
Jay Bouwmeester, who represented Canada at the 2006 Olympics, will likely be on the team as well. He was left off the 2010 team due to struggles in the weeks before the final roster was selected, but that isn't likely to happen again. He just needs to fend off the remaining 11 contenders, including Marc Staal. If he shows well in the first half of the season, his spot should be secure.
That leaves two spots for 11 talented defensemen.
One of the remaining guys who stands out to me is the young Alex Pietrangelo. He's only played 2-and-a-half seasons, but he's put up some great numbers for the Blues so far. Having scored 51 points in 2012-13 while maintaining a career plus/minus of plus-25 , the 23-year-old will make an impact in Sochi. He's one of the taller players on the back end and that'll bode well for him on a bigger ice surface.

It shouldn't be a surprise to anyone that Methot will be fighting for the seventh and final spot. He's certainly a great stay-at-home, shut-down d-man, but there's just too many other players who can play in their own end as well as in the opposing zone.
In saying that, the last spot belongs to either Mike Green or Kris Letang. They play the game similarly; both put up points, and both can play defence. They're roughly the same height, weight and age, too.
I'll give it to Kris Letang because of Green's past injury trouble.
Sorry, Sens fans, Marc Methot will likely not make team Canada's 2014 Olympic team. Although, he could be placed on reserves in the event of an injury during the tournament.
Again, this is just a projection. A lot could happen between now and when final selections are made. It should also be noted that the three-day span in August is the only time the group will be together before Sochi, according to executive director Steve Yzerman. That means that some decisions have already been made, and that the rest will be made between October and December.
Regardless of whether or not he is selected, Marc Methot is one of five Ottawa Senators who will have a jump in their stride this fall.
And who wouldn't if it could mean playing in the Olympics?