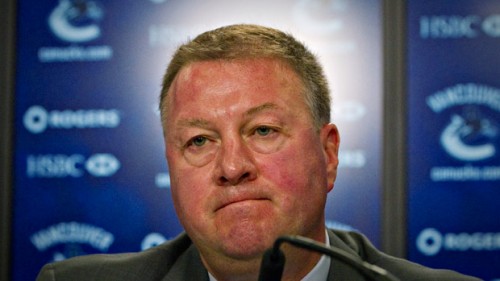 Mike Gillis is out as the president and general manager of the Vancouver Canucks.
After helping the Canucks to five straight Northwest Division titles, Monday's loss to the Anaheim Ducks mathematically eliminated the Canucks from the playoffs for the first time in Gillis' tenure.
"On behalf of my entire family, I would like to sincerely thank Mike Gillis for his hard work and the many contributions he made on and off the ice during his tenure," said owner Francesco Aquilini in a statement on Tuesday. "The Vancouver Canucks had success under Mike's leadership, and we nearly reached our ultimate goal; but I believe we have reached a point where a change in leadership and new voice is needed.
"I also want to thank our fans for their support for the Vancouver Canucks through a difficult and frustrating season. We haven't met their expectations or ours. We are committed to bringing the Stanley Cup to Vancouver for our fans and we will continue to do everything possible to reach that goal."
After losing Game 7 of the Stanley Cup Final in 2011, the Canucks have won only one playoff game in the two following postseasons. Gillis received the General Manager of the Year Award in 2011 after the team set a franchise record with 117 points in the regular season and won the Clarence Campbell Bowl as the Western Conference Champions.
After a 2011-12 season that saw the Presidents' Trophy-winning Canucks upset by the eighth-seeded Los Angeles Kings in the first round of the Stanley Cup Playoffs, Gillis was signed to a contract extension.
While many Canucks fans were calling for Gillis' head, culminating in a "Fire Gillis!" chant during Monday's game against Anaheim, one has to wonder whether or not this firing will bring any positive change to the franchise. Rumours of Gillis being Francesco Aquilini's puppet leave some fans, such as myself, speculative as to whether or not the new GM will be given any more freedom.
It was rumoured that Aquilini, hungry for some playoff ticket revenue, nixed any possible Kesler trade at the NHL trade deadline. Similarly, there has been word that Aquilini is reluctant to start a re-tool/build as it would mean taking a break from being one of the top contenders for the Stanley Cup. The meddling ownership doesn't stop there, however. As evident from Mike Gillis' last interview before being fired, he does not see eye to eye with head coach John Tortorella. There were many who believed that Tortorella's hiring was Aquilini's doing, while Gillis was seeking other head coaches such as current Los Angeles Kings assistant coach, John Stevens, and Gillis' interview only strengthened that point of view.
Mike Gillis was far from the perfect GM, and like any other, had his pros and cons. He was great at signing players to cheap contracts, and one thing I felt he never got enough credit for was bringing in many complementary, yet crucial, pieces during his tenure. Players such as Manny Malholtra, Chris Higgins, Raffi Torres, Manny Lapierre, played roles much bigger than their names during the Canucks' prime years.
However, with the cheap contracts came excessive No-Trade Clauses that may create a big problem if the Canucks want to rebuild. Gillis' handling of the Luongo/Schneider situation was very questionable, and many still criticize the way he handled the Cody Hodgson situation. There were many times where Gillis came off as too passive at trade deadlines, hesitating to seek out a big deal to push the Canucks to the next level.
Many will be glad to see Mike Gillis leave the Vancouver Canucks franchise, but his accomplishments should not be neglected. Under Gillis, the Canucks came one game short of winning their first ever Stanley Cup, and won back-to-back President's Trophies. He made many good moves, and many questionable decisions. In my opinion, the problem lies deeper than just Mike Gillis. If Francesco Aquilini continues to meddle with the General Manager's decisions, I worry that the Vancouver Canucks' new General Manager will suffer a similar fate to Mike Gillis.