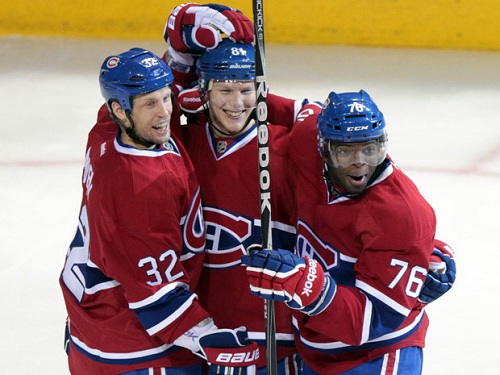 There is no place to go but up for the Montreal Canadians after finishing in last place last season. And with a shortened season, where every game counts, the Canadians' (31-35-16) bounce-back could come quicker than expected. With a strong nucleus of young players, fresh-faces in management and the addition of some strong defensive forwards, the Canadians did improve their team over the summer. But it's the players who were around last year that will decide if Montreal improves or not. With a CBA now in place, it's time to see if those moves paid off.
An important part of rebuilding a team, especially one as popular as the Canadiens, is getting new leadership with fresh ideas. Montreal did just that by bringing in new GM Marc Bergevin and head coach Michel Therrien into the fold. Bergevin was Stan Bowman's assistant GM in Chicago and helped build their 2010 championship team. Therrien last coached the Pittsburgh Penguins, taking them to the finals in 2008. Both are high-energy guys who won't settle for the lack luster performances that the team brought last year. Considering the Canadiens were sloppy the entire season last year (they only had one month above .500), a shakeup was needed. Expect the Canadians to come out flying to start the season.
Bringing guys who can infuse energy into the team is good for the Canadiens, especially since their roster will remain largely the same. They only added two key players, Colby Armstrong and Brandon Prust, who fit in the management's high-energy philosophy. Both Armstrong and Prust can throw the big hit or step up and score a key goal. They will give the Canadiens some size (something they have lacked in recent years) and depth on their bottom six forwards. Francis Bouillon also returns to the team to play some depth minutes on defence. But otherwise, the roster is stocked with players who played last season in Montreal.
However, the players who played last year aren't guaranteed spots. Montreal has one of the deeper pools of NHL ready prospects and a few of those young players could steal spots away from the veterans. One of the perks of having a losing season is the high-draft pick, and Montreal took advantage of that, nabbing Alex Galchenyuk third overall last June. The forward, who was injured most of last season, played alongside the first overall draft pick, Nail Yakupov, in Sarnia in the OHL. And in 33 games for Sarnia this season, he has 27 goals and 61 points, good for fourth in the league. He will get a chance at camp next week and could find himself playing top six minutes in Montreal in the very near future.
But Montreal has some other prospects that could also make the jump to the NHL. Louis Leblanc leads the way, having played 42 games with the big club last year, picking up 10 points. He could also challenge for top-nine minutes on forward. On the back-end, Jarred Tinordi and Nathan Beaulieu have been strong in their first season for the Hamilton Bulldogs of the AHL. They will get to tryout this year, but will be better contenders in the fall. Other prospects to watch for Montreal include Charles Hudon, Brendan Gallagher and Michael Bournival. All three will have a chance to play bottom six minutes in the next couple years.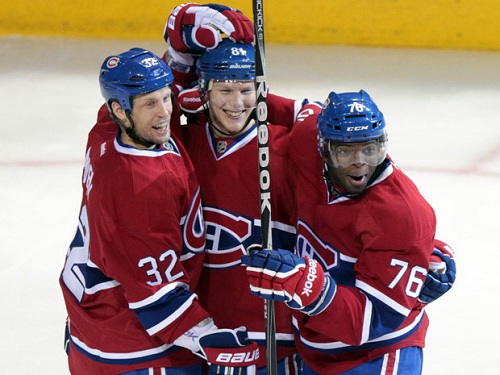 One area Montreal does not have a lot of depth in is in-goal. But Carry Price is fully capable of carrying the load. Last year was a down year for Price, who only played 65 games instead of 72 the year before. He still posted 26 wins for the Canadiens last year and added four shutouts. They will need him to be on his game every night if they are to make serious strides up the standings this year. Peter Budaj and Robert Mayer follow price on the depth chart, which means the net is his, unless the Canadiens pull off a drastic move, which is not expected right now.
The Canadiens have some veteran players on their roster who will need to be better if they are to improve on last season. Between Scott Gomez, Tomas Kaberle and Rene Bourque, the Canadiens take a $15 million cap hit. And between those three, they received 10 goals and 41 points, which is far from good enough. Gomez is all but guaranteed to be bought out after the shortened season; his $7 million salary is too much considering he only scored two goals and 11 points last year. Bourque and Kaberle are safe for now (but could be traded) and will need to be better. They should both benefit from more skilled line mates and could see their stats rise from that. And both are capable of scoring, with Bourque picking up 27 goals twice and Kaberle tallying as many as 67 points back in 2006. If their production rises, Montreal will rise in the standings.
Last season wasn't all bad for Montreal. Both Erik Cole and Max Pacioretty broke the 30 goal mark and were consistent producers. They spent most of the season as wing partners and are expected to stay in their spots on the top line this season. Pacioretty's 33 goals are especially key because they came only one year after he was taken off on a stretcher from a huge hit by Zdeno Chara. And Cole is now 34, but still playing strong. Last year was his second full season in a row, dressing for all 82 of Montreal's games and scoring 35 goals in the process. Canadiens fans should be excited to see what these two can do this season. Their offense will be key as Montreal begins to rebuild.
The Canadiens also were struck by some key injuries last season that took some of their important players out of the lineup. Team captain Brian Gionta only dressed for 31 games last year and missed the final 40 from having bicep surgery. He appears ready to go now and the Canadiens hope he can get back up to the 40-50 point range they are used to. Andrei Markov has also been injured quiet a bit. In the last two seasons, the star defenceman has only dressed for 20 games, including missing 68 straight last year after suffering a knee injury in their season opener. When healthy, Markov is an offensive force on the blue line. And he has been playing for Vityaz Chekhov of the KHL during the lockout, which shows he is ready to go. If both of these leaders come back for Montreal, and can play to their full potential, their offense and chances to succeed will greatly improve.
However, without PK Subban, it's likely the Canadians won't be going anywhere. The star defenceman and face of the franchise remains a restricted free agent after not signing a contract before the lockout began. As soon as the NHLPA votes to ratify the new CBA this weekend, Bergevin and Subban can go back to work to get a deal done. Subban scored 36 points in his second year last season, proof his secondary offense is needed. The team wants him to participate in training camp, which is set to open on January 13, so the negotiations will need to be quick. Subban wants to play, but also wants to be paid after playing the past two seasons on an entry-level contract. Once he's ready to go, he will be the cornerstone of the Canadiens and a big reason they rise out of the bottom of the Eastern Conference.
With only 48 games, all against Eastern Conference teams, the Canadiens will have a difficult time making the playoffs. They will need to play strong teams from Boston, New York, Pittsburgh and Philadelphia multiple times and getting wins will be hard. With a shortened season, every game counts and they will need all their players to show up for every game if they wish to contend. Last year that didn't happen and they finished last in the conference. Bergevin and Therrien will do what they can to bring energy to the team, but in the end, it has to come from the players. If they want to win, they will be able to. But if not, the other teams will run them over. I don't think Montreal will make the playoffs this season, but they are on the rise and will be back at the top in the near future.
All stats come from TSN's season preview of the Canadians, which can be read here.
Love Reading About Hockey?

Subscribe to keep up-to-date with the latest and most interesting hockey news!
| | |
| --- | --- |
| | We hate spam just as much as you |