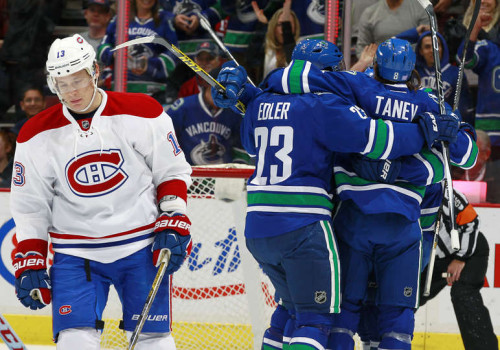 The team that was all about Carey Price last year had clearly had a chip on their shoulder they wanted to address, and there's no better way to do that than by starting the season by winning nine straight regulation games. These weren't your usual "Price stood on his head" victories or shootout victories. The Canadiens were absolutely dominant in their first nine games, and it had Montrealers feeling like they finally had a team that could hoist the Stanley Cup. To give you an idea of how dominant they've been, here a few defining stats from their 9-0 run.
They've trailed a game for less than three minutes
They allowed 12 goals in their first nine games, an NHL low
Its the first time in history a team starts a season with nine regulation wins
Price went 7-0-0 with two shutouts.
The winning streak did unfortunately come to and end when the Habs lost to the Canucks 5-1, ending their hopes of starting the season 10-0-0 and matching an NHL record. Still, the Habs are looking good to say the least, and there's quite a few things that have pushed this group to a Stanley Cup level.
Secondary scoring:
This something the Habs desperately needed last year, where they were the lowest scoring team to make the playoffs, earning them the reputation of being a team that couldn't win without their Hart Trophy winning goalie. But much has changed since last year. Acquisitions like Alexander Semin and Tomas Fleiscmann, not to mention the revamping of their fourth line with players like Flynn and Mitchell. Desharnais has finally been demoted to third centre and Galchenyuk has taken up the centre position we all wanted to see him in for so many years. These small, cheap changes have given the Habs life, and if they can keep this up, they might be one of the best scoring teams in the League.
This is especially where we can see the genius of Marc Bergevin, who's shown time and time again that you can have a quality lineup with cheap acquisitions. For Therrien, this is the longest he's gone without juggling the lines, something the players (and the fans) deeply appreciate.
Goaltending:
The Montreal Canadiens have Carey Price, who's proven that he could win games even if there were no Montreal players on the ice. Having a goalie like him between the pipes is one of the biggest advantages you can have in the League. His cool demeanor and his way of stopping pucks that looks like he isn't even trying too give confidence to the entire team. Considering the start to the season he's had, there's no reason why we shouldn't expect the same as last season.
The small difference is that Montreal's back-up goalie has started the year with an impressive 2-0-0 start while facing the Ottawa Senators and The Buffalo Sabres. Rookie Mike Condon won the job over last year's back-up Dustin Tokarski, who had a less than stellar year backing up the great Carey Price. Condon turned heads with strong starts in the preseason and earned the job over Tokarski.
Special teams:
For a very long time, there was really nothing that special about the Canadiens special teams. But finally, inspired by their 9-0 start perhaps, the Habs have finally started clicking on the powerplay. After their first nine games they ranked 8th in powerplay efficiency with a 22.9 per cent efficiency rate. Compared to finishing 23rd in the league last year, quite an improvement. Their penalty kill has remained strong, due to a combination of strong defensemen, great goaltending, and great attacking penalty killers like Plekanec and Pacioretty. They've posted an impressive 90.9% penalty kill in their first nine games.
Leadership:
Through their first 10 games, the Habs really look like they made the necessary steps to take it a step further this year. And a finishing touch that has made this better is finally choosing a leader, and they've chosen the right man from the job. Max Pacioretty cares about this team, about his teammates, and he wants to win. It's brought the players closer in the dressing room and has really improved their performance on the ice as a team. With leadership coming in the form of Subban, Plekanec, and Markov as well, this is one confident group.
Love Reading About Hockey?

Subscribe to keep up-to-date with the latest and most interesting hockey news!
| | |
| --- | --- |
| | We hate spam just as much as you |