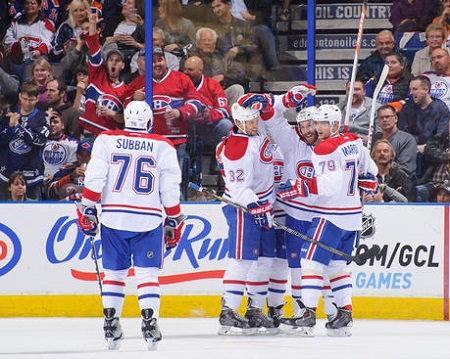 The schedule hasn't been too kind to the Montreal Canadiens early, with two extended breaks before three games in four nights. After not playing since Saturday, Montreal had to play both Alberta teams back to back and they came out with one win and one loss. On Wednesday, the Calgary Flames beat Montreal 3-2, but they bounced back Thursday to beat the Edmonton Oilers 4-1.
Alex Galchenyuk, Brendan Gallagher and Lars Eller have been the story early on for the Habs. After four games, they have combined for eight goals and 18 points. They have been so good, that Head Coach Michel Therrien has had to split their line up in order to spark other lines.
"Yeah, those two kids are playing really well for us," Therrien said after the win against Edmonton, in which Galchenyuk and Gallagher both picked up a goal and an assist. "Tonight we tried to change all the lines but we want to keep wingers together."
Gallagher and Galchenyuk set each other up with perfect tape-to-tape passes that showed their familiarity. But after the game, their young excitement was still very much present.
"It's always nice to score in the NHL," Galchenyuk said. "Our line played great and we're happy with the win."
Each of Montreal's goalies were able to get into the action in Alberta too. Carey Price toke the loss to Calgary, but Peter Budaj came in and shut down the Oilers.
"After playing with Colorado, I'm familiar with this rink," Budaj said. "It's always fun to play here, but it always depends how your team plays in front of you and tonight the guys played well."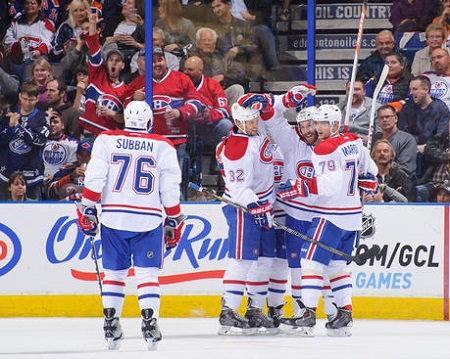 Montreal's defence has been hit or miss early on but PK Subban appears to be continuing his impressive play that earned him the Norris Trophy last season. In the two Alberta games, Subban registered a goal and four assists, while also being +3. But as Subban said after the loss to Calgary, the team can't make excuses when they lose.
"We weren't ready to play right from the start, including myself," Subban said. "We can continue to say it's the beginning of the season and we're just getting things going, but we've got to come out better than that.
The Habs next game is Saturday night when they visit BC to play the Vancouver Canucks.