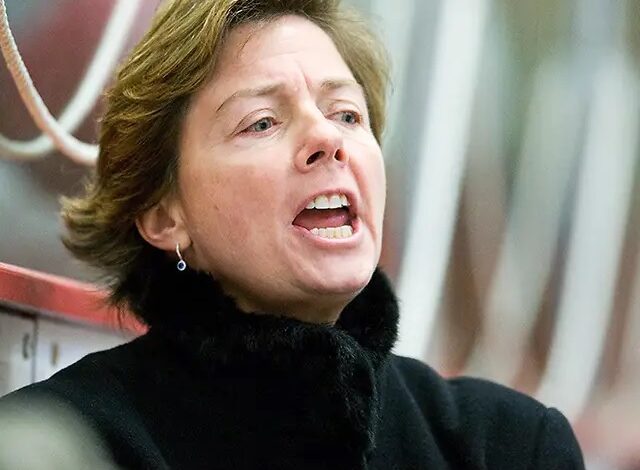 The Harvard women's hockey team and head coach Katey Stone are being accused of hazing and abusive behavior for the second time in three months.
The Athletic's most recent report claims that the program engaged in yearly "Naked Skates" and forced freshmen to perform sex acts and consume alcohol at "Freshmen Fun Night," among other activities that players within the program saw as hazing.
At "Freshmen Fun Night," first-year players were pressured to "put condoms on bananas, fake orgasms and act out skills that referenced their sexual orientation" in some instances, according to the report from Katie Strang and Hailey Salvian.
That night allegedly marked the end of the team's "Initiation Week," which also reportedly featured excessive and underage drinking.
There didn't seem to be a connection between Stone and the "Freshmen Fun Night," the team's orientation week, or the "Naked Skates," according to The Athletic, which said that it spoke to more than 30 players or other program participants from the two decades.
But one player told the publication that Stone would tell them that "there's not a single thing on this team that goes on that I don't know about."
According to the report, the "Naked Skates" made some players uncomfortable — due to uncertainty of who had access to the rink or whether security camera recorded what transpired — while others were indifferent or thought the event that usually followed Harvard's longest road trip of the season was "fun."
In some instances, The Athletic wrote, freshmen were forced to do a "superman slide" across the ice, "leaving some with ice burns and bleeding nipples."
Stone, McDermott and two other staff members declined to comment for The Athletic's story.
A Harvard spokesman said in a statement, in part, that the "Naked Skates" were a "non-sanctioned team event" and one occurred Jan. 28 "that did not reflect the expectations of the Harvard women's hockey team and clearly stated that all team activities that make any member of the team feel pressured or uncomfortable are not permitted."
Federation of Sovereign Indigenous Nations vice chief Heather Bear called for Stone's resignation after the Globe article was published, according to The Canadian Press, noting that the 56-year-old — who has been with Harvard since 1994-95 and compiled more than 500 career wins — has "no place in hockey."
One player from the 2016-17 told The Athletic that "the whole team was centered around shame," and a parent of a former player said that Stone's program at Harvard was a "mental-health Hunger Games."