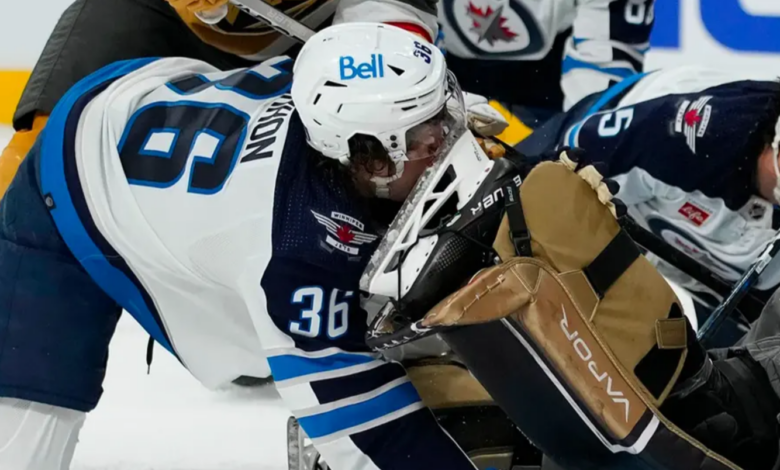 In Vegas, it was a terrifying spectacle. The face injury suffered by Winnipeg Jets forward Morgan Barron on Tuesday night required more than 75 stitches. Yet less than a period later, he was back on the ice.
It occurred in the opening frame of Tuesday's Game 1 of the Western Conference first-round matchup between the Jets and Golden Knights. In an attempt to recover a lost puck, Barron got caught up in a scrum in front of Vegas' goal, and the Jets' forward unintentionally pushed goalkeeper Laurent Brossoit's skate blade. Barron had a severe cut above the cheek, very close to his right eye, and more than 75 stitches were needed to staunch the bleeding and allow him to get back on the ice.
Morgan Barron required 𝟳𝟱 𝗦𝗧𝗜𝗧𝗖𝗛𝗘𝗦 after being cut in the face by a skate …

AND HE CAME BACK INTO THE GAME

Hockey players are different 😳 pic.twitter.com/XH87wHoTDF

— B/R Open Ice (@BR_OpenIce) April 19, 2023
Following the Jets' 5-1 victory, one of Barron's teammates, Adam Lowry, aptly describes the wound in the following way:
"Looks like he got attacked by a shark," he said. "It's a scary thing. We're all so worried about the puck crossing the line, and all of the sudden we see a trail of blood all the way from the crease to the bench."
Barron didn't put a point on the board, but his return to the game inspired the rest of the Jets bench to secure the series' first victory.
"To sit on the table, get stitched up and miss basically an hour of action and come back, speaks volumes to his heart. It's tough to come back when you've sat that long," added Lowry."
The series will shift to Winnipeg for Game 3 on Saturday afternoon after Game 2 on Thursday night. By then, Barron's injury won't have fully healed, but the scar from the battle may serve as motivation for the Jets to get to Round 2.