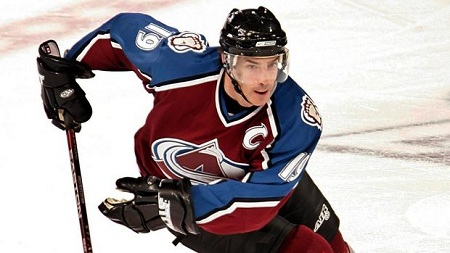 If I had to say I have one "sports hero," it is soon to be Hall of Famer "Super Joe" Sakic. Living in Denver, most would say NFL Hall of Famer John Elway is their hero. Having taken the Denver Broncos to four Super Bowls and walking away with two rings, The Duke of Denver rates highest in Mile High sports history for most Coloradans.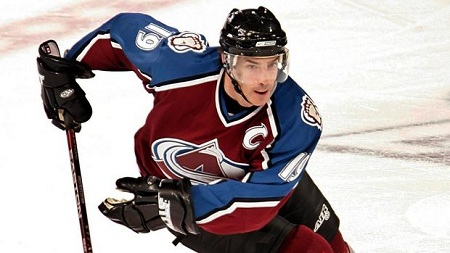 I missed almost the entire Elway era as I had only lived in the Denver-Metro area less than a year when Elway retired after he and the Broncos brought a second Lombardi Trophy home. Before those two Super Bowl titles a recently relocated Quebec Nordiques hockey club brought Denver its first major sports championship as the Colorado Avalanche in 1996, their first season in Colorado.
The Captain was Joe Sakic and he was the #2 guy in Denver, which is not a slight against Joe by any means … I mean, come on, he was up against John freaking Elway. I obviously missed the Avs first Stanley Cup as I lived in pro-sports wasteland, Columbus, Ohio. Growing up, all Ohio really had was THE Ohio State University and to some degree the Cleveland Browns (moved to Baltimore, MD) and the Cincinnati Reds. These teams were not "great" during my 12 years growing up in Ohio. Moving to Colorado afforded me the experience of greatness in sports competition. Elway was retiring, but Sakic and the Avs were hot and in their prime. The ride the Sakic led Avs took us on –those who cared about hockey- was an amazing one that will not be duplicated.
11 years after the amazing 2001 season I have had plenty of time to reflect and compare teams and players, thanks more recently to YouTube, and feel depressed, yet bittersweet, about the Sakic-Roy era because nothing for me will compare, nor be "as good."
Sakic was an amazing player that I was fortunate enough to witness and cheer for; making me a hockey fan for life. The Columbus Blue Jackets did not exist when I moved from Ohio in 1997, and based on their performance history I never would've cared about hockey beyond Wayne Gretzky and the Mighty Ducks movies. The Avs during the Stanley Cup years, and sometime after, were amazing, gritty, and played hardnosed hockey with some flare. Sakic was a scoring machine whose club scoring record will most likely never be broken (1641 career points). Super Joe has simply put that goal far out of reach. Some could make the case that Joe never would have won a Cup without Patrick Roy in net. That is a fair argument but in order to win Lord Stanley's finest Cup a team must have a great netminder between the pipes, at least for that season.
One needn't look further than LA Kings Jonathan Quick this past season. Quick was instrumental to bringing LA their first NHL championship and the Kings would not have even made the postseason without him in net as he was money damn near the entire season. Sakic obviously didn't do it all himself, he had a great team around him, but asserted himself as a leader not only on the ice but on the scoreboard. He was without a doubt a lock for the Hall of Fame to the degree that blogs evaluating this years class had no cons for why Sakic wouldn't make the trip to Toronto in November.
Joe Sakic was a class act, a Triple Gold Club member and will now add "HoF" to his resume if he ever leaves the Avs front office. He is a hockey icon the likes of which will not be seen again in Denver. I hope I'm wrong but his career will be very hard to replicate with the skill and class he brought to the C, the Avs, Colorado and the sport of hockey. On and off the ice Joe Sakic was, and still is, Super.
Follow me on Twitter @CoryWhitmer . Do it.