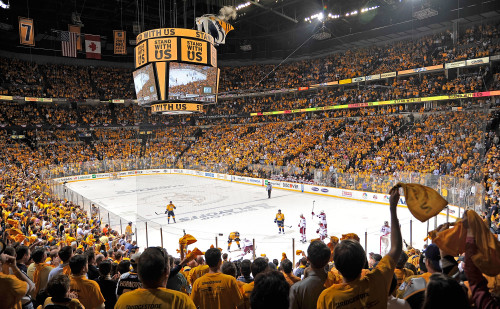 Last Season Record: 47-25-10, Eliminated in first round.
Key Additions: Max Reinhart, Barret Jackman.
Key Subtractions: Viktor Stalberg, Matt Cullen.
The Nashville Predators are not a fundamentally different team from last season; they managed to re-sign Mike Fisher and Mike Ribeiro to two-year deals. They also managed to lock down Craig Smith to an additional five years. The Predators are perhaps the go-to team when drafting a model that includes finding top-end talent at a bargain; however, the trend is starting to go the other way, with the Preds shelling out $37.05 million this off-season on the three players; it is not so crazy, though, when you see an average annual value between the three of them of $4.1 million.
Head coach Peter Laviolette turned in an incredible first season behind the bench as the franchise's second ever head coach, and fans are surely hoping that the performance can be repeated. In order for him to succeed, though, Filip Forsberg may have to be extra motivated to not fall into a sophomore slump, which looks to have begun the prior season, as he went pointless in his last 17 games.
With a team that remains as fundamentally unchanged as Nashville has, they are a serious contender to knock off the St. Louis Blues for the Central Division crown; and with playoff nemesis Chicago being decimated in free agency, they could get over their playoff hump this year.
Key Questions:
Will Filip Forsberg be affected by a "sophomore slump"?
Will Pekka Rinne's starting position be cast into doubt by an up-and-coming Carter Hutton?
Is this the year Shea Weber finally gets the Norris?
Crazy Predictions:
Smashville is in really good shape all season, regardless of who plays in net behind them. They cruise into the playoffs and sail into the conference finals, only to be pushed aside by the Anaheim Ducks. Seth Jones joins Shea Weber on the top defensive pairing, and Weber finally earns his title of hardest shot.
Line Combinations:
Forsberg – Ribeiro – Neal
Wilson – Fisher – Smith
Arvidsson – Hodgson – Jarnkrok
Nystrom – Gaustad – Bourque
Josi – Weber
Ekholm – Ellis
Jackman – Jones
Rinne (Hutton)
Projected Finish: First in Central, Conference finalists.