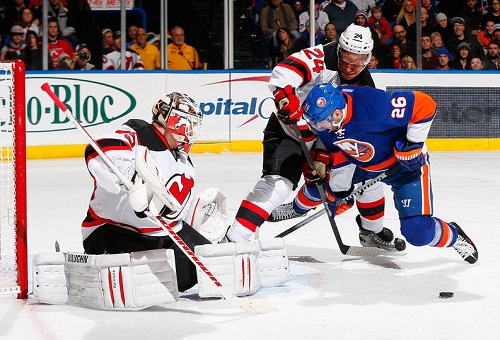 It is an awkward year for the New Jersey Devils, as for the first time in many seasons they find themselves without future Hall of Fame shoe-in Martin Brodeur. Despite not having the record-shattering goalie, the Devils have plenty of experience and a competent line-up to find themselves in the playoff bubble.
Players In:
Player
Position
Regular Season Stats
Post-Season Stats
Mike Cammalleri (Free Agency)
LW
63 GP, 26G 19A (with Calgary Flames)
N/A
Martin Havlat (Free Agency)
LW
48 GP, 12G 10A (with San Jose Sharks)
1 GP, 0G 0A
Scott Clemmensen (Free Agency)
G
17 GP, 6-7-1, 3.09 GAA, .896 SV% (with Florida Panthers)
11 GP, 4-7-0, 2.85 GAA, .907 SV%
(with San Antonio Rampage)
N/A
Players Out:
| | | | |
| --- | --- | --- | --- |
| Player | Position | Regular Season Stats | Post-Season Stats |
| Anton Volchenkov (Compliance Buyout) | D | 56 GP, 0G 8A, +3 | N/A |
| Martin Brodeur (Free Agent, still unsigned) | G | 39 GP, 19-14-6, 2.51 GAA, .901 SV%, 3 SO | N/A |
| Mark Fayne (Free Agency) | D | 72 GP, 4G 7A, -5 | N/A |
The New Jersey Devils have plenty of veterans to fill their ranks, namely Travis Zajac, Michael Cammalleri, Ryane Clowe, Martin Havlat, Patrik Elias, and ageless wonder Jaromir Jagr to provide offense; however, Martin Havlat is very injury prone, and many of these players may be on their last legs, while others are on their last year of their contracts, perhaps even their careers. They could provide useful trade bait around the trade deadline for teams looking for a little more offensive depth and veteran presence for extended playoffs runs.
With serial backup goaltender Scott Clemmensen making his return to New Jersey, Corey Schneider has a competent backup, ensuring his number one goaltending spot remains uncontested for. Needless to say, Peter DeBoer will have his hands full trying to make adjustments should Corey Schneider get hurt. In addition to Schneider being the undisputed #1 goalie, the lack of tutelage and absence of a veteran goaltender in Martin Brodeur is sure to have some effect on the locker room.
As of the time of this writing, the New Jersey Devils only have 21 out of their 22 roster spots filled, and they have a lot of room under the salary cap. With only Travis Zajac, Mike Cammalleri, Ryane Clowe, Adam Henrique, Andy Greene and Cory Schneider signed past 2016, a lot of space can open up under the salary cap to bring in exciting and much younger talent.
This can shape up to be a very trying season for New Jersey Devils players and fans alike, as they struggle to enter the playoffs, either barely making it, or missing out for a third consecutive season since losing to the Los Angeles Kings in the Stanley Cup finals back in 2012; though a lottery pick would be an excellent consolation prize to kickstart this franchise's much needed rebuild to officially close out the Brodeur Era.