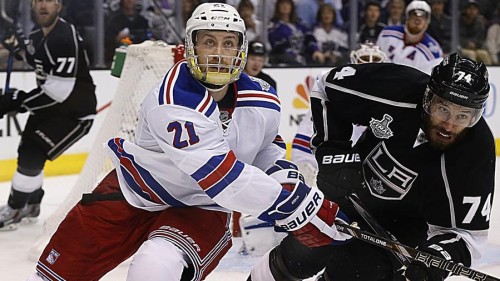 It's officially the quietest time of the year on the NHL Calendar. Most of the free agents on the market have found their new homes for the coming seasons, and players are just beginning to shake the rust off in hometown rinks in preparation for September training camps. When camps open, many players will be taking the ice in what could be the last year on their current squad. Let's take a look at the New York Rangers forwards who are entering the 2014-15 campaign in a contract year:
Forwards:
Martin St. Louis (UFA / $5.625 million) – The 39 year-old future Hall Of Famer was happy to come to Rangers organization at the trade deadline last season. He maintains his home in Connecticut, and was a big part of the Blueshirts Stanley Cup Finals run. He'll turn 40 next season, so it's likely more of a question of whether he wants to retire or not, instead of resigning with the Rangers or going elsewhere. If he produces 69 points (combined stats with Tampa Bay) in the regular season, and chips in another 15 points in the playoffs, the Rangers will happily bring back the graybeard for another season.
Derek Stepan (RFA / $3.85 million) – The Rangers top-line center wanted a long-term deal two years ago. After Rangers GM Glen Sather played hardball, he got the 24 year old to take the two-year bridge contract (worth $6.15 million). Even though he'll be a restricted free agent, Stepan will have more leverage in negotiations this time. Derick Brassard, the team's second-line center, received a five year/$25 million dollar deal earlier in the summer. Stepan will be looking for something something similar in length, with a higher price tag. Considering that the other centers on the roster will be Dominic Moore and Matt Lombardi, it would be in Sather's best interest to not take too hard of a line in negotiations this time around, especially if he eclipses his 17 goal/40 assist total from this past season.
Mats Zuccarello (UFA / $3.5 million) – The Norwegian winger had a great 2013-14, leading the Blueshirts in scoring. If he can consistently produce the same way in 2014-15, bringing back the soon-to-be 27 year old will need to include a raise and a longer term. After taking a team-friendly deal this year, he's going to be looking for a contract that will take him in to his thirties.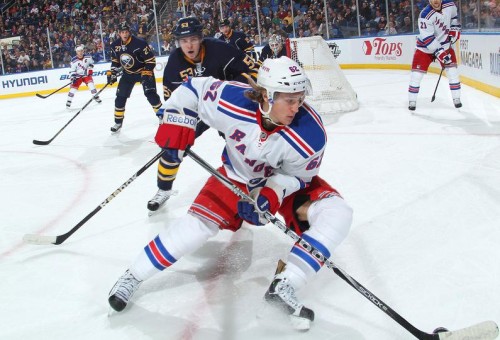 Carl Hagelin (RFA / $2.25 million) – The Swedish winger may not get the attention that some of the other guys get, but he's an intricate part of the Rangers top six forward group. His top asset is his speed, and it allows him to routinely be the first guy in on the forecheck. His balance of versatility and productivity (17 goals and 16 assists in 2013-14) make him an excellent complimentary player. Because he's still restricted, the Rangers won't have to worry about another team throwing money at him (unless a GM feels that he's worthy of an offer sheet), so they should be able to work out a short-term deal that's longer than a year.
As for the other forwards, Lee Stempniak's future will be entirely based on this year's performance since he's coming off a one year/$900,000 deal, and Jesper Fast will be coming off his entry level contract.
Next time we'll take a look at Defenseman Marc Staal & Goalie Cam Talbot