Rangers Defenseman John Moore was suspended two games by the NHL after a hearing in New York on Wednesday afternoon. Moore delivered a very rough hit on Canadiens Forward Dale Weise late in the third period of Game Five in Montreal on Tuesday night. Weise left the rink after the collision, but returned to the bench shortly after. The suspension means that John Moore cannot return to the Rangers lineup this season unless they advance to the Stanley Cup Finals.
It's tough to really question the NHL's decision on Moore. The hit was very similar to the one that earned Brandon Prust a two game suspension (Prust will return in Game Six) in Game Three of the Eastern Conference Finals, when he blindsided Derek Stepan. The Rangers top-line center returned to the game shortly after the hit, but a broken jaw was discovered after the game. Stepan missed Game Four, but returned to the line-up for Game Five with a special face-mask attached to his helmet.
I think the league's decision was fair. If you want to gripe about it, you can make the argument that Moore should have only gotten one game (he was getting suspended, that much was obvious) because Prust never served any penalty time for his hit, while Moore was assessed a five minute major. All signs point to Raphael Diaz taking Moore's spot in the line-up in the interim. While Diaz isn't considered a great defender (being paired with Kevin Klein balances that out greatly), his offensive abilities give Alain Vigneault another option to man the point on the power play.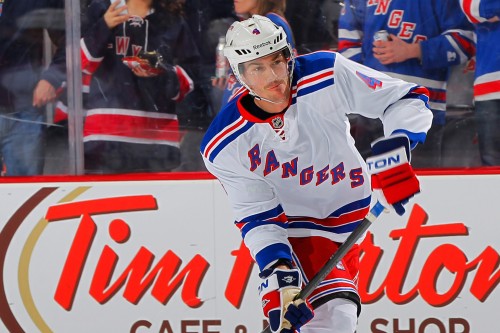 Game Six between the Rangers and Montreal is Thursday night at 8PM at Madison Square Garden.