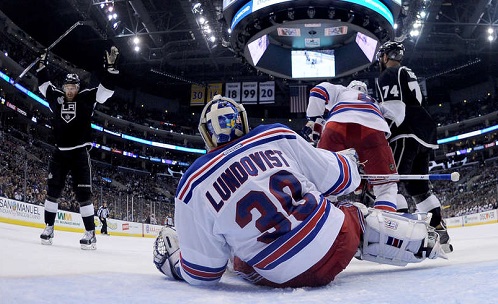 For the Los Angeles Kings, the 2014 Stanley Cup Finals have been just another day at the office. Put on your skates, warm-up, put yourself down by two goals, come back to win in overtime.  LA's double-OT victory on Saturday night over the Rangers was the third consecutive game the Kings erased a two-goal-deficit to win past regulation. It's also the fourth time in the last two rounds that they've won a game after trailing by two goals (Game Two of the Blackhawks series being the non-OT victory).  The Kings are halfway to winning their second championship in three seasons. They'll be a cautiously confident bunch when they take the ice for Game Three at Madison Square Garden tonight, knowing that they're truly never out of any game. The big question is where the Rangers are at mentally, knowing they're just two losses away from watching their opponents skate with The Cup.
When Rangers Head Coach Alain Vigneault says "it's as close to a 'must win' game as you can have", he's not exaggerating. Not to overstate the obvious, but if the Blueshirts want to make this a series again, they HAVE to win both games at MSG. Even a series-saving home split would very likely mean the Stanley Cup calling Los Angeles home for the summer. While the Rangers are no strangers to battling back from a 3-1 series deficit, the Kings are mentally stronger than the Pittsburgh Penguins, and are a better playoff team in every way. If the Rangers fortunes are going to turn around tonight, a few things need to happen:
-The Non-Goalie Inteference Call in Game Two: Should there have been a penalty on Dwight King for interfering with Henrik Lundqvist's ability to make the save on his goal, probably. This is more towards the fans than anything, but it's time to move on from it. The milk has been spilled – you can either clean off the table and pour yourself another glass, or let it sit there and curdle.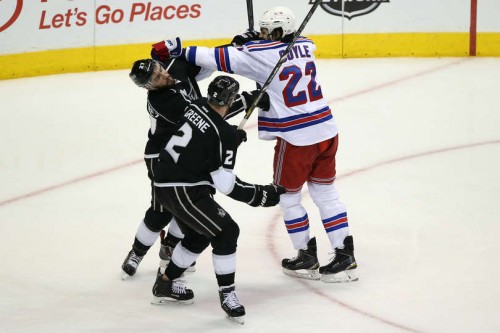 -Channel Your Anger Properly: When Brian Boyle snapped at a question about the Rangers being an underdog, anyone who has ever played competitive sports at any organized level can understand where he's coming from. The trick is to use that anger in the right way. The Blueshirts need to finish their checks, avoid stupid penalties (as good as New York's Penalty Kill is, Los Angeles' Power Play is just as good) and make the area in front of Lundqvist's crease a miserable place to be if you're wearing silver and black. Defenseman Anton Stralman has been a physical force in the first two games, and the rest of the team should follow his lead when it comes to shoving LA's physical game right back in their face.
-Power Play Proficiency – The Kings are a strong and deep team. But if there is one aspect of their game that isn't top-notch, it's their Penalty Kill. It's not as if their PK is bad (72 for 88 – 81.8%), but it's as close to a weakness as you're going to find with this squad. The Rangers need to exploit this, and going 1 for 8 in the series with the man advantage (12 for 89 – 13.5% for the playoffs) isn't going to get it done.
Home Ice Advantage – Yes, having a rowdy MSG crowd, foaming at the mouth for their first Stanley Cup Finals game in their building in two decades, should give the Rangers a boost. But what I'm talking about is the actual playing surface. The Rangers have gotten this far in the playoffs by using their speed to their advantage by pushing the pace of the game when they have the puck. In the first two games at the Staples Center, we saw chips and divots in the ice that caused players to fall, or pucks to take weird bounces on a few occasions. Spring time hockey and warm-weather climates don't mix well, and a less than ideal playing surface is inevitable.  It's not exactly cold in NYC in early June, but you can count on the ice in MSG being in better condition than what the Rangers have experienced in the first two games.
Love Reading About Hockey?

Subscribe to keep up-to-date with the latest and most interesting hockey news!
| | |
| --- | --- |
| | We hate spam just as much as you |