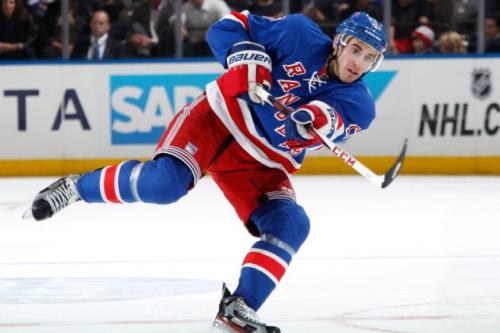 The New York Rangers completed their group of defensemen on Wednesday, signing John Moore to a one year, $850,000 contract. The 23 year-old played in 74 games for the Rangers last season, tallying four goals and eleven assists. He added two more assists during the playoffs. Moore will be a restricted free agent at the end of this season.
The Illinois native first came to New York at the 2013 trade deadline from Columbus (along with Derick Brassard and Derek Dorsett) in the Marian Gaborik trade. Calling him a "throw-in" as part of that trade would be a little rough, but the Rangers were getting a young, serviceable defenseman (in his second NHL season) with a bit of an upside. He's not going to do anything flashy on the rink, but he is stout in his own zone, and he's been a steady presence on the Rangers third defensive pairing ever since.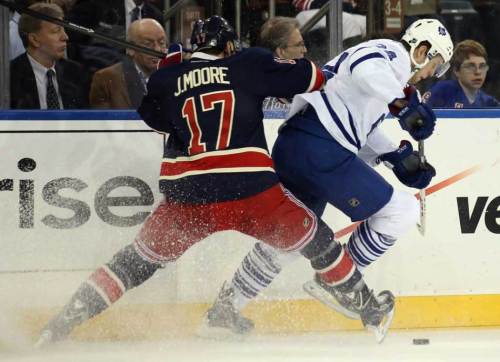 As for what's in store for Moore in 2014-15, the Rangers hope it's more of the same of what they've been getting. Dan Girardi and Ryan McDonagh make up the Rangers top-pairing, while Marc Staal and new addition Dan Boyle will be the Blueshirts second pair. Moore will very likely team up with Kevin Klein on the team's third pairing again, considering they were a pairing most of the time after the Rangers acquired Klein from Nashville. I wouldn't expect him to see too much time on either of the special teams units because the Blueshirts' blueline is deep.
It's hard to not like the signing, because it's a very reasonable deal for both sides. That being said, the Rangers have just under $500,000 in cap space remaining, and they may need to make a move or two in order to create some roster flexibility.