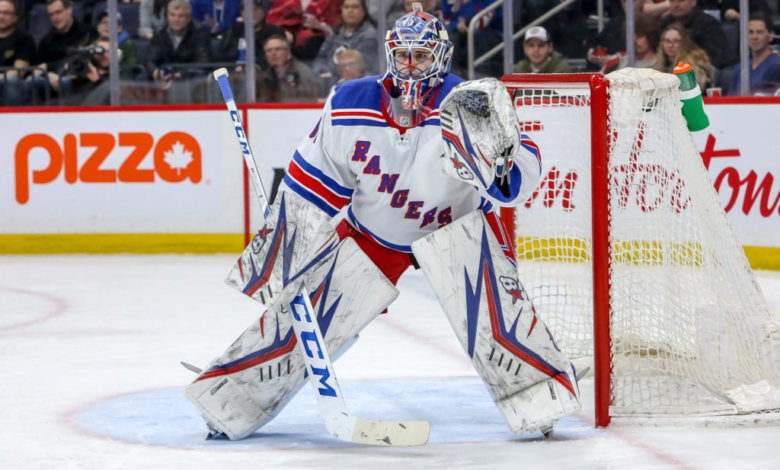 This past season, Igor Shesterkin made 35 appearances winning 16 of those games. The 25 year-old was tied for 7th in the NHL in SV% (.916), and 11th in GAA (2.62) for all goalies having played at least 25 games. When you use that same minimum games played among rookies, Shesterkin was the top backstop in SV% and ranked second in GAA to only Dallas Stars netminder Jake Oettinger (2.36).
As you might imagine, Igor Shesterkin not filing for arbitration yesterday was a good sign.

It sounds like the 25-year-old goalie and the #NYR are getting close on a new deal in the $5.75 mil-$6 mil AAV range. Kinks to iron out, but confidence it's happening.

— Vince Z. Mercogliano (@vzmercogliano) August 2, 2021
Few goalies in NHL history have made the instant impact Shesterkin did when he came to the New York Rangers midway through the 2019-20 season.
The Rangers selected Shesterkin, a Moscow native, in the fourth round (No. 118) in the 2014 NHL Draft. Then they waited while he developed into one of the top goalies in the Kontinental Hockey League. From 2016-17 through 2018-19, he was 71-12-10 for SKA St. Petersburg, and in his final season he was 24-4-0 with a 1.11 goals-against average and .953 save percentage.
Two recent contracts that could serve as benchmarks for a new Shesterkin deal are Thatcher Demko in Vancouver and Jordan Binnington in St. Louis.
Demko who is 25 years of age signed a five year deal worth $5 million per season with the Canucks last year. The 27 year-old Binnington inked a six year deal for $6 million AAV after winning a Stanley Cup on a two year-deal worth $4.4 million per season.
If Shesterkin were to sign a bridge deal he could see something in the $3.5 to $4.5 range for two years. Now should Drury want to lock him up a little longer the cost would be closer to $5.5 million. That's if the deal is for at least four years, should they want to add term it will start to climb to the tune of a half million for each year they add on.
Shesterkin signed with the Rangers on May 3, 2019 and began the season with Hartford of the American Hockey League, where he went 17-4-3 with a 1.90 GAA and .934 save percentage. The Rangers recalled him on Jan. 6, 2020, and he won his NHL debut the next night by making 29 saves in a 5-3 victory against the Colorado Avalanche.
In his first 12 games, Shesterkin went 10-2-0 with a 2.52 GAA and .922 save percentage, assuming the No. 1 role that had been Henrik Lundqvist's since 2005-06. He won seven consecutive games from Jan. 31-Feb. 22, 2020, allowing a total of 16 goals and showing he has the potential to carry the Rangers through the new decade.