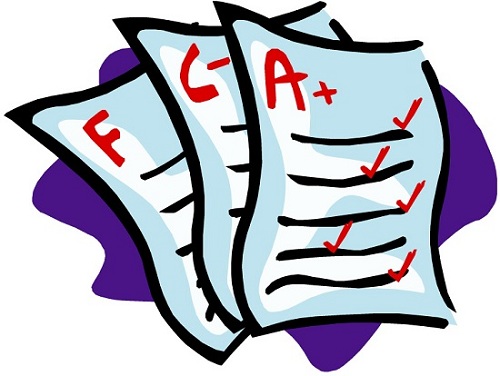 With the New York Rangers just past a one-third of the season completed, it's time to give out grades to the team. I don't think many people expected the Blueshirts to be sitting in ninth place in late February. A pathetic power play, injuries, and the lack of ability to win a big face-off are some of the main reasons the Rangers are teetering on falling to dead-last in the Atlantic Division.
GOALIES
Henrik Lundqvist (7-6-1 / 2.28 GAA / .918 Save %) A-
-The reigning Vezina winner may not get nominated again this season, but he's far from poorly performing. Things could be much worse at Madison Square Garden without Lundqvist between the pipes. The Rangers have scored one goal or less in five of his six regulation losses.
Martin Biron (1-1-1 / 2.50 GAA / .911 Save %) B
-Biron hasn't seen much action, but he's still one of the more reliable backup goalies in the league.
DEFENSEMEN
Dan Girardi (1G / 5A / 0 +/- / 32 hits /25:01 TOI) – B+
–His numbers aren't flashy, but last season's statistical output was likely an above-average year for him. He's still a stalwart, shutdown defenseman on the Rangers top pair. The Rangers are lucky that he only suffered a bone bruise on PK Subban's slap shot, and it's not something more serious
Ryan McDonagh (2G / 3A / 0 +/- / 30 hits / 23:45 TOI) – B
-He's not a guy that will put up flashy numbers yet, but he's a good compliment to Dan Girardi on the top-pairing. He's still only 23, and could still become an even better player.
Marc Staal (1G / 8A / 3+/- / 41 hits / 24:30 TOI) – A
-He's been the Rangers most consistent performer on the blueline this season. He leads the Rangers defenseman in hits, assists, and points.
Michael Del Zotto (2G / 5A / 4+/- / 28 hits / 22:11 TOI) – B-
-The 22 year old started off the season strong, but has cooled off in the month of February. All of his points came in January except for one assist. A little work and improvement on running the power play would be a huge asset to the Rangers
Anton Stralman (2G / 0A / -1 +/- / 27 hits / 16:48 TOI) – B
-As far as 3rd pairing defensemen go, Stralman gets the job done. He rarely plays with the same partner two games in a row.
Stu Bickel (0 Points / -1 +/- / 8 hits – 10 games played) – C-
-Bickel is one of the two guys that get the bulk of games in the 6th D-man spot this year for New York. He hasn't stepped up, but he hasn't stepped back either. He's supposed to be a physical defenseman, so he should be averaging more than .8 hits per game when he does get in the line-up.
Matt Gilroy (0 points / -2 +/- 5 hits – 11 games played) – C-
-Gilroy gets the other share of time at the 6th D-Man spot for the Rangers. When the Rangers want another mobile defenseman, he gets to dress over Bickel. You'd like to see a few more points from someone that is considered to be a mobile defenseman
Steve Eminger (0 points / +1 +/- – 1 hit – 4 games played) – INCOMPLETE
-There's not enough of a sample size to fairly grade him. With the late rash of injuries to hit the Rangers blueline, he should get more of an opportunity to prove himself.
FORWARDS
Rick Nash (3G / 9A / +9 +/- / 27 hits / 21:24 TOI) – A-
-The one critique of the Rangers prized off-season acquisition is that you'd like to see him light the lamp a little more. Beyond that, he's been dynamic, and brings a spark with him on the ice. The longer he's out of the line-up due to this mysterious injury, the more likely it is the Rangers fall further down the standings.
Marian Gaborik (7G / 4A / 0 +/- / 12 hits / 19:23 TOI) – B-
-This may seem like a harsh grade for the guy leading the team in goals. But when you take away his performances against Boston on 1/23 (3 goals) and Toronto on 1/26 (2 goals, 2 assists), that leaves him with 2 goals and 2 assists on the season. Gaborik has always been a streaky producer, but he needs to be a little more consistent. Having more than two power play assists would be nice, too.
Ryan Callahan (4G / 1A / -4 +/- / 59 hits / 20:31 TOI) – B
-The Captain missed some time with a shoulder injury, but he's far from the 54 point-pace of last season. He still brings the leadership and physicality that are staples of his game. His three power play goals on the season are one of the only bright spots of an otherwise pitiful power play.
Brad Richards (2G / 9A/ +1 +/- / 9 hits / 19:53 TOI) – C+
-Richards is supposed to be the indisputable top center on this team. While he leads the team in face-offs, he often loses crucial draws on the power play and late in games. His paltry two points on the power play (two assists) needs to increase quickly. For the Rangers to have success deep in to the Spring, Richards needs to be what he was last season. The silver linings are that he leads the team in assists, and March tends to be one of his best months every season.
Carl Hagelin (6G / 4A / +1 +/- / 20 hits / 17:48 TOI) – B+
-The only thing preventing Hagelin from getting an "A" grade was his awful start to the season. He didn't produce a single point in the seven January games, but has been the Rangers best player in the month of February. The 2nd year player should be a fixture among the top 6 forwards for the rest of the season.
Derek Stepan (3G / 6A / +6 +/- / 21 hits / 20:23 TOI) – B+
-He's solidified himself among the Top 6 forwards on this team. With Brad Richards slumping as of late and Brian Boyle's rocky season, Stepan has been the Rangers best center this season. He appears to be getting better as the season moves on. His 145 face-offs won ranks 2nd on the team behind Brad Richards.
Taylor Pyatt (3G / 2A/ +1 +/- / 36 hits / 15:13 TOI) – C
-All of his points came in games from the beginning of the season through February 2nd. He's been very quiet since then. Pyatt's been a reliable presence on the penalty kill and on the 3rd line (and gets opportunities among the Top 6). No one expects him to score goals in three straight games like he did in January, but the occasional notch on the scoresheet would help.
Brian Boyle (0G / 1A / -6 +/- / 61 hits / 9:36 TOI) – D+
-He's been one of the main residents of John Tortorella's doghouse this season. Leading the team in hits and winning 91 face-offs this year are the only things preventing him from getting an outright F.
JT Miller (2 G / 1A / 0 +/- / 17 hits / 13:39 TOI) – B+
-He's only played in 9 games so far, but the 19 year-old is logging good ice time on the 3rd line. Other than his gaffe in a 2-on-1 in the latest game against Montreal, Miller hasn't looked like a rookie at all. Tortorella has given him opportunities on the power play and in crucial late-game situations.
Chris Kreider (1G / 1A / +1 +/- / 15 hits / 10 games played) – C-
-Kreider set the bar very high for himself the way he performed in last year's playoffs. His inconsistency has led to him knowing the path from NYC to Hartford very well. The important thing to remember is that he's only 21. There is still a ton of time for him to develop more towards the player we saw in last year's post-season.
Jeff Halpern (0G / 1A / -2 +/- / 26 hits / 10:27 TOI) – B
-The seasoned vet isn't playing a lot every night, but he's producing in the areas the Rangers want him to. He's been a very good penalty killer, and he's won 66 face-offs this season. I'd like to see the Rangers use him more for power play face-offs and then cycle him off the ice.
Arron Asham (1G / 0A / +1 +/- / 15 hits) – D-
-He was brought to the Rangers to provide an edge and intimidation. In the 3 times he's dropped the gloves this year, he's looked terrible. He's far from filling the void that Brandon Prust left.
Incompletes: Darroll Powe, Benn Ferriero, Brandon Mashinter, Christian Thomas, Brandon Segal, Kris Newbury (all have played at least one game with the Rangers this season)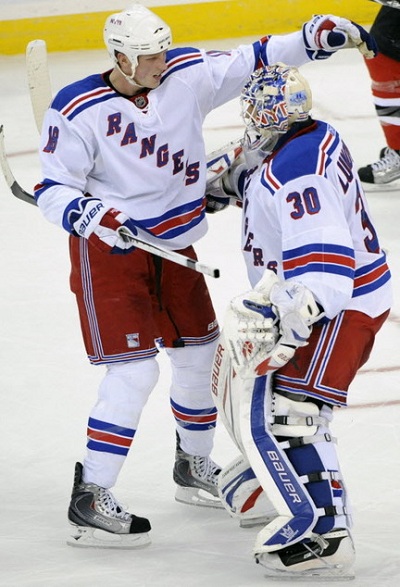 NEW YORK RANGERS OVERALL GRADE – C
-Say what you want about this being a shortened and condensed season, but every team has to deal with the same rigors. The Rangers have too much talent on this team to be 8-7-1. The only thing preventing the Blueshirts from getting a worse grade is the 8-3-1 stretch they had after the first two games of the season. Players across the roster need to step up quickly. If they don't, the Rangers season won't go beyond 48 games.
Love Reading About Hockey?

Subscribe to keep up-to-date with the latest and most interesting hockey news!
| | |
| --- | --- |
| | We hate spam just as much as you |