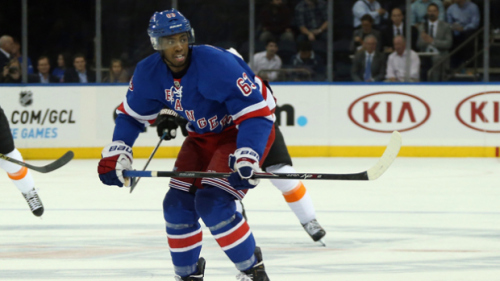 With the New York Rangers announcing that they've trimmed down their pre-season roster down to 34 players on Wednesday, there will be one wave of cuts remaining after this weekend's final two pre season games (vs. Chicago, at New Jersey). While some guys are locks to make the roster, injuries and the performance of some of the young guns in camp are making it difficult to get a clear picture of what the roster will look like when the Blueshirts open their season against the St. Louis Blues.
Goalies: Henrik Lundqvist and Cam Talbot will be the tandem again this year, while Cedric Desjardins will be starting for the AHL's Hartford Wolf Pack
Defensemen: Ryan McDonagh, Dan Girardi, Marc Staal, Dan Boyle, Kevin Klein & John Moore are all locks to be in the Rangers top six.
Of the remaining four defensemen battling for that seventh spot, it will come down to either Matt Hunwick or Mike Kostka. Dylan McIlrath has yet to show he was worth the 10th overall pick in the 2010 NHL Entry Draft, and Steven Kampfer is more suited for the AHL. While Hunwick has more NHL experience with Boston & Colorado, Kostka would give the Rangers some needed size on the blueline (6' 2", 210lbs). Kostka also had two goals and six assists in 19 games with Tampa Bay last year, while Hunwick only saw one NHL game last season.
Forwards: Martin St. Louis, Rick Nash, Chris Kreider, Carl Hagelin, Mats Zuccarello, Derick Brassard, Dominic Moore, Lee Stempniak, Derek Stepan are all locks to make the roster. This leaves four forward spots remaining.
Ryan Malone – The 34 year-old injured his hip flexor during the pre-season. Considering he has a track record of not being able to stay healthy and that he was invited to New York on a try-out, I doubt a roster spot will be given to him.
Matt Lombardi – He's been off the ice for a week with an injured groin. He was someone worth taking a shot on heading in to the 2014-15 pre-season, but with the way the youngsters are playing, he may not find himself among the final 22 players.
Tanner Glass – He provides a toughness that isn't found anywhere else on the Rangers roster. Two assists in the pre-season doesn't hurt either. Pencil him in on the fourth line.
JT Miller – The Derek Stepan injury (fractured fibula – out 4-6 weeks) opened up a center spot, which was already a thin position for the Rangers. Miller hasn't squandered the opportunity, but he also hasn't taken it by the horns either. It might be time to give him a chance, throw him in the deep end, and see what he can do.
Jesper Fast – Fast proved last year that he wasn't a defensive liability and could handle fourth line responsibilities. He has three goals in the pre-season, and there's no reason he shouldn't be playing in the NHL to start the year.
Anthony Duclair – Duclair is a speedy sniper that has five points (three goals, two assists) in three exhibition games. This is no fluke, considering he had 99 points for the Quebec Remparts (QMJHL) last season. He's certainly earned himself the nine game trial before the Rangers have to decide whether to send him back to Juniors or not. If he continues to play this way, it will be worth burning a year off of his entry level contract.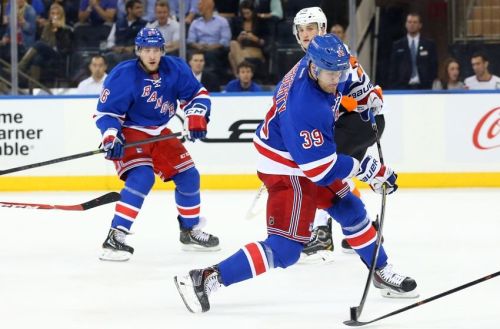 Ryan Haggerty – The RPI product has also has also stood out in the pre-season, tallying two goals and one assist in three games. He also had a strong performance in Traverse City for the Rangers, so it would be in the Rangers best interest to continue to ride this wave for a bit and see if his development continues.
Kevin Hayes – After not being able to get a deal done with Chicago (24th overall selection by the Blackhawks in the 2010 draft), the Rangers were able to sign him to an entry level contract this past August. He gives the Rangers size up front (6'3 205 lbs), and the raw talent is there, but some time in the AHL would do a world of good for the recent graduate of Boston College.
Oscar Lindberg, Chris Mueller, Ryan Potulny, Marek Hrivik are all looking like their heading to the AHL.
Martin St. Louis' willingness to move to center makes things intriguing in terms of how the final roster will shake out. Glass, Fast and Miller I think will all be a part of the roster to open the season. The final spot will go to either Haggerty or Duclair. If the Rangers elect to put Derek Stepan on Long Term Injured Reserve (meaning he misses at least 10 games), it will give Glen Sather and Alain Vigneault a chance to really evaluate how both young wingers do at the NHL level.