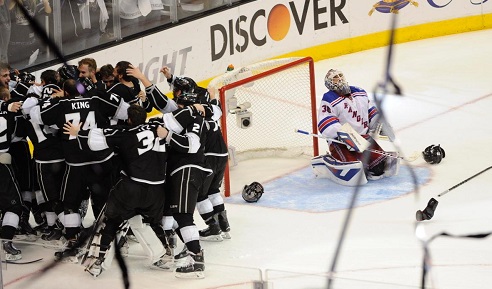 It's been a few days since the Rangers were beaten in five games by the Los Angeles Kings in the 2014 Stanley Cup Finals. The Kings were a better, deeper, and more experienced playoff team, and it showed. When a team makes it to the Fnals, the margin for error is practically zero, and everyone needs to step up. You can't cough up four two-goal-leads in a two game span (Game One and three two-goal leads in Game Two), have your best players disappear (Rick Nash) or get a case of the yips (Brad Richards & Dan Girardi).
If there is one thing the Rangers need to work on as a team for the next season, it's developing a killer instinct. Champions put teams away when the opportunity presents itself in a game or in a series. Other than Game One of the Eastern Conference Finals against Montreal, and Game Five of the Eastern Conference Semifinals against Pittsburgh, the Blueshirts haven't displayed the ability to keep the foot on the gas when they get a lead and some momentum. They were able to play strong defense and hold on in many games, but they didn't close the proverbial door as quickly and as often as they should have.
A deep playoff run doesn't leave much time between the end of the season and the beginning of free agency. The Rangers have some key Restricted and Unrestricted Free Agents they'll have to make decisions on very soon. Here's a synopses of what lies ahead over the next couple of months:
UNDER CONTRACT FOR NEXT SEASON:

-Goalies: Henrik Lundqvist, Cam Talbot
-Forwards: Derek Stepan, Rick Nash, Martin St. Louis, Carl Hagelin, Brad Richards, Derek Dorsett, Jesper Fast
-Defensemen: Ryan McDonagh, Dan Girardi, Marc Staal, Kevin Klein
RESTRICTED FREE AGENTS:
-Forwards: Derick Brassard, Chris Kreider, Mats Zuccarello
-Defensemen: John Moore, Justin Falk
*Brassard ($3.2 million), Kreider ($1.3 million), Zuccarello ($1.15 million) will all need raises (especially Mats Zuccarello), but expect all three to be back donning Broadway Blue next year. John Moore should also return to a strong group of blueliners. Falk is expendable.
UNRESTRICTED FREE AGENTS: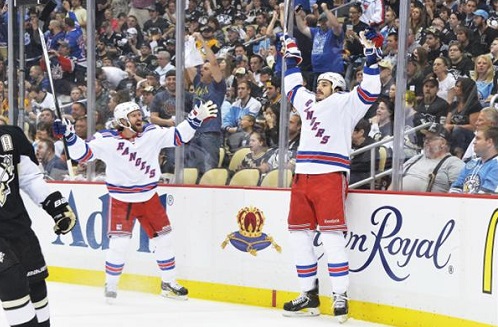 -Brian Boyle – Center – coming off a three year/$5.1 million contract – He was one of the Rangers best penalty killers and he did an excellent job on the Rangers shutdown line. Unfortunately, he made it clear on team break-up day that he wanted more of an offensive role. His best year of production came four seasons ago, when he had 21 goals and 14 assists. If the Rangers keep their three RFA forwards, there won't be room for him in the top nine. As much as he was a fan favorite, if Boyle wants to reach for more of an offensive role, he's a goner.
-Benoit Pouliot – LW – coming off a one year/$1.3 million contract – The Blueshirts were Pouliot's fourth team in four seasons. Considering the way he clicked on the third line with Zuccarello and Brassard, the hope is that it won't be a fifth team in five seasons. Pouliot tallied fifteen goals (seven on the power play) and twenty one assists, and added another ten points in the playoffs. A small raise, and some security of not having to move annually should be enough to keep him in New York.
-Dominic Moore – C – coming off a one year/$ 1 million contract – Thee 33 year-old journeyman played a big role on the Rangers PK and fourth line. He's the epitome of a grinder on a championship team. Having played on nine teams in ten seasons (including two different stints with the Blueshirts), a raise and some security should be enough to keep around one of the Rangers more underrated players.
-Daniel Carcillo – LW – coming off a two year/$1.65 million contract – He provided a spark for the Rangers a few times during the regular season and he was a key cog in the first round series win over Philadelphia. All of that being said, unless he takes a very similar contract, I don't think he will be back. Guys like Carcillo are easily replaceable.
-Anton Stralman – D – coming off a two year/$3.4 million contract – The Swedish defenseman really stepped up his game during the 2014 Playoffs. He ramped up his physical game, and played great positional hockey throughout the postseason. Unfortunately for the Rangers, a strong performance on a big stage means he's getting a big raise. Girardi, McDonagh, and Klein are signed for awhile, Staal is a UFA after this season, and the Rangers still have prospects Dylan McIlrath and Conor Allen waiting in the wings. His quotes on break-up day make it seem like his Rangers locker has been emptied for the last time.
-Raphael Diaz – D – coming off a two year/$2.5 million contract – Diaz was the square peg in the square hole when it came to being their seventh defenseman. He could fill in on any given night with a steady blueline presence. He's also capable of running a power play when needed. Unless he's willing to accept a similar role with Rangers moving forward, it would take losing both Stralman and Moore for the Rangers to bring him back with a top-six spot in mind.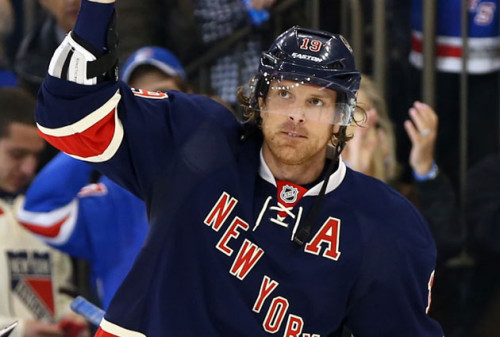 While he's still under contract through 2019-20, Brad Richards is likely a goner. Despite what Head Coach Alain Vigneault has said about the team not having made up their mind yet about his future, the Rangers have one amnesty buyout remaining, and it has to be used this off-season. There were times during the season where I thought the Rangers would swallow the remaining six years on his nine year/$60 million contract with the cap ceiling going up. But his performance in the Stanley Cup Finals was wretched, especially considering he's a former Conn Smythe winner, and he was supposed to be one of their playoff pillars. The cap space his buyout would create could be used to give raises to the RFA's they need to keep, and it would still leave them room to pursue some UFA's to fill out the roster. The days of Richards' Rangers tenure are quickly winding down.