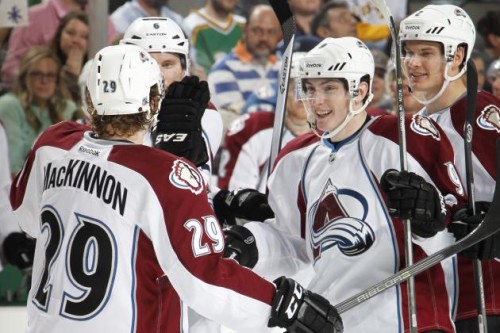 Two years ago this week, the Colorado Avalanche named Gabriel Landeskog team captain, making him the youngest player to ever sport the "C" on the front of an NHL jersey. Some questioned the choice originally made by then head coach Joe Sacco to dub the Calder Trophy winner (rookie of the year) the team leader, while others praised it. Perhaps after Milan Hejduk had relinquished his captaincy role, Landeskog was the natural choice to replace him. After all, in his rookie season, Gabriel led the team in goals, shots, plus/minus, game winning goals, hits and games played. With 6 more seasons left on his current contract, the 21 year old is poised to head the franchise's roster for many years to come. Above all else, this decision demonstrated the team's commitment to the recent wave of youthful talent that had come to Denver.
Among that wave is Landeskog's teammate, Matt Duchene. Duchene may be entering his 6th NHL season in October, but the young forward is still only 23 years of age. To be that young and have already racked up 337 games of on-ice experience makes for a threatening combination of youth and know-how. Colorado has watched Duchene mature and bloom into the exact offensive weapon they hoped they'd be getting with their third overall selection in the 2009 NHL draft. This past season saw #9 tally career highs in assists and points, despite missing 11 games due to injury.
And then there's Nathan MacKinnon.
Celebrating just his 19th birthday today (September 1), MacKinnon is currently the youngest player on the team's roster. But don't let his 1995 birthyear fool you for one second. In the very first two games of his NHL career, MacKinnon recorded an impressive 7 points, becoming only the second player to ever do so. And that was just the beginning. His rookie season drew comparisons to Pittsburgh's Sidney Crosby, who is widely regarded as the cream of the crop in today's league. MacKinnon later became the youngest player in NHL history to receive the Calder Memorial Trophy as rookie of the year. In a recent list of the league's top 275 players in terms of their ability to score "fantasy points", Mackinnon was ranked number 24th, the highest of any Avalanche player. And while not too much stock should be invested in a player's fantasy ranking, the list serves as evidence of analysts and fans around the league taking notice in MacKinnon's awe-inspiring talent on the ice.
Despite their youth, Duchene, Landeskog, and MacKinnon were all among the team's top 4 point scorer's last season (accompanied by Forward Ryan O'Reilly). Combining for nearly 200 points in 2013-2014, it has become obvious that the offensive spark of the team's future resides in three of the team's youngest players. Avalanche fans hope to see similar production in the upcoming season, and with the three gaining more and more NHL experience with each passing day, there's no reason to believe last season's output won't be matched or even exceeded.
Lookout NHL; the kids in Colorado are growing up.
And growing with them, is the city's desire to wake from it's slumber.
The mountain has been silent for too long.
But it may just be the calm before the Avalanche …