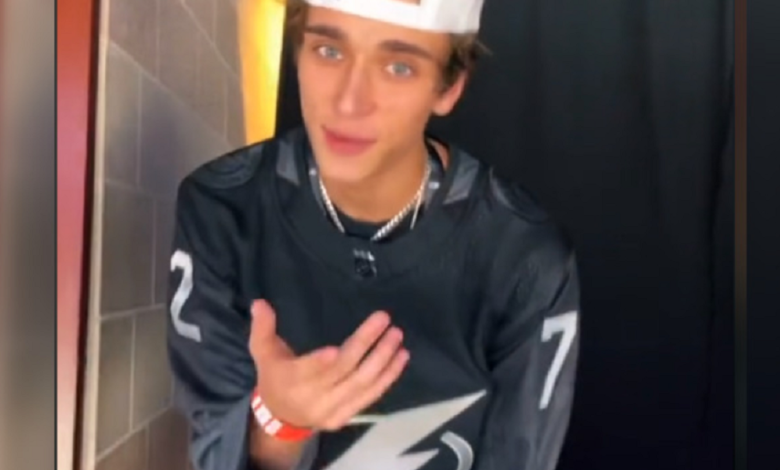 On Wednesday, the NHL announced that the 19-year-old Toronto-born influencer had been brought on as a special adviser to the NHL and will be acting as a "voice of the fans."
Asked my teenager for a scouting report on the tik tok kid the NHL is working with. She said he was "cringe" and "problematic", then told me he made a diss track at which point her eyes rolled so far into her head that they made slot machine noises.

— Down Goes Brown (@DownGoesBrown) July 1, 2021
Richards, who has over 25 million followers on TikTok, will be appearing at NHL marquee events such as the Stanley Cup Final.
"I want to thank the National Hockey League for giving me an opportunity to share my love of hockey with a whole new generation of fans," Richards said in a release put out by the NHL on Wednesday. "I have always wanted to use my platform to educate and inspire, and I look forward to sharing my passion for hockey with millions."
Richards, who also serves as the chief strategy officer for social media app Triller, posted his first NHL-focused TikTok in a Tampa Bay Lightning jersey ahead of Game 2.
@joshrichardsGet in the Stanley Cup "Mood" w me @24kgoldn & @ianndior @nhl
"I grew up a Leafs fan. If I cheer for the Habs, my parents disown me," Richards said in a follow-up video that has since been made private. "It's not a good look. It's not the move. Fuck the Habs."
But, like many things the NHL does these days, the collaboration wasn't exactly-well received.
Fans were quick to point out that despite Richards' audience, he was a rather strange hire to cater to new hockey fans. Richards' TikTok feed is mostly filled with dance moves and videos of him hanging with other friends around Los Angeles: hardly the kind of content you'd expect from someone helping kids get into hockey.
if you scroll through josh richards tiktok its just white fuckboy dances or his podcast with dave portnoy.

it's actually astonishing how badly the NHL misses with everything they do.

— connor (@Connor_779) June 30, 2021
casting a white boy who's never expressed real interest in the nhl and who's best friends with dave portnoy is probably the worst approach to "growing the game" https://t.co/mXMyiy6IyC

— noelani ☻ (@secretlifecfme) June 30, 2021
Once again the NHL shoots and misses the net very very far and wide on trying to market itself RESPECTFULLY to its actual fans….
Love Reading About Hockey?

Subscribe to keep up-to-date with the latest and most interesting hockey news!
| | |
| --- | --- |
| | We hate spam just as much as you |