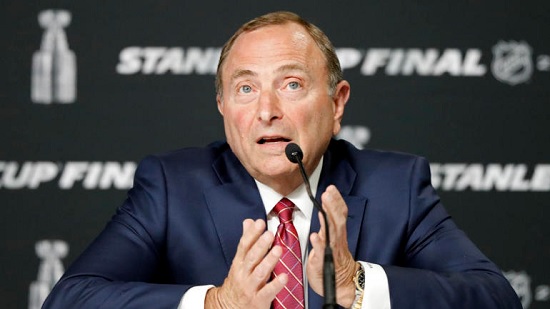 National Hockey League commissioner Gary Bettman gave a State of the League address on Saturday during a press conference prior to Game 1 of the Stanley Cup Final. Among the standout comments he made was that the 2020-21 season could potentially start as late as January, though there was no definitive answer on when it would actually start in the first place.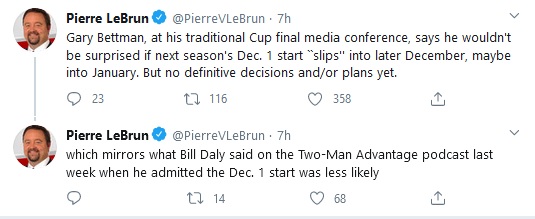 Bettman noted that the league had only just begun informally considering options for the start of the season recently, as the coronavirus pandemic has caused a lot of uncertainty in the NHL's planning. When the league announced its return-to-play plan for the 2019-20 season in July, a tentative start date of Dec. 1st for the 2020-21 campaign was a part of the announcement. However, there are still many unknowns surrounding how the league can return after completing the post-season in the Edmonton bubble, including the state of the U.S.-Canada border – an aspect of particular importance to the NHL given its seven teams north of the border.
Regardless of when that start ends up happening, one thing that the NHL is a bit more certain of is the desire to play a full 82-game season. The commissioner added that it was "conceivable" that next season would start without fans and then transition into fans attending games in limited capacity, but noted that it was just speculation on his part.
"How we start doesn't necessarily relate to how we're going to finish," Bettman said in regard to fans in NHL arenas. "So if we're going to speculate – and this is pure speculation, I'm just throwing it out there as a random thought – it's conceivable that we start without fans, that we move to socially distant fans at some point and by some point in time maybe our buildings are open."
The league is in the final stage of its postseason bubble experiment. After 24 teams were sent to Toronto and Edmonton to play out the playoffs, only the Dallas Stars and Tampa Bay Lightning remain, with Game 1 of the Stanley Cup Final beginning on Saturday. Bettman boasted that more than 30,000 coronavirus tests have been done in that time with zero positive test results.
The Stanley Cup Final between the Dallas Stars and Tampa Bay Lightning is scheduled to wrap up by September 30th. The NHL off-season will then immediately get underway with the 2020 draft set to take place virtually from Oct. 6-7th and the opening of free agency to follow on Oct. 9th.
Love Reading About Hockey?

Subscribe to keep up-to-date with the latest and most interesting hockey news!
| | |
| --- | --- |
| | We hate spam just as much as you |