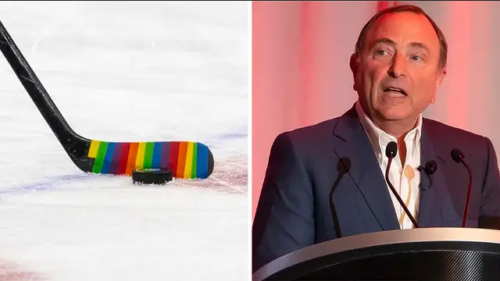 This season, a small number of NHL players have gone silent in protest of the league's LGBTQ+ celebrations.
To promote inclusivity and celebrate the LGBTQ+ community, players such as Ivan Provorov, James Reimer, Marc Staal, Eric Staal, and Ilya Lyubushkin have chosen not to wear Pride Night themed warmup jerseys.
While it is each player's right to support or oppose the issue, it is clear that these protests are having a significant impact on the league's ability to deliver its message of inclusivity. When someone opts out, the narrative shifts from one of inclusivity and support for sexual orientation and gender identity to one of outright hatred and bigotry, particularly toward the trans community. To be honest, it's disheartening, and it appears that the NHL is considering discontinuing the celebrations entirely.
"This is the first time we've experienced that, and I think it's something that we're going to have to evaluate in the offseason," Bettman told CTV News on Monday in Ottawa.
"This is one issue where players for a variety of reasons may not feel comfortable wearing the uniform as a form of endorsement," he said.
"But I think that's become more of a distraction now, because the substance of what our teams and we have been doing and stand for is really being pushed to the side for what is a handful of players basically have made personal decisions, and you have to respect that as well."
Bettman clarified himself even more yesterday, and he made some really, really important points.
Alison Lukan, NHL insider:
Bettman on evaluting PRIDE nights: pic.twitter.com/qii63lv3NP

— Alison (@AlisonL) March 31, 2023
Honestly… I think that's some sound reasoning by Mr. Bettman, and believe me, I don't heap praise on him lightly. His remark about "respecting something while not endorsing" is spot on.
Indeed, these silent protests have provided a significant enough distraction from the larger narrative that the NHL is attempting to promote that you have to wonder if it's all worth it. Why bother if Pride Night only serves as a platform for players and fans to air more bad faith arguments and toxic opinions? It's an important question to ask at this point. To be honest, I'm not sure it's worth it…