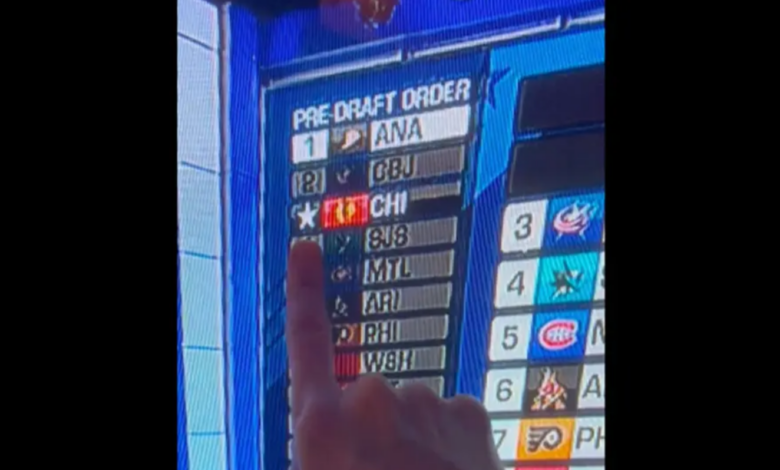 The 2023 NHL Entry Draft will take place next month, and the NHL performed its annual Draft Lottery tonight evening to determine who would have the chance to select the 17-year-old phenom Connor Bedard first overall.
And the winner is…
The Chicago Blackhawks!
The problem is… if you were paying close attention you already knew that before it was formally announced.
ESPN analyst Kevin Weekes jumped the gun a bit, announcing that the Columbus Blue Jackets were out of the running after securing the 3rd overall selection before NHL Deputy Commissioner Bill Daly revealed the 3rd overall pick. And then… with just the Anaheim Ducks and the Chicago Blackhawks listed as possible winners, some fans noticed a star next to the Blackhawks' name.
Check it out:
So they did spoil the entire draft in the last minute? When Columbus is announced as third pick, there's already a star next to Chicago! #NHLDraft pic.twitter.com/hWLmCLSto8

— Christine Gosselin (@NHLChristine) May 9, 2023
Yikes… that certainly looks to me like the NHL blew it here.
Anyhow, congrats to all Blackhawks supporters worldwide. In the youthful Bedard, you have yourself a true game-changer and potential franchise player.
For those who are unaware, Bedard is the most anticipated NHL prospect since the Toronto Maple Leafs selected Auston Matthews first overall back in 2016. Even some scouts and analysts think that Bedard is a better prospect than Matthews and more like to 2015 first-round pick and star Edmonton Oiler Connor McDavid.
Bedard, a North Vancouver, British Columbia, native, led the WHL's Regina Pats in scoring last season with a remarkable 71 goals and 143 points in just 57 games. Even better, he managed to defeat the Czech Republic in overtime to win the gold medal in the World Junior Championships by scoring nine goals and amassing 23 points in just seven games.
Just keep an eye on this kid. I refer to: