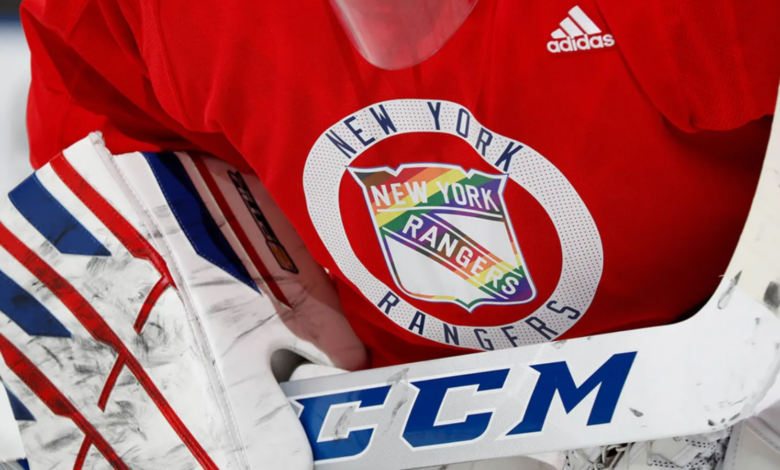 The NHL, a few of its teams, and a few of its players came under fire and praise for not warming up in LGBTQ-themed jerseys on their respective Pride Nights.
The NHL Commissioner Gary Bettman has stated that customized jerseys will no longer be worn on the rink in order to avoid any "distraction."
"I suggested that it would be appropriate for clubs not to change their jerseys in warm-ups because it's become a distraction and taking away from the fact that all of our clubs in some form or another host nights in honor of various groups or causes, and we'd rather them continue to get the appropriate attention that they deserve and not be a distraction," Bettman told SportsNet at the NHL Board of Governors meeting on Thursday.
The announcement was made during Pride Month, at a time when the league has come under fire for not welcoming members of the LGBTQ community to its events. Bettman called these criticisms "legitimate concerns."
"But in the final analysis, all of the efforts and emphasis on the importance of these various courses have been undermined by the distraction in terms of which teams, which players, this way we're keeping the focus on the game and on these specialty nights, we're going to be focused on the cause," he said.
According to Bettman, Pride Nights and other national celebrations will continue.
"All of those nights will continue. … The only difference will be is we're not going to change jerseys for warm-ups because that's just become more of a distraction from, really, the essence of what the purpose of these nights are," he said.
Even more, according to Bettman, players will have the option to "model" the themed jerseys that will be sold and manufactured.
"It's really just a question of what's on the ice," Bettman said.
The problem was made public when Philadelphia Flyers defenseman Ivan Provorov objected to donning the team's Pride-themed jersey during warm-ups, citing his Russian Orthodox faith. Shortly after his stance, his jersey quickly rose to the top of the league's best sellers.
Although they had earlier stated they would, the Chicago Blackhawks, New York Rangers, and Minnesota Wild also decided against wearing such sweaters, while other players from several teams chose not to, claiming both safety and religious reasons.