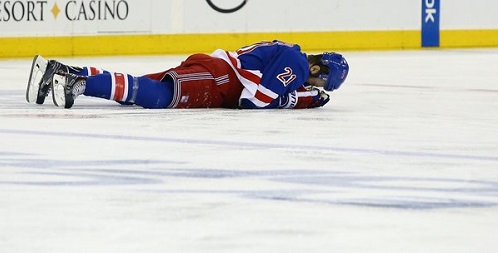 There was no doubt that New York Rangers fans were up in arms about the Brandon Prust hit on Derek Stepan in Thursday night's Game Three at Madison Square Garden between the Blueshirts and the Montreal Canadiens. At the absolute minimum, there should have been a two minute interference call. But, and it happens sometimes, the refs just plain missed it. The NHL did not miss it though, and suspended Prust for two games. While he never left his feet or targeted the head in an obvious way, his intentions were clearly to blindside Stepan. Even though the young center returned later in the game, it was discovered afterwards that he suffered a broken jaw. Stepan had surgery on Friday, and there is no timetable for his return. If Stepan does return in this series, it will likely be with a cage or one of those plastic facemasks.
In today's NHL, that type of hit will garner a suspension. Anything more than two games for Prust would have been excessive. Losing Prust takes some of the edge out of Michel Therrien's squad. Someone else (possibly Dale Weise) will have to step up the pest factor a bit.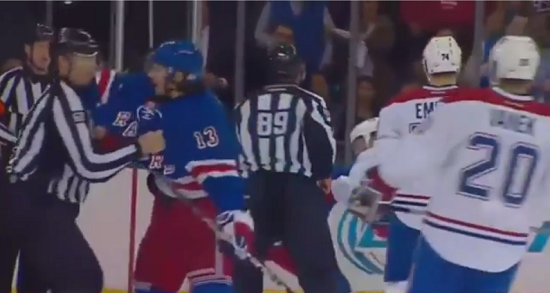 There was no doubt that the Rangers "Car Bomb" would get suspended after being ejected from Game Three. The length of the suspension depended on the degree of physical contact with the official that the NHL would classify it as. The final decision was that it was a Category II since Carcillo "physically applied force to Linesman Scott Driscoll while being escorted to the penalty box", and received a ten game break. The only way Carcillo could return this season is if the Rangers find themselves in game seven of the Stanley Cup Finals.
Even if it was a shorter suspension, I doubt Rangers head coach Alain Vigneault would have dressed him in any remaining playoff game. A major part of making a deep playoff run is keeping your composure when it matters. Players will get heated, but Carcillo crossed a line that can't ever be crossed. The argument can be made that it was a weak charging call, and emotions were running high after seeing Stepan leave the ice after a dirty hit. But once the ref has his hands on you, it's over. Mouth off all you want, but you can't do what Carcillo did.