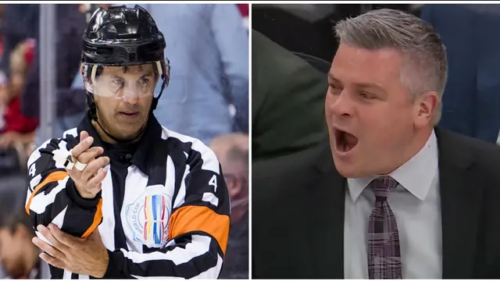 Wes McCauley will call Game 1 action this evening, which is always exciting, but there's a lot more going on when McCauley referees a Leafs game than most fans realize. Let me explain in more detail for those who are unfamiliar.
First and foremost, this is a trigger warning for any survivors of sexual abuse out there.
Okay, we've all heard about the David Frost and Mike Danton scandal, right? Former junior coach turned NHL player agent David Frost was accused of sexually assaulting a number of underage hockey players, including Danton. Frost was acquitted, and Danton was later arrested and convicted of conspiring to murder Frost.
Please bear with me…
Danton and Keefe have been friends for a long time. When the alleged abuse occurred, the two grew up playing hockey together and were teammates on a junior team coached by Frost. Fast forward to Danton's trial, and it was Keefe who testified against Frost.
So, how does all of this relate to McCauley and tonight's game?
Frost and McCauley are in-laws and are said to be very close.
I'm not saying this is a conflict of interest, but maybe that's exactly what I'm saying.
Remember when Keefe got in trouble for yelling at McCauley? Doesn't that make sense now?