Featured
NHL Prospect Kyle Masters Suffers Serious Injury, Removed from Ice on Stretcher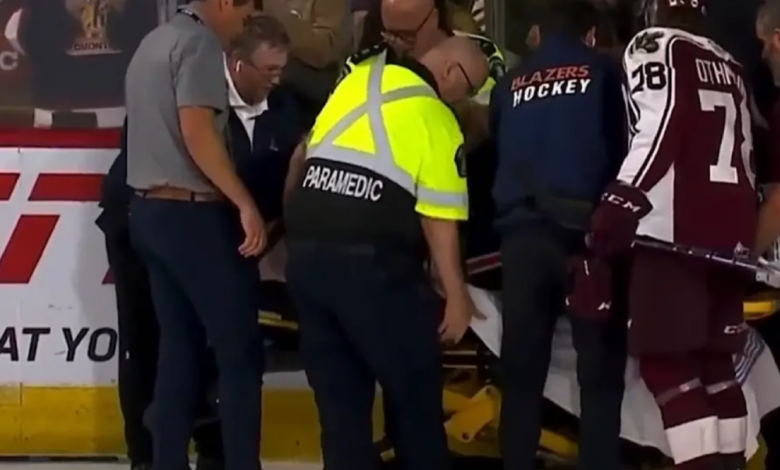 Kyle Masters of the Kamloops Blazers needed a stretcher at the Memorial Cup after an unruly fall on the ice. When Brennan Othmann hit Masters during the Blazers' match against the Peterborough Petes, Masters fell awkwardly into the side boards. Masters eventually needed a stretcher to leave the ice after lying immobile for an extended period. Just as he was being wheeled away, Othmann came over to tap Masters and apologize.
Master sure fell awkward. #MemorialCup2023 #KyleMasters pic.twitter.com/fsxrOuIy07

— CPL Punishment 🇨🇦🇺🇦 (@YKA_Matt) May 29, 2023
classy by Brennan to skate over to Kyle Masters while he was being stretchered off after Othmann's awkward hit on him 🙁 hope he's okay 🙏🏻🙏🏻🙏🏻 pic.twitter.com/Zts1m75v7c

— jill (@chriskrelder) May 29, 2023
Kamloops issued a statement following the game, which ended with a 10-2 Blazers victory over the Petes. When Masters was taken out of the ice, they reported that he was awake and had complete movement in all of his limbs.
Update on Kyle Masters. https://t.co/cV6GgJUgcC

— Jon Keen (@JonKeenNLSports) May 29, 2023
The Minnesota Wild selected Masters in the fourth round (118th overall) of the 2021 draft.