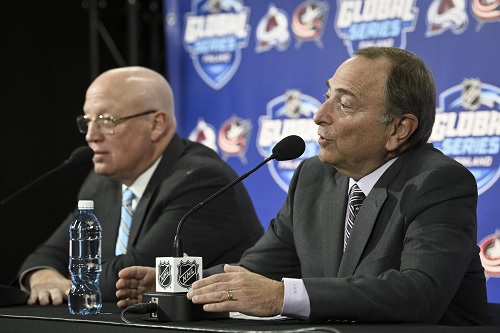 The International Ice Hockey Federation (IIHF) has received a warning from National Hockey League (NHL) commissioner Gary Bettman that "some things are going to have to be done" to ensure that its athletes compete at the 2026 Winter Olympics in Milan and Cortina.
According to the ice hockey news website Russian Machine Never Breaks, Bettman disclosed that he laid out his expectations when meeting with IIHF President Luc Tardif during the NHL All-Star Game weekend in Florida.
Bill Daly, the NHL's deputy commissioner, is also said to have been present in the meeting in Sunrise, Florida, where NHL players' participation in Milan Cortina 2026 was discussed.
Although Bettman stressed that the NHL's conditions must be completed for players to compete at the Games in three years, he and Tardiff "re-expressed our wishes to work together on a variety of fronts," according to his statement.
"I know it's important to the players and they'd like to play in the Olympics, but certain things are going to have to be done by some combination of the International Olympic Committee (IOC), the International Ice Hockey Federation, and the Local Organising Committee in order for that to be reality," said Bettman.
"If they do those things, which is not a whole lot dissimilar to what's been done in the past, then we'll be happy to go."
Daly added: "I think most importantly we were aligned with the IIHF in our conversation as to what the issues are and what needs to be done.
"We're in lockstep on that."
NHL athletes have not participated in the Winter Olympics since the 2014 Sochi Games, when Canada defeated Sweden 3-0 to capture the gold medal for a second straight Games.
Due to the IOC's refusal to cover travel and insurance fees as it has on five prior occasions from Nagano 1998 to Sochi 2014, they were unable to compete in Pyeongchang 2018.
Last year's Winter Olympics in Beijing were also without NHL players, with the league citing the COVID-19 pandemic's disruption to its regular season.
The NHL and NHLPA had come to an agreement that would permit players to participate in the Games.
A COVID-19 clause was added, meanwhile, which said that players would not go to Beijing if the epidemic "materially disrupted" the NHL regular season.
Speaking last month, Tardif expressed his "optimism" about NHL athletes competing at Milan Cortina 2026 and stated that a choice regarding their involvement will be made before the start of the next year.
"If we discussed directly with the players – the players want to go – we would find a way," said Tardif.
"But it's more complicated than that."