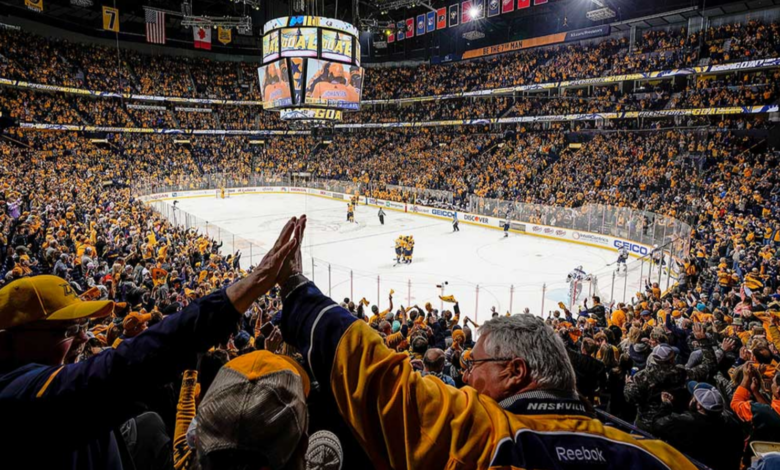 In 2017 the Nashville Predators were considered the best team in all sports franchises. Now they are considered a sub-par team. When you go to a Predators game, you're hoping for a fun time not a winning game.
But in the early parts of 2023, there was a shift in play. The Predators won an unusual 6-1 game against the Anaheim Ducks. The NHL odds still don't put the team in a great position, but they might be on the rise.
The Best Forwards On The Nashville Predators
If you play fantasy hockey or search for NHL on Fanduel, you might care more about the individual players rather than the team as a whole. Place one of these sportsmen on your team and you could still be sitting pretty even if the team loses.
To know the best players we need to break them down into their skills. Forwards need to be good scorers, point generators, create power plays, and have great aim.
Let's start with the best goal scores. So far this season, Center Matt Duchene is taking center stage with 22 goals in the 71 games. That's an average hit, but seeing as Duchene is doing the best with just 22 goals, we can see why the team is struggling.
In second place is Center Filip Forsberg with 19 goals in 50 games, and the third is Right Wing Nino Niederreiter with 18 goals in 56 games.
But what about assists? Forwards can claim a lot of points through assists and these points could be the difference between passing the next round or dropping out.
Surprisingly the player with the most assists this season so far is Defenseman Roman Josi with 41 to his name. Next is Duchene again with 24, and the third is Center Mikael Granlund with 27.
Totaling all the points together, our number on point maker is Josi with 59, second is Duchene with 56 and third is surprise entry Center Tommy Novak with 43.
Novak whipped into the picture through his power-play goals and assists. He made 5 ppg and 7 ppa which were a massive help to the team.
However, the best power play assists maker was Josi with 16 and he was also the team's best power play goal creator with 8.
Why is Roman Josi a defenseman when he clearly is doing an amazing job at earning points!
Maybe it's because he is a defenseman that no one takes his shots seriously. Only 6.7% of his shots are on target, showing he isn't an accurate shooter.
The most accurate shooter is Left Wing John Leonard with 25% on target. Novak comes in second place with 18.3% while Center Ryan Johansen comes in third with 14%.
Although Roman Josi doesn't have the best aim and is currently labeled a defensive player, he is without a doubt the best scorer on the team. For that reason, we have to say he is the best forward too.
The Best Defenseman On The Nashville Predators
You can normally tell the best defensemen by their penalties. How much disruption have they caused and how long have they been on the ice? These are the factors that will determine the best defensemen on the Nashville Predators.
Left Wing Tanner Jeannot has been given 85 penalty minutes so far this season. Defenseman Jeremy Lauzon can wrack up 66, while Left Wing Cole Smith has earned 60.
Because of these aggressive tactics, none of them have stayed on the ice long. Josi has had an average of 25:10 minutes per game, Defenseman Mattias Ekholm has reached 21:44 while Defenseman Ryan McDonagh has averaged 21:32.
Ideally, we want an average between the two. Someone who can cause mischief but also keep their ground. That person is Defenseman Dante Fabbro who has reached 50 penalty minutes so far while maintaining 17:27 minutes on average.
This one isn't as clear-cut as we would like, but Fabbro is our pick for the best defenseman!
The Best Goalie On The Nashville Predators
There are only 4 goalies on the team, so instead of picking out the best, we can check out all three. Juuse Saros is the most commonly used goalie on the team. He has saved 1,928 goals and has a saving average of 91.9%. While playing, the team has won 33 games and lost 23.
Kevin Lankinen has a very similar saving rate, coming in at 91.6%, but because he has only played in 19 games the total saves only reaches 534. 9 of his games ended in wins, while 8 ended in losses.