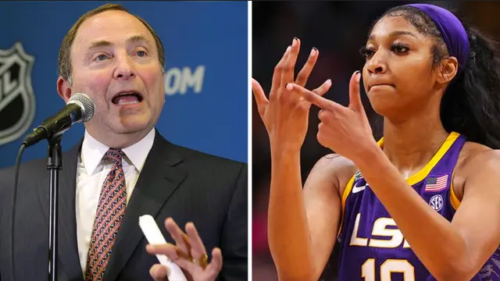 I'll be honest: I'm not much of a basketball fan.
I don't watch the NBA or college basketball (NCAA), and I have no idea who won March Madness.
I do know that LSU won the college women's basketball championship Sunday night because it was all over the news. I've seen those two women putting their hands in front of their faces all over social media, and I still have no idea what's going on…
All of this is to say again that I'm not really a basketball fan and will not pretend to be one.
What I do know is that the game Sunday night was massive, with over 12 million people tuning in.
𝟗.𝟗 𝐌𝐈𝐋𝐋𝐈𝐎𝐍 𝐕𝐈𝐄𝐖𝐄𝐑𝐒 🤯 Record-breaking #NationalChampionship thriller between @LSUwbkb & @IowaWBB makes TV history:

🏆 Most-viewed #NCAAWBB game on record
🏆 Up 103% YOY
🏆 Peaked at 12.6M
🏆 Most-viewed college event ever on @ESPNPlus pic.twitter.com/UZLVNuP3Sf

— ESPN PR (@ESPNPR) April 3, 2023
The NHL WISHES they could generate those kinds of numbers.
In fact, last night's championship game was bigger than anything the NHL has broadcast in nearly 30 years.
For context, this is 1.18 million more viewers than the highest rated Stanley Cup Final game in the U.S. since at least 1995. https://t.co/i4Xl6mbFMv

— Frank Seravalli (@frank_seravalli) April 3, 2023
Ouch…..for the NHL…