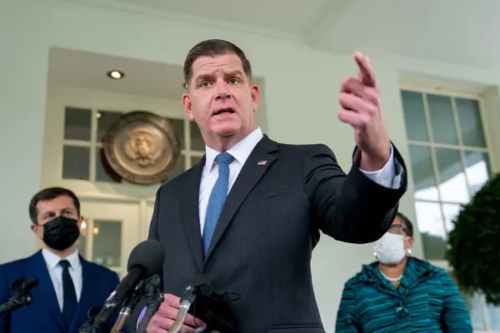 On Thursday, U.S. Secretary of Labor Marty Walsh was named executive director of the NHL Players' Association, putting an experienced union leader and former Boston mayor in charge at a time when hockey revenues are increasing and collective bargaining talks are still a few years away.
Walsh's appointment was unanimously approved by the NHLPA's executive board, which included representatives from all 32 clubs. Walsh will take over as executive director in mid-March, succeeding longtime executive director Don Fehr, who has been in the position for more than a decade.
Walsh, 55, said in a statement that by accepting this offer he's committing to do all he can to advocate on players' behalf.
"My years of experience in the labor movement and in public life has taught me that the job is never about me," Walsh said. "It's about us. It's about the people we serve. So I look forward to working with players and the NHLPA staff to make the NHLPA the best and most effective team we can be to advance and protect the interests of our players and their families."
The NHLPA had been looking for a new executive director to replace Fehr since April, when a search committee was formed. Fehr, best known for his long tenure as president of the Major League Baseball Players Association, joined hockey's union in December 2010 and quickly rose to the position of executive director, overseeing collective bargaining negotiations in 2013 and 2020.
Zach Hyman of the Edmonton Oilers, one of 10 players on the search committee, said the person chosen to lead the union would be "in charge of a pretty big role in shaping the future of hockey for us."
"The process, it was good," Hyman said. "It was a lot of interviews and a lot of meeting with different candidates and a lot of conversations with the group. It was a great process to get to meet all these great people and figure out who was going to be the best fit for us."
Walsh was chosen from a group that included former Vancouver Canucks general manager Mike Gillis and longtime NHLPA special assistant to the executive director Mathieu Schneider.
Walsh, a Bruins fan, demonstrated an encyclopedic knowledge of the sport in videos posted online during his tenure as Democratic mayor of Boston from 2014 to 2021. But it was his work experience that propelled him to the top.
"Marty is a proven leader with a strong union background," Buffalo Sabres captain and search committee member Kyle Okposo said. "His energy and ability to connect with players were immediately evident to the search committee. These were the very qualities we were focused on throughout our search for the next executive director. We look forward to the NHLPA's future under Marty's leadership."
Walsh takes over at a critical juncture in the NHL's history, following several years of labor peace between the league and its players and with the league projecting nearly $6 billion in revenue this season.
The current CBA is set to expire in 2026, prompting CBA negotiations.
During Fehr's tenure, NHL players competed in the 2014 Sochi Olympics before the league was unable to reach an agreement to send them to the 2018 Winter Olympics. During the pandemic, the league and union negotiated the completion of the 2019-20 season, which included a long-term CBA extension.
An investigation into the Chicago Blackhawks' handling of a report that a player was sexually assaulted by a video coach in 2010 and a subsequent interview with that player raised questions about what Fehr and others knew at the time and why they did not act. The union launched its own investigation, which concluded that Fehr was not at fault, blaming the lack of action on miscommunication and misunderstanding.
Walsh is the first member of President Joe Biden's Cabinet to resign.
He is also the latest politician to enter the sports world, following in the footsteps of former Massachusetts Gov. Charlie Baker, who is taking over as president of the NCAA.