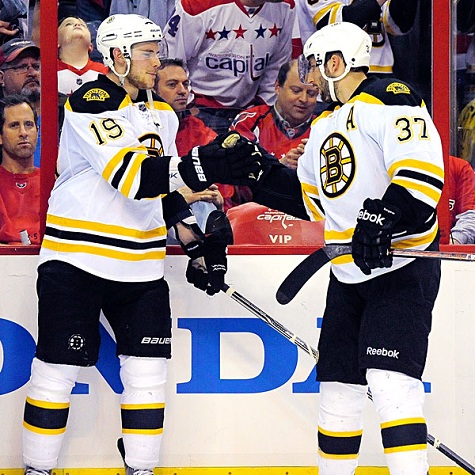 After looking at the Atlantic Division the past three days, we now shift our focus over to the Northeast Division. In the Northeast, we have Boston, Ottawa, Buffalo, Toronto, and Montreal, and we have a fantastic stable of players. We'll start with the forwards today before looking at the defensemen and goaltenders in the next two days. First, our honorable mentions.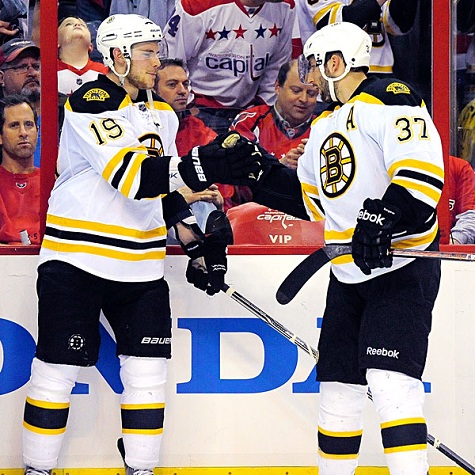 Honorable Mentions (in no particular order): Max Pacioretty, Thomas Vanek, Milan Lucic, Joffrey Lupul, Tomas Plekanec, Milan Michalek
Last year, Pacioretty had a great season for the Canadiens. The Masterton Trophy winner posted 33 goals and 65 points, leading the Canadiens in the latter category, and ranking among the top 20 in the NHL in goals scored. Pacioretty also led his team in shots on goal with 286, finally showing some assertiveness. Pacioretty is only 23 and we should see him improve next year. Vanek was another tough omission as he is just 4 years removed from a 40 goal season. However, Vanek's numbers dropped to just 26 goals this past year, the lowest total he's posted since his rookie year. Vanek also doesn't contribute much defensively, meaning that his value as a forward comes strictly from his goal scoring. Milan Lucic is a prototypical power forward that hits big, scores big goals, and is a nightmare for opposing defensemen. His goal scoring is crucial for the Bruins, but too often he can disappear for stretches during the season, with 1 stretch in particular in November-December where Lucic went without a goal in 14 of 15 games. Joffrey Lupul was the toughest omission for me because he was on such a tear last year before being derailed by a separated shoulder. Lupul had 67 points in 66 games and was on his way to a big season. However, the only reason he misses out on making the cut is part of me feels like that was a one-hit wonder season. More than 30% of his points came on the powerplay when Toronto's powerplay was clicking at an absurd percentage early in the season so you have to wonder if he'll be able to keep that up. Plekanec is another good centerman who put up solid points this past year and took an incredible 35.7% of his team's faceoffs (tops in the NHL), and won 49.1% of them. Finally, Milan Michalek is a great goal scorer, but not much more than that. Despite being 6'2 225 lbs, Michalek only threw 36 hits last year and blocked only 46 shots. Yes his 35 goals were great, but he's not giving you more than that. Now, let's look at our top 5.
5. Jason Pominville, Buffalo Sabres
Last year Pominville put together a strong season, scoring 30 goals and 73 points and keeping the Sabres in playoff contention all the way into the last week of the regular season. Pominville's 30 goals and 73 points were the 2nd best numbers of his career. The captain of the Sabres also led all forwards on his team in ice time, averaging 19:40 a game. Pominville also contributed defensively, finishing 2nd on his team in takeaways with 45 and finishing first among forwards on his team with 50 blocked shots. Pominville is just 29 years old and still has room for improvement in the future. The Sabres will need their All-Star to be even better next year if they hope to return to the playoffs after missing out last year.
Last Year: 30 goals – 43 assists – 73 points
Projection: 33 goals – 43 assists – 76 points
4. Patrice Bergeron, Boston Bruins
Last year was the best season of Patrice Bergeron's career.Sure in the past he's scored more goals or more points. But this past year he stayed healthy and put together an incredible season both offensively and defensively. Bergeron scored 22 goals, 64 points, and won the Selke Trophy as the best defensive forward. Bergeron was a ridiculous +36 (tops in the NHL), led all forwards on his team with 67 blocked shots, and led his team with 55 takeaways. Bergeron also took 34.4% of his team's faceoffs and won nearly 60% of them (59.3%). Bergeron is also a leader for the Bruins, wearing the "A" on his sweater and always bringing his best game. Bergeron is just 27 years old and is hitting his prime and he could be a threat to win the Selke for the next few years.
Last Year: 22 goals – 42 assists – 64 points
Projection: 22 goals – 40 assists – 62 points
3. Tyler Seguin, Boston Bruins
Tyler Seguin certainly didn't suffer from a sophomore slump. Seguin led the Bruins with 29 goals and 67 points and oh yea – he's only 20 years old. His numbers are going to keep getting better and better. But what will truly make Seguin a special player is if he continues to model his game after teammate Patrice Bergeron as he said he wanted to. Right now, the only reason I have Seguin slotted above Bergeron is because of pure potential. When you see Seguin do things like this, or show serious patience in such a big moment like this, you get giddy thinking of how good he can become. For the Bruins to return back to the Stanley Cup Finals, they are going to need Seguin to take a big jump this year and hopefully he can deliver.
Last Year: 29 goals – 38 assists – 67 points
Projection: 36 goals – 41 assists – 77 points
2. Phil Kessel, Toronto Maple Leafs
Kessel is a goal scoring machine – and not much more. Fortunately for him, he's one of the most prolific goal scorers in the NHL and thus he gets the #2 spot amongst forwards in the Northeast Division. Kessel has scored 30 or more goals in each of the last 4 seasons, including a career high 37 this past season. Kessel also chipped in 45 assists and finished with 82 points, also a career high. Kessel is also great on the powerplay, as he netted 10 powerplay goals. We should also remember that Kessel is just 24 years old. The only thing stopping Kessel from being #1 on this list is the fact that Kessel doesn't do much else. Kessel was only credited with 12 hits, 21 blocked shots, and 81 giveaways. But all of that tends to get overlooked when you have the offensive awareness he has, the quick release he has, and the explosive shot he has. Kessel has plenty of time to improve and is just now entering the prime of his career, so we'll see where he goes from here.
Last Year: 37 goals – 45 assists – 82 points
Projection: 45 goals – 40 assists – 85 points
1. Jason Spezza, Ottawa Senators
After having two tough years, Spezza rebounded in a big way this past year, scoring a career high 34 goals and tallying 84 points. With Daniel Alfredsson finally showing some signs of age, Spezza stepped up in a big way and did almost everything for the Senators. Spezza was great offensively as evidenced by his numbers, but he also was big for the Senators with a couple of the finer points. Spezza took an incredible 35.5% of his team's faceoffs, the second most of any player in the NHL and he won a very strong 53.5% of them. Spezza also led all forwards on his team with 64 takeaways. Now, nobody is going to mistake Spezza for Pavel Datsyuk, but Spezza was above average defensively and helped this Senators team sneak into the playoffs and put one heck of a scare into the New York Rangers. We all know that Spezza has sick hands and great offensive awareness, and now he's finally showing the leadership on these young Ottawa Senators.
Last Year: 34 goals – 50 assists – 84 points
Projection – 30 goals – 52 assists – 82 points
So there you have it. That's our look at the forwards in the Northeast Division. Stay tuned tomorrow for our look at the top defensemen in the Northeast. Don't agree with our rankings? Comment below!