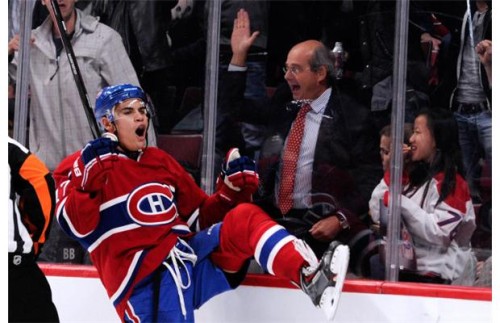 Following a largely successful 2014 campaign that saw the Canadiens through to the Eastern Conference finals against the New York Rangers, expectations for the club are higher than ever heading into 2015. Fans however might have to be prepared for the team to take a step back.
It's easy to get excited; the Canadiens' run matched the excitement of 2010 and marked their longest stay in the playoffs since 1993, yet the success of the team has helped to mask key flaws that have plagued them for years: goals. Through the regular season Montreal scored only 2.55 goals per game, "good" for only 21st in the league. The 3.00 the team maintained through 17 games in the playoffs, then, must be taken with a grain of salt and is not likely something that should be expected to repeat.
Depth got the Montreal Canadiens past the Tampa Bay Lightning and the Boston Bruins, and yet no one can be sure how the success of key players like Lars Eller and Rene Bourque will translate to another grueling 82 game marathon. Bourque has yet to find the compete level and consistency that has made him such a threat in two straight playoffs, while Eller is still waiting for his big breakout offensive season. While the contributions of Plekanec, Pacioretty, and Desharnais should remain largely consistent, it's tough to determine who will help them shoulder the goal-scoring load.
In order to simply break even on the goals column, Montreal has to replace the 58 tallies notched by Gionta, Briere, and Vanek which will be no small task. Newcomer Parenteau (obtained in a trade for Briere) is looked at to provide some assistance from the wing on the top line, but has proven himself more of a playmaker in the past and nowhere near the all-around threat needed to replace Vanek.
The youth might not be the answer, either.
De La Rose, Sekac, and Andrighetto are the rookies that are most likely to be in contention to fill the gap on the second line. All three are undoubtedly talented players, but hoping that a rookie can step in and make an impact at a NHL level fails more often than it succeeds, especially when he is expected to contribute around 20 goals.
If Galchenyuk, Gallagher and Eller continue to develop the offense within them, or if any have an explosive campaign, anything is possible. If any of the three falter it could prove to be disastrous.
Carey Price and a defensive unit more suited to a proper transition game could help ensure that a 2.55 is enough to get through to the playoffs once again (holding a 2.45 GAA through the 2013-2014 regular season), yet if the club can't exceed, much less match the output of the 2014 roster, it could be a rough year for the Bleu, Blanc, et Rouge.