Featured
National Hockey League (NHL)
On this day in 1987, Ron Hextall became the first goalie to intentionally score a goal in the NHL (Billy Smith was credited with one in 1979 but never shot the puck)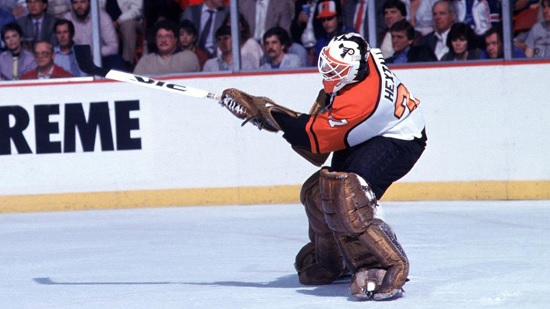 On this day in 1987: Ron Hextall became the first goalie to actually score a goal. Billy Smith was known as the first tendy to get credit for a goal (1979) when he was the last Isles player to touch the puck before a Colorado Rockies back pass went into the net but Hextall was the first player at his position to score by shooting into the net. Hextall grabs a lose puck while his team is leading the Boston Bruins, 4-2, in the third period. The Flyers netminder lifts a shot from the left side of his net and it goes into the Bruins' goal.
Hextall was all heart… intimidating, flexible, violent & talented. He was living nomad of the crease often puck handling far from his painted crease. He'd kick, punch, slash, fight and do whatever it took to protect his teammates even toward the end of his career and younger days. He was loved by teammates and hated by everyone else. Hexy was hated so badly that he once fought Felix Potvin in the twilight of his career during his 2nd stint in Philly after seasons in Quebec & on Long Island. The then balding Hextall was edged out in a spirited tilt by the 8 years younger & in his prime Leafs goaltender and his haters lost their minds proclaiming he got killed or got his ass kicked….that my friend is how you knew just how bad of a mofo this guy was!
Speaking of hate, Hextall is a third-generation NHL player – his grandfather Bryan Hextall played 11 seasons with the New York Rangers. His father, Bryan Hextall, Jr., played in the NHL for 10 seasons, most notably for the Pittsburgh Penguins, and his uncle, Dennis Hextall, played 14 seasons of NHL hockey leading to a great quote by Ron. Hextall saw his father and uncle often roughed up by the Philadelphia Flyers, whose aggressive style of play for much of the 1970s gave the team the name "Broad Street Bullies". Hextall later reflected that growing up he "hated the Flyers."
A rookie goalie in Game 7 of the 1987 Stanley Cup finals against Wayne Gretzky & the Oilers is more pressure than anyone can imagine. Hexy was awarded the Conn Smythe in one of the rare occasions of which the recipient was not from the cup winning team & the Vezina trophy.
After the tragic death of Pelle Lindbergh, Hextall gave the Flyers a chance and an attitude. It was his crease and Hexy made the most of it. From his fight with the Devils' Alain Chevrier, his bout with Rob Pearson of the Capitals, his inhuman performance in Game 6 of the 1987 finals or his playoff goal… Hextall always entertained.
Love Reading About Hockey?

Subscribe to keep up-to-date with the latest and most interesting hockey news!
| | |
| --- | --- |
| | We hate spam just as much as you |