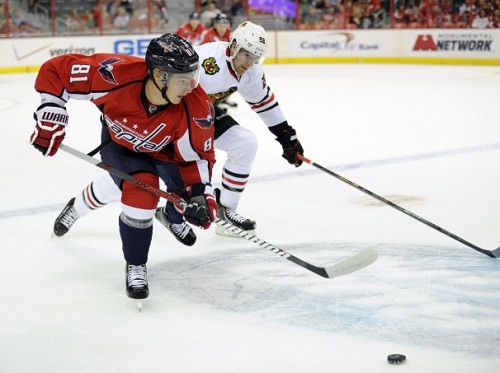 It is no surprise that Capitals' Defenseman, Dmitry Orlov, has been frustrated with the meager amounts of playing time that he has been getting under head coach, Adam Oates. Just two seasons ago, under Caps' former head coach, Dale Hunter, Orlov was a number 4 defenseman. The 22-year-old Russian native will be given this opportunity once again as he makes the start alongside John Carlson for the second consecutive time tonight against the Tampa Bay Lightning(17-10-2). Just over the 11 minute mark in the first period of the Caps' previous game against the New York Rangers Sunday evening at Madison Square Garden, Orlov was given his chance and was promoted to Carlson's line as a top 4 D-man. Orlov appeared 18 minutes and 3 seconds in the 4-1 victory over the Rangers, which is the most playing time he has received in any of the four games he's played this season. He had a comprehensively strong performance throughout the game and the coaches seemed thoroughly impressed with what he was doing. When Oates was asked why the Caps rearranged their defensive pairings midway through one last game, Oates replied: "That's Calle's call quite honestly, he sees something in the forecheck, the matchup, liked something Dima was doing and put him with Carly and they had a good game. They'll start that way tonight." In order for Orlov's promotion to Carlson's line, Orlov's fellow rookie defenseman, Nate Schmidt, has been relegated to a third pairing with Steve Oleksy. After getting wind on Dmitry's agent demanding a trade due to the lack of ice-time Orlov was receiving in Washington, it has been nerve-wracking wondering how the situation could potentially play out. Tuesday marked the 30th day that Dmitry has been on an NHL roster in the 13-14 season, which means that he is officially unable to leave for the Kontinental Hockey League in Russia on January 1, 2014. It's so exciting to know that Orlov is finally getting the chance that General Manager, George McPhee had promised him back in November. Orlov is a spectacular defenseman who's willing to give 110%  of his effort each time his skate hits the ice, with great sight on the puck. Not to mention, the rookie has the most perfectly executed hip checks that are sure to send his defenseless opponent tumbling through the air and onto the ice. Obviously he still has a ways to go in his NHL career considering he's still a 22-year-old rookie, but he has great potential to excel on this team. The road to Orlov's improvement begins with this much-needed NHL playing time against more well-seasoned players and a higher paced game than that of the AHL. It should be interesting to see just how long Dmitry remains as a top 4, seeing how the Caps' coaching staff seems to shuffle the pairings around frequently. Watch Orlov and the Caps take on the Lightning tonight at home as the Caps look for their 15th win in 16 home games with Tampa Bay at 7PM on Comcast Sportsnet.
Love Reading About Hockey?

Subscribe to keep up-to-date with the latest and most interesting hockey news!
| | |
| --- | --- |
| | We hate spam just as much as you |