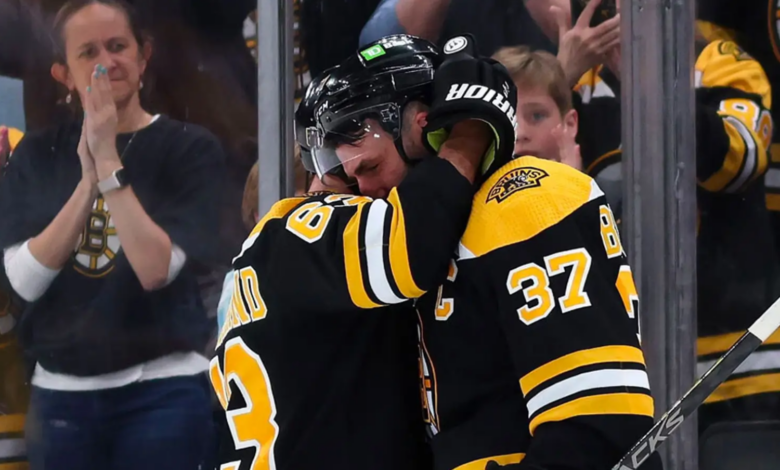 The remarkable 2022–23 Boston Bruins season came to an abrupt end Sunday night, leaving much to work out in the offseason.
Following that, what's next?"
Do the Bruins rerun it with the same group of players? Will seasoned players David Krejci and Patrice Bergeron agree to take another shot?
It doesn't seem to be the scenario in Bergeron's case. When asked about a possible retirement, Bergeron has been evasive with the media. However, Sunday after the Bruins were eliminated, Bergeron lingered out on the ice to give each and every one of his teammates a bear hug. He then gave the crowd a standing ovation before leaving the ice at TD Garden for what many believe to be the final time.
If Bergeron's career is coming to an end, it has been a magnificent one. Nobody would blame him for calling it quits at the age of 37, with millions in the bank and a Stanley Cup victory in his back pocket. Similar decisions regarding their future are being made by other NHL veterans. To me, Corey Perry appears to be completely done. And Joe Pavelski, what about him? Has Brent Burns? Chris Carter? All of these men are expected to consider their post-playing futures carefully this coming offseason.
Zach Parise, a forward with the New York Islanders, has previously said that it's Isles or Bust for him. The forward, who is 38 years old, informed Islanders reporter Stefan Rosner that he will retire if the Islanders don't want him back.
Parise says he thinks it will be here or nowhere. Says he hasn't made a decision yet about career. #Isles

— Stefen Rosner (@stefen_rosner) May 1, 2023

During his second full season with the Islanders, he put up a very respectable 21 goals and 34 points in 82 games. Parise was released from his absurd 13-year, $98 million contract by the Minnesota Wild in the 2021 summer. Of course, Parise is best known for his stint with the Minnesota Wild and the New Jersey Devils. Shortly after, he agreed to a $750,000 league minimum contract with the Islanders.
If this is truly Parise's last game, he will leave the regular season with 429 goals and 879 points in 1224 games played. Not at all awful, just fine.