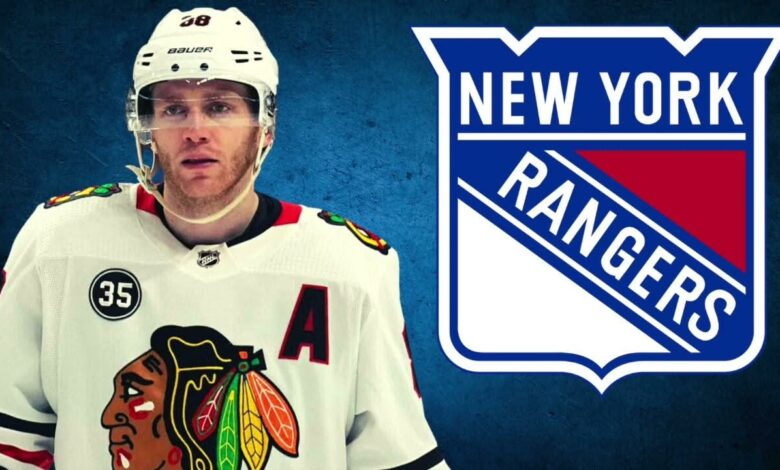 The NHL trade deadline of March 3rd is quickly approaching and Patrick Kane is still a member of the Chicago Blackhawks.
Many people, including Kane, believed that the New York Rangers' acquisition of Vladamir Tarasenko and the Toronto Maple Leafs' acquisition of Ryan O'Reilly put a damper on Kane's chances of moving to either team.
The Rangers' decision appeared to discourage him. However, the possibility of him wearing the Rangers blue jersey in his home state isn't completely ruled out.
"I believe he has asked to explore whether going to the Rangers is still an option," ESPN's Emily Kaplan wrote. "It's not impossible, but it would require serious maneuvering."
The Rangers have indicated that they will try to make it work if Kane — who has yet to declare his intentions — is willing to waive his no-move clause in order to come to New York. We've been told that interest hasn't waned since the acquisition of Vladimir Tarasenko from St. Louis on Feb. 10.
That is the game Drury is after, not another fourth-liner.
The challenges are obvious, both in terms of cap constraints, which would necessitate identifying a third team to act as a banker in taking a quarter-share $2.625 million cap hit, and the cost in assets such a deal would necessitate. Given the narrow margin with which the Blueshirts are currently operating under the cap, it would be a difficult transaction.
Last Friday, when the Maple Leafs acquired Ryan O'Reilly, Minnesota general manager Billy Guerin acted as the middleman, acquiring a fourth-round draft pick in exchange for assuming a pro-rated $1.875 million in dead space and $74,000 in payroll obligations.
Would it be more difficult for the Wild, Coyotes, or Ducks to serve the same purpose as the Rangers and Blackhawks? If the trade is made before the March 3 deadline, the third-party team will be liable for $1,491,891.89 in real cash on Kane's $6.9 million salary, so a fourth-rounder is unlikely to suffice.
Then there's the rental cost in assets that the Rangers would have to send to Chicago and the third-party in order to complete the transaction. As previously reported by The Washington Post, the club has no desire to trade its remaining 2023 first-round pick after trading the other to St. Louis. If necessary, Drury could postpone a first-round pick until 2024 or 2025.
Of course, the cost could be kept under control if Chicago GM Kyle Davidson collaborates with Kane to deliver the wing to his preferred destination, which is widely assumed to be the Rangers. If it is Rangers or nowhere, then the Blackhawks would wind up with nothing if they push it too far.