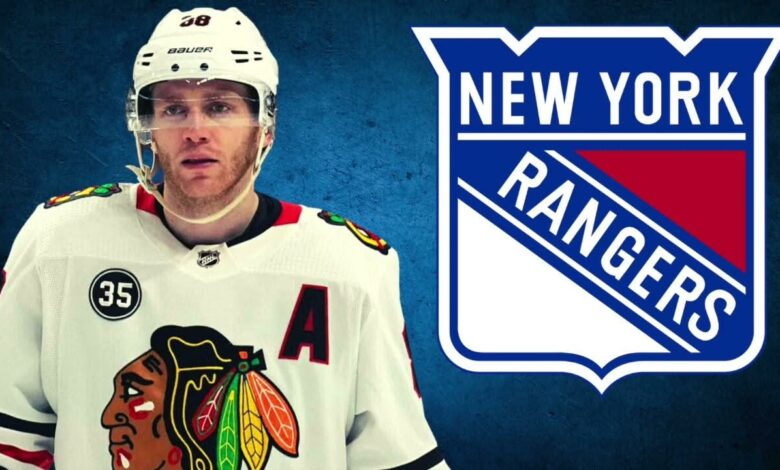 While waiting for the seemingly inevitable Patrick Kane trade, all eyes in the NHL are on the Rangers' salary-cap situation.
Kane is expected to miss the Blackhawks' game against the Ducks on Monday because he is still in Chicago, having returned Saturday before the Hawks' win over the Sharks. It was the Hawks' ninth game without Kane or Jonathan Toews since 2007, and the first since 2015.
While all indications remain positive on a Patrick Kane to #NYR deal eventually coming to fruition, the trade itself likely won't be executed before Wednesday. It could even come closer to Friday's 3 p.m. deadline because the salary cap implications improve with each passing day.

— Chris Johnston (@reporterchris) February 26, 2023
Jake Leschyshyn was waived on Sunday, allowing the Rangers to assign him and his $766,667 cap hit to Hartford of the American Hockey League.
However, the collective bargaining agreement requires teams to field a full 20-man roster whenever possible under the salary cap. As a result, the Rangers were forced to call up Ryan Carpenter (yes, the former Hawks forward) and his $750,000 cap hit for their game against the Kings on Sunday.
The significance of that approximately $17,000 savings demonstrates how tight the situation is.
With each passing day, the Rangers will gradually gain more space.
It's unclear whether an additional factor — the injury to Rangers defenseman Ryan Lindgren on Saturday — will have an impact. Rangers coach Gerard Gallant told reporters on Sunday that he didn't believe Lindgren's injury was "serious," which is the polar opposite of what would have made a Kane trade easier.
As a result, all parties must continue to wait. TSN reported that the trade is unlikely to be completed until at least Wednesday, and possibly not until just before the NHL trade deadline on Friday.