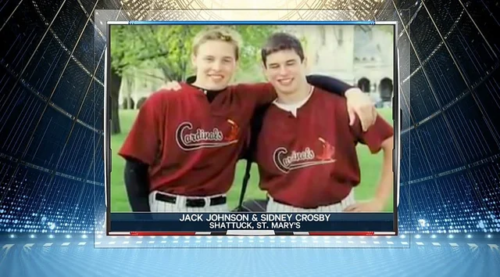 Many hockey players began their careers as multi-sport athletes. While some players naturally joined teams, others were forced to do so. That's exactly what happened to Sidney Crosby and Jack Johnson after they were both told they needed to participate in a summer sport. Crosby and Johnson both chose to join their high school baseball teams, but that didn't last long.
TNT aired a game between the Pittsburgh Penguins and the Colorado Avalanche last night. During an interview with Paul Bissonnette and Jack Johnson, Biznasty asked for Johnson's permission to tell the story of both players being kicked off their high school teams, which Johnson granted because he'd "served his time."
According to Bissonnette, the incident occurred after Johnson was hit by a pitch and his hockey instincts kicked in, causing him to charge the mound. Johnson reportedly handled the pitcher and first baseman, while Crosby handled the catcher.
The full story can be found here:
Celebrate #OpeningDay with the story of Sidney Crosby and Jack Johnson getting kicked off their high school baseball team 😂 pic.twitter.com/0xfCBEd7M2

— B/R Open Ice (@BR_OpenIce) March 30, 2023
Both players were asked to return their uniforms the next day, but it appears that things worked out for both men, as they both went on to have successful hockey careers, winning Stanley Cup rings.
But one has to wonder if either Johnson or Crosby would have made it to the Major Leagues.